Twenty-eight-year-old Nyma Tang made a name for herself on YouTube with her hit series "The Darkest Shade" but there is way more to this rising beauty vlogger than meets the eye. The child of South Sudanese immigrants, Tang developed her interest in beauty and vlogging later in life than many of her contemporaries, but is using her platform to push for greater inclusion and understanding of dark-skinned women like herself in the beauty industry and the wider world.
You immigrated to the US with your parents from South Sudan when you were a child. What do you remember about life before coming to America?
I don't remember anything about life in South Sudan, actually. What I keep with me today are our customs and traditions, which my dad has passed on to me. They still hold a lot of value for me, and I still try to practice them as much as I can.
Anything in particular?
I try to use my native language, Neur, whenever I am home, and I will participate in the dowry tradition where the groom pays a dowry for the hand of the bride when I get married. I'm not too pumped about it in theory, but it is a South Sudanese tradition. I recently got engaged and my fiancé and I have been together a long time, so he is happy to take part in a tradition that is so important to my family. 
What was it like for you growing up as an immigrant in America?
We moved to the Midwest — Minnesota, to be exact. Obviously, moving from Africa to Minnesota was a shock as far as the weather was concerned, so we ended up in Dallas, Texas, which has the closest climate to Africa, and my family has been there ever since.
It's hard to compare and contrast the difference between Africa and the US because I have not been back to Africa since we left. As far as Minnesota and Dallas go, Dallas has a lot more immigrants, so there was a little community of the displaced. My dad was a pastor at a local Dallas church, so even though we were all displaced we had somewhere to all come together. When I think of growing up in Dallas, I think of the strong community that I was a part of that was made up of such diverse, strong people. 
What was your relationship to beauty when you were growing up?
I was teased for my skin tone in high school, so it was hard for me to find myself beautiful. I was the darkest person in my school. I was literally made fun of everyday and it really took a toll on me and my self confidence. It got to a point where I wanted to be invisible and just disappear so no one could see me and make fun of me. Society was telling me that I did not fit the standard of beauty and that was really difficult as a young woman. Even so, a part of me did always feel beautiful. It was just that the outside world trying to tell me that I wasn't.
I actually did a video a while back on my YouTube channel  called "11:59" that documents everything people said to me. '11:59' meaning right before midnight. People called me midnight, African booty scratcher,  just some really horrible names.
After sharing the video, I had so many different types of people reaching out to me to tell me their stories of how they were teased, bullied, or not confident in their own skin. Self-confidence is so important and I'm just so humbled that I can be a part of a greater conversation with so many people about holding your head up high and embracing every part of yourself. When you see someone like you doing something, I think it lights a fire inside you that makes you think, "I can do that too!" If I can be an example for someone out there that thinks maybe they can't wear makeup or be bold in speaking their mind because of what they look like, then I know that I'm doing what I'm supposed to be doing with my platform. I want to be an inspiration for all of the dark skin girls out there. Dark skin is not just a trend. It's not popping just for the moment.  I've always had dark skin, and I've always been beautiful and I will continue to be beautiful whether if that's the "trend" or not. 
You didn't start experimenting with makeup until you were 21. What happened to finally spark your interest?
I've always been a creative person. I grew up watching "America's Next Top Model" and I loved watching them do the makeovers. I love fashion and the creativity that goes into all aspects of it.  Those are things I've always been interested in. Unfortunately, growing up in an immigrant household, you have certain rules and things that are expected of you. For me, I was expected to go to nursing school. After leaving nursing school at age 21, I realized I had to follow my passion and that's when I started playing with makeup.
What did your parents think when you launched your YouTube channel?
My parents wanted me to be a doctor, but I didn't want to be a doctor.  I didn't want to invest those years in something that I didn't want to do in the first place. I didn't even want to be a nurse; I only agreed to go to nursing school because my dad really wanted me to do it. He wanted me to do something in the medical field or to be a lawyer. It was always those two careers. I started my YouTube channel at 25. It took me a few years to finally get into the whole social media world, because I wasn't into social media at all. But once I got into it I realized it could be really fun and I could speak my mind to a lot of people.
I wrote my dad a letter when I dropped out of school saying I couldn't do it any more, but that I would consider doing something in the corporate world — marketing, business management, etc. I knew I didn't want to do those things either. I just wanted to ease his mind for a bit so I could pursue other things that would satisfy my creative side. 
You've built a huge YouTube following (over one million subscribers). What is it about you and your channel that you think people most respond to?
I think people really respond to the fact that I am not just talking about beauty. My channel is about feeling fulfilled with yourself and that really resonates with people that have always felt disenfranchised.
What is the secret to making content that works on YouTube?
You either need to offer something that other people aren't or you need to do it in a different way. There are a million and one people that can apply makeup way better than I can, but I share my story and I share my struggles — what I've been through and how I've changed as a result. That's really been the key to my growth and could be the key to anyone's growth.
That, and low-key, high-key authenticity.
How do you approach Instagram and YouTube differently?
I use Instagram to talk about daily life and new products that I'm interested in trying, but YouTube is for more serious topics or more in-depth reviews.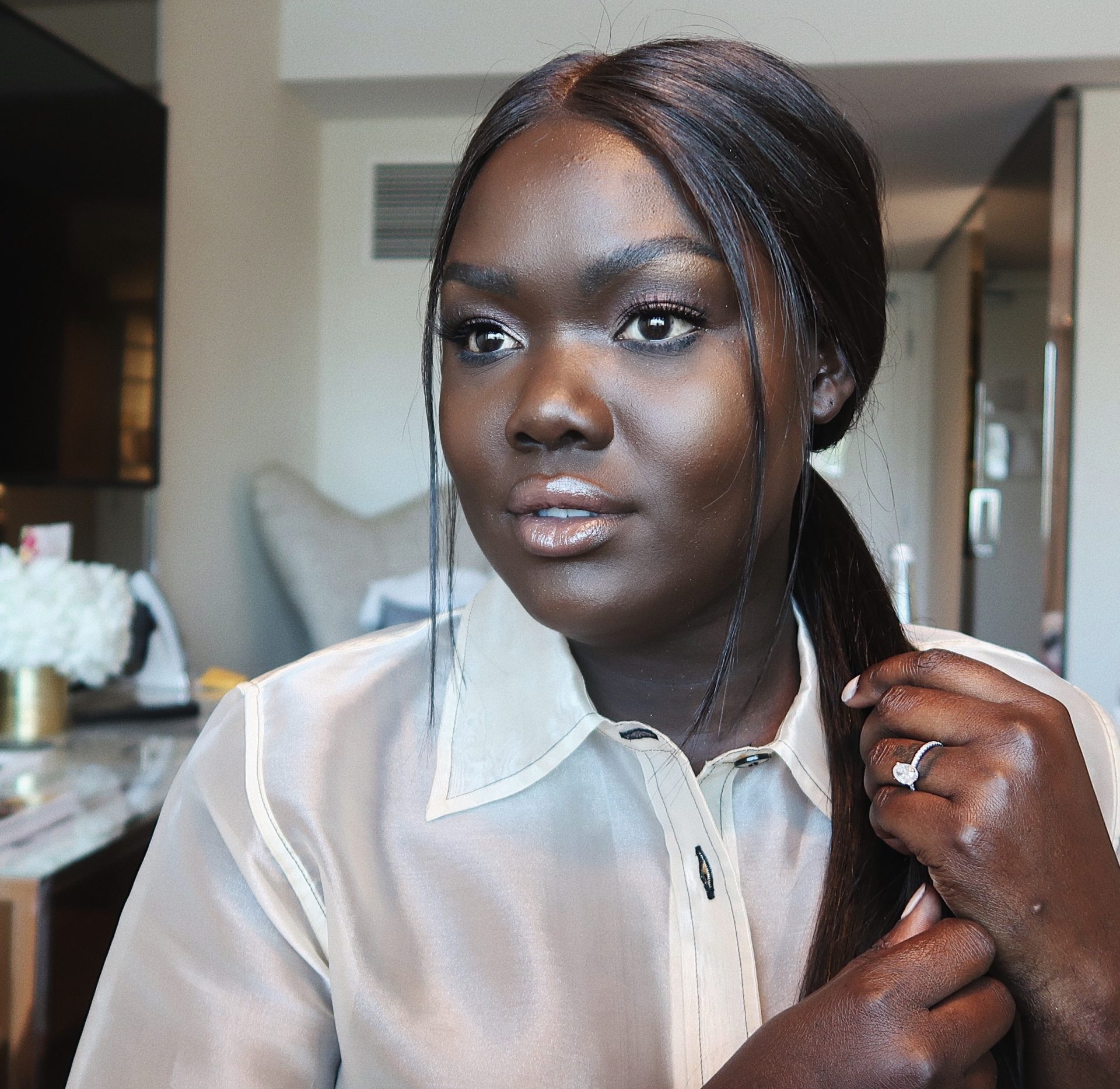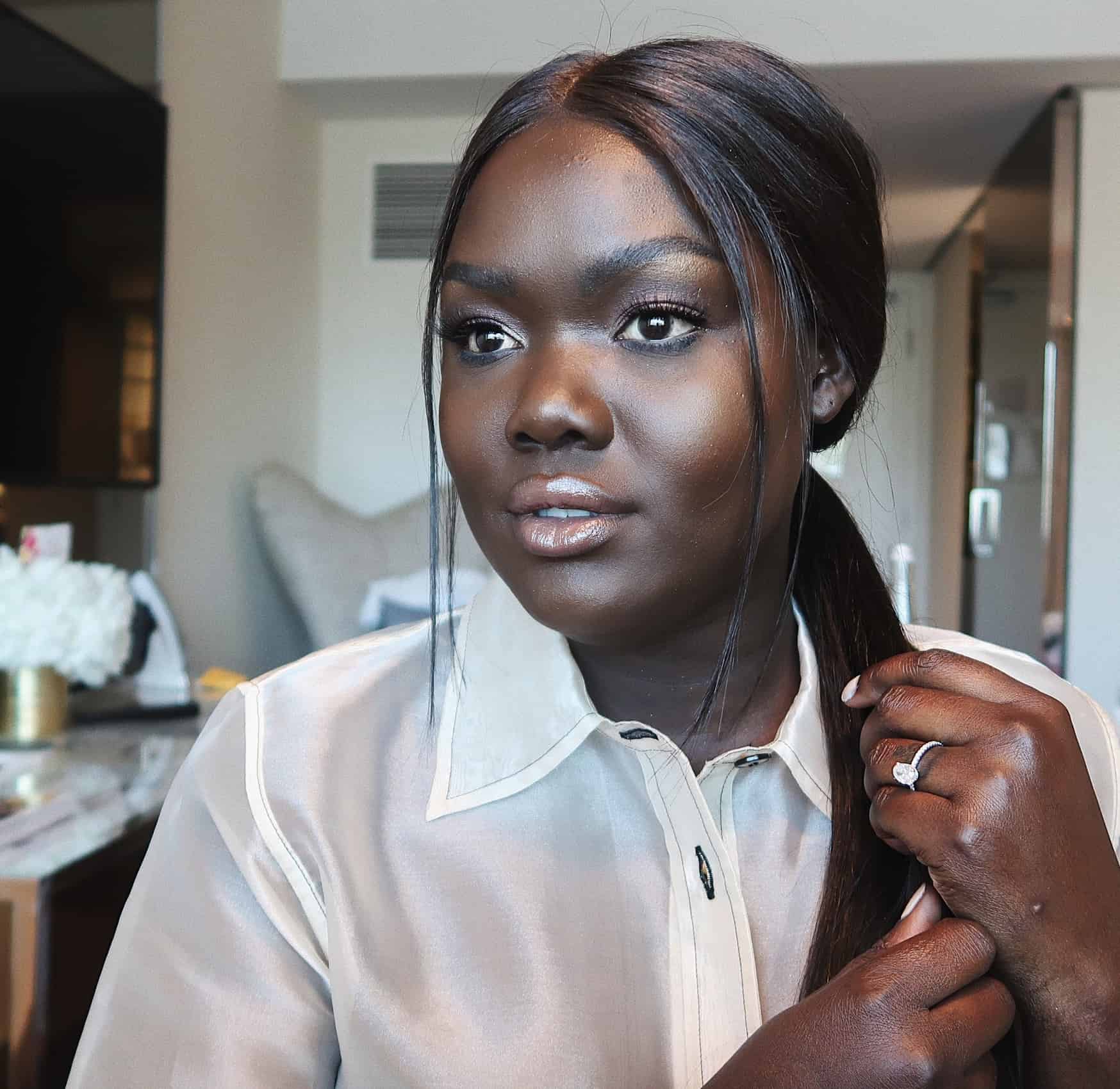 Your YouTube series "The Darkest Shade" reviews the darkest shade of makeup products to see how they work with your skin. Not everyone measures up. Do you worry that brands you give negative reviews will not want to work with you? How do you balance editorial integrity and the need to use your platform as a business?
I don't feel I like I give negative reviews; I give constructive reviews. If I give constructive criticism, that means those products didn't work for me, so we couldn't really partner in the first place. Most of the time, the brands that I give constructive criticism to take it positively. They go back to the drawing board and then they ask to work together again once they've improved their product. 
Of course, some don't take my constructive criticism well. Not everyone is going to want to work with you or even like you, and that's okay.
What brands do dark skin right?
All of the larger players in the beauty industry kind of have the hang of the foundations in terms of marketing themselves as "inclusive." Unfortunately, there is no thought put into their 40 shades and that's the problem. Right now, the beauty industry has been stuck in this stage where they only fix the foundations and concealers and that's it. They're not realizing that you still need to work on bronzers and contours.  Nobody is trying to change that. I called this out on my channel when I uploaded a video of me trying on every bronzer at Sephora and none of them worked! We need to keep having the conversation about what is actually needed for the industry to really change. 
What are some of the biggest issues facing dark-skinned women in the beauty space?
As soon as we — black women — voice our opinions or start to get more vocal about our opinions, we are labeled as aggressive, angry, or overbearing. But in a world where light skin, blonde hair, and blue eyes are treated like the ideal, we are the furthest thing from that ideal. It unintentionally makes us the least valued women and our voices are not being taken seriously. I have been seeing in the news recently that maternal death rates amongst black women are going up. Pregnant women are going into labor and voicing their concerns over something that is going wrong with their bodies, but doctors aren't taking them seriously. This leads to the mother dying for reasons that could have been avoided if the doctor had listened to them. People need to take our concerns more seriously.
What can brands do to improve?
A lot of brands only market to women with lighter skin tones, which is often indicative of a lack of diversity within the company itself. I think a lot of these brands need to bring more black women into the brand to market to black women because they are able to speak the language and understand the struggles that many darker-skinned women face. If you don't have that level of understanding, you have to bring someone in that does or else it will sound very tone deaf.
Let's say you're developing a foundation shade and for 10 years all you had were lighter colors. Now you're trying to create darker shades. The issue is that these companies are working with the same base they were previously using for those pale shades. That is never going to work!  You have to start from scratch with darker tones.  Some brands are just adding brown or black to the existing base color and coming out with ashy shades that don't work for women like me. 
How much makeup do you have at home?
Oh my gosh, waaaay too much. I travel a lot, so I duplicate my makeup to make my traveling easier. Right now, I have my home in Dallas and a second place out in Los Angeles, so I have a full set of makeup in Dallas, a full set of makeup in LA, and a travel set. 
What do you do with all the stuff you can't or don't want to use?
I either give it away or donate it to a women's shelter. I do giveaways on social media, I give it away to my sisters (I have 6!) when they're around, or just whoever wants it, honestly. I always tell my friends that they can just come and take it! 
What are your go-to beauty products right now?
Live Tinted Huestick in 'found', PUR Love Your Selfie foundation, and Pat McGrath primer.
Huestick in Found, LIVE TINTED, $24; Love Your Selfie, PÜR, $36; Skin Fetish: Sublime Perfection Primer, PAT McGRATH LABS, $60
Why those particular products?
I love the formula of the Live Tinted Huestick and that it's a color corrector. That works really well for my skin tone. PÜR's Love Your Selfie has one of the best matches in the industry right now and the Pat McGrath primer is just really good skincare, and who doesn't want more good skincare?
What prestige beauty product do you think is actually worth the money and why?
I'd go with the Estee Lauder Advanced Night Repair collection. The way it hydrates your skin is amazing!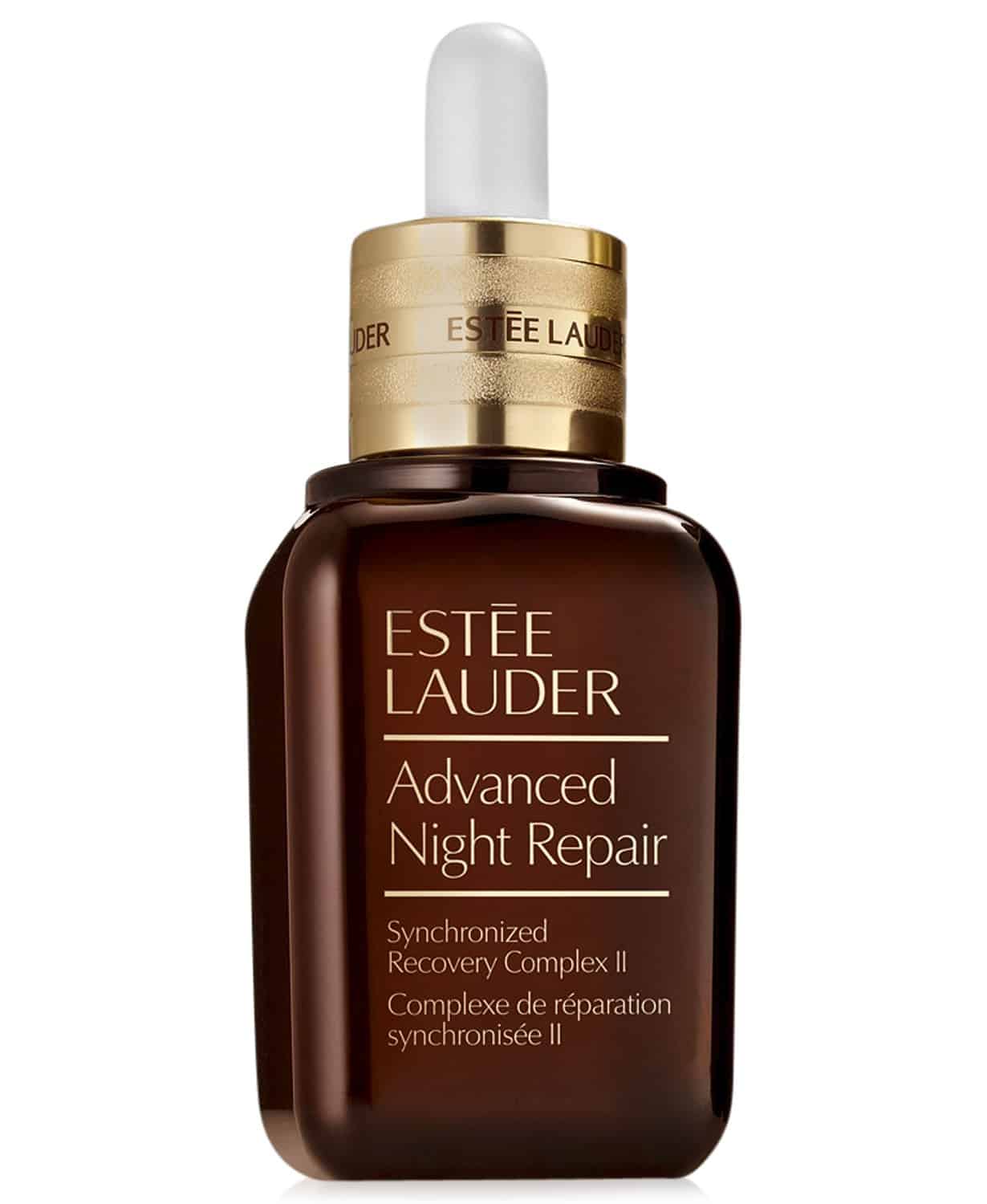 Advanced Night Repair Synchronized Recovery Complex II, ESTEE LAUDER, $192 for 3.9 oz.
What bargain product do you swear by?
L'Oreal True Match foundation because they always try to be inclusive.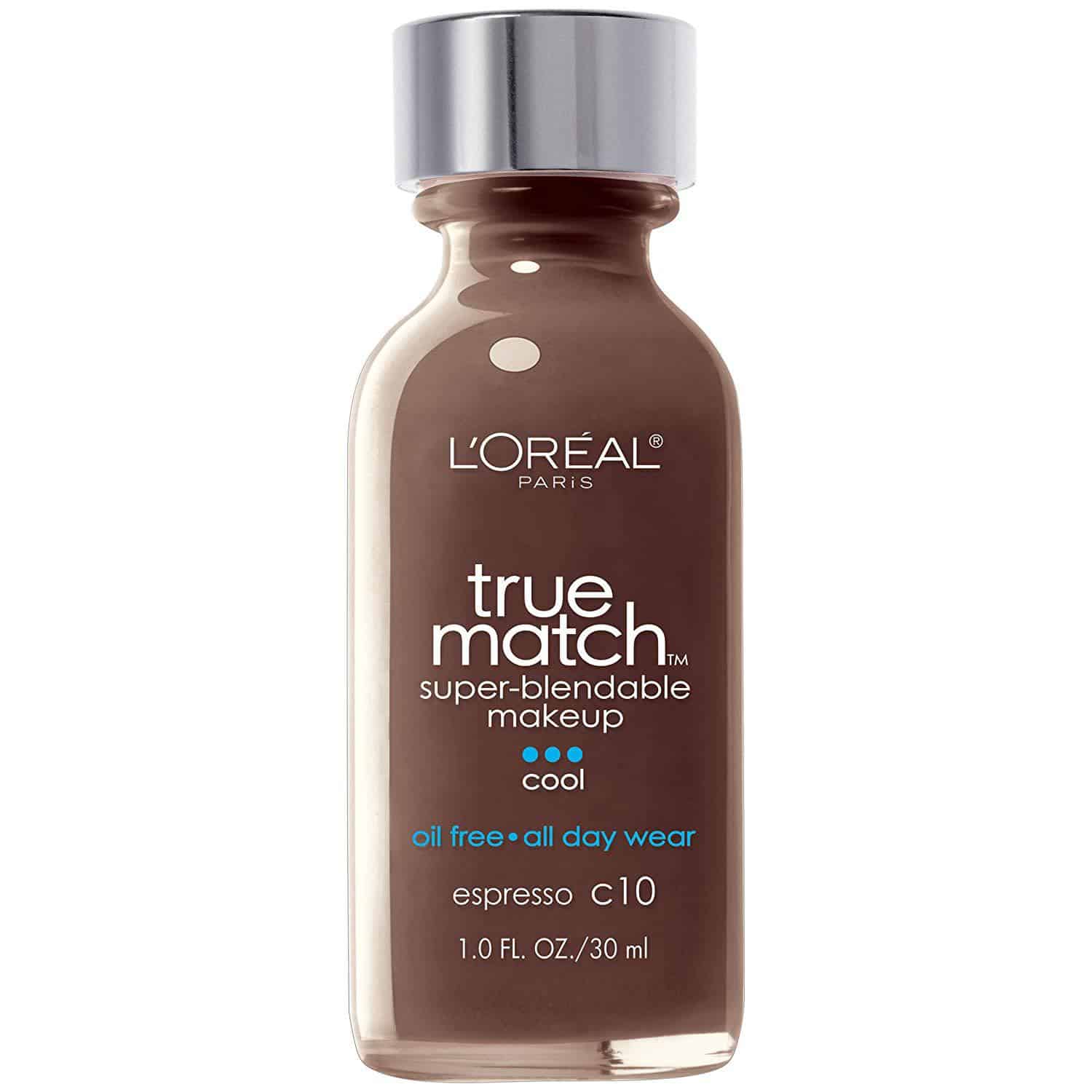 True Match in Espresso C10, L'OREAL PARIS (Available at ULTA), $11
What was your first major brand partnership?
It was with MAC Cosmetics. Theirs were the first foundations I really loved, so it felt like a real full-circle moment when they reached out to do a lipstick with me. I created my dream red shade with them, a red lipstick with a blue base undertone that looked really incredible on deep skin tones. It was a  surreal experience to be working with a brand that I personally love and that is so highly regarded in the beauty world. What was even crazier was that my collaboration with MAC Cosmetics sold out so quickly. It was a real pinch-me moment.
What is your dream collaboration?
I would love to create a beauty collection with Dior! Dior is my all time favorite fashion brand. I love what Maria Grazia Chiuri has done since she's been the creative director. I have a real Dior bag addiction myself. Every time I walk into a Dior store, I can't resist buying at least one piece. I would love to go to the Dior show one day. 
What influencers are you obsessed with and why?
I watch a lot of YouTube — lifestyle content, vlogs, daily life content. That's what I've been watching right now, also a lot of social justice commentary such as Lovely TTV, Chrissy, AdrianXpression. They give us a different perspective that we're not getting from traditional news outlets. They bring things to light that, unfortunately, news outlets are trying to suppress and keep away from us. Chrissy talks to us a lot about colorism, which I knew existed, but Chrissy breaks it down and helps you understand it in a way that there is no denying it or why it happens. With AdrianXpression, he does a lot of political talk. Unfortunately, with the political climate that we are in, a lot of younger people don't want to listen to politics or understand why politics is so important. I think it's great how people like Adrian break it down so you can easily understand it while also bringing the entertainment and humor to it.
As an influencer yourself, what are your biggest pet peeves in regards to content you see people or brands posting on YouTube or Instagram?
The people that want to garner outrage for clout. Those people drive me crazy! Doing things just because they know others are going to be mad at them and they're also going to get a lot of attention for it.
I also dislike it when brands try to pander and it comes across as tone deaf. It so cringey to see and makes me stop and look at the brand in a different light. I'm just thinking, "You didn't have to do this. You could've just sat there."
What is the weirdest thing you do as part of your beauty routine?
I fan my face with a paper hand-fan in between each serum to help them dry quicker. With the fan, I don't have to sit and wait for each serum to dry before moving onto the next step. I didn't think it was weird until I was filming a feature recently and the team that I was working with claimed to have never seen anyone else do it. I highly recommend adding it to your routine. I promise you'll love it. 
What are your goals? Where do you see this influencer career of yours taking you?
My goal is to keep pushing forward to make the beauty industry as fully inclusive as possible. Outside of the beauty industry, being able to make certain aspects of life easier for black women as a whole is important to me. I want us as a society to get to a point where our beauty is not just getting praised and recognized online, but also praised in real life. When we, as black women, feel confident in real life, we can take back the power in our life. With confidence, we can keep fighting other social issues that affect us like being labeled loud and aggressive. We want our voices heard, understood, and listened to. We want to get to a point where we're not undervalued. 
And this is so random, but I want to build the first mall in South Sudan!
Why a mall?
Fashion has always been my first love and I think a huge shopping mall could bring in new businesses, build the economy, and help get the country out of the horrible situation we are in.
If YouTube went away tomorrow, what would you do?
I would continue to try and push forward with more panels/discussions and keep talking about the change that needs to come in this industry. I'd use all the other social media platforms to push forward with the passion and purpose that I have been given.
Subscribe to our newsletter and follow us on Facebook and Instagram to stay up to date on all the latest fashion news and juicy industry gossip.