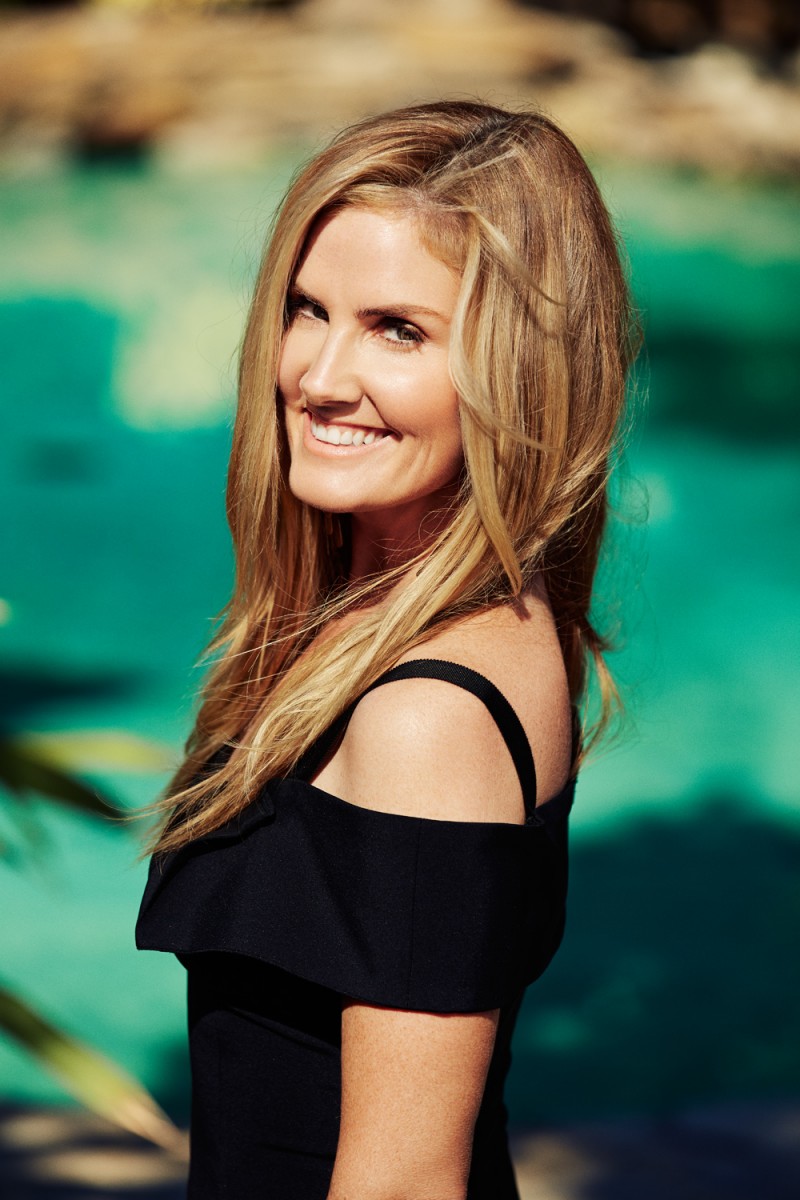 The Daily is always a fan of a multi-hyphenate! Film student turned fashion editor turned celebrity stylist turned designer, Mary Alice Haney leads a busy life since she traded in Tennessee skies for the LA skyline as a precocious 20-something. As her eponymous label Haney enters its junior year, we check in.
What's new at Haney?
Right now I'm designing Holiday Resort. But really, we're season-less. Everything is made and designed in LA—we're becoming the first luxury brand to have everything done entirely in LA. I'm working on some collaborations with LA bloggers that I love. We're doing a Le Catch for Haney this fall with the blog's creator Marlien Rentmeester, which should launch this summer. We're also working on a social media campaign about iconic LA women and what makes them sexy and confident. When a woman puts a Haney on, my goal is to make sure she feels beautiful and sexy, like a Hollywood star in her own right. Other than that, I'll continue to design four collections a year and expand!
Why do you think people are watching LA fashion right now?
I've made my whole 20-year fashion career in LA. I was the West Coast editor for magazines, from GQ, to Allure, to Marie Claire, to Domino. For me, fashion has always been centered here. That's why it's important to me to have Haney created and designed from LA. Everything is happening in LA. Art is booming, fashion is happening. Fashion is becoming very global. It used to be that you had to be in New York, you had to do presentations, and there were certain rules you had to follow in order to become a big brand. I don't think that's true anymore. When we were on Net-a-Porter, from day one we were global because we were on all three of their sites. It's a different world.
You have a background in film. Does that influence your designs?
In LA, film, entertainment and fashion have always sort of come together. I have a master's in screening and film so I get to use a lot of that in my work. It's always been helpful whether I was styling a shoot or styling a celebrity or creating clothes. It's such a visual medium and so is fashion. They're similar; you're telling a story. In each collection it's the Haney story, as if I were making a movie.
What made you want leave Tennessee for LA?
I swear since I was little, I always said, "I'm movin' to Los Angles!" I loved movies and the glamour of it. I just knew I would fall in love with LA, and I did from the moment I moved here. I didn't know a single person, but I was like this is where I was going to live, this is my home. And it really is! My parents told me I'd have to get into grad school if I wanted to move to LA. But I just left for LA, walked into the American Film Institute with my art portfolio, and said, please you have to look at this and take me! It was just one of those things—it was meant to be.
You styled for many years in Hollywood. When did you decide to branch out and start your own thing?
I'd always been designing even when I was styling. I'd change certain things for a client, and I had studied at Parson in Europe. I've always been an artist, painting and drawing, so it's always been part of everything I've done. And I knew what a woman was looking for. I knew how the fit should be. And I wasn't finding what I was looking for, and I'm a shopper! That's when Haney came around. I thought I should make clothes for myself. So I'm the Haney girl. I travel a lot, I have a glamorous life but I'm also a mom. It just became, as our tagline says, "Sexy California Glamour."
What was the first big styling gig you landed?
I learned to style from a very famous fashion editor, Polly Allen Mellen. I think my first shoot was for Allure for Angelina Jolie's first cover. That was amazing. My whole career has been about making these beautiful Hollywood images, and that was the first one I'd ever done.
What other shoots were defining moments in your career?
I did a shoot once with Reese Witherspoon. We're both from Tennessee and she became one of my best friends. We did a multiple cover shoot with all the Sex in the City girls in New York and I was 9 months pregnant, so that was definitely a big moment. I did a photo shoot for GQ with Michelle Monaghan when she was just starting out. You wouldn't think of Michelle as super sexy, but I gave her a sort of rock 'n' roll look. They all tell a little story, which brings in my film background. I try to do that with Haney, too.
Tell us about your first collection.
It was really just me designing everything that I wanted in my closet that I couldn't find. It was definitely a red carpet collection. We're doing a lot more separates. But my love is that cocktail moment or that red carpet moment.
Tell us about the customization process.
From the beginning, Haney had a customization element. In true luxury, women want something a little different. They may see the dress that their favorite celebrity is wearing on the carpet but they want to make it their own. They want it in their own color, or they want the length a little different. There's a place on shophaney.com where you can call us, work with our stylists, and customize your own Haney.
You name a lot of the pieces after friends, icons, and Hollywood stars. What will we see next?
There's a Chriselle Lim, an LA blogger I love. There is a Bella for Bella Heathcote. Then there's the Michelle, which is named after my sister…so they're not all Hollywood, but they're important women in my life!
Who are some of Haney's muses?
I'm definitely having a Michelle Pfeiffer moment right now—the Resort 2017 collection is inspired by her in Scarface—that was such a great fashion moment. Last season it was Faye Dunaway—the day after she won her Oscar there was a great picture of her at the Beverly Hills Hotel.
Will you expand outside of womenswear?
I don't think so. Even when I was styling a lot of the guys for GQ, I'd have to ask my husband, "Is this right? Does the tie go this way?" I definitely would go into different categories in the women's field, so bags, jewelry, and shoes. I'm creating a luxury line that's made in LA. I love the idea of where fashion is going. I wouldn't be surprised if I explored a second-tier line, but it would stay in the women's field.
What else will we see from Haney?
We're growing really quickly. There's all these constant opportunities that are popping up and lots of things in the works. We are LA to our core and I'm excited that I was one of the first ones to recognize that there's a real work force out here that can make true luxury. We've got amazing pattern makers and sewers. I'm thrilled to be able to give work opportunities to the city that I've adopted and love.