The best kept secret weight-loss treatment in Europe has finally landed stateside. Martine de Richeville's Remodelage technique, a special high-end massage therapy that aims to remodel the body by working on deep skin layers and older fat deposits with a method that balances the body's proportions. If that sounds far-fetched, think again. Fashion insiders in Paris swear by it–one source claims to have lost almost 20 pounds in a matter of months. A-listers like Sofia Coppola are regulars and de Richeville's method is so unique, she has a patent on the process. De Richeville filled us in on her new outpost at the Caudalie Spa at The Plaza and gave us the 411 on how Remodelage works. For those weary after fashion month, what could be better than rejuvenating your mind and body and shedding a few pounds while you're at it? Read on for more on Madame Martine's miracle method.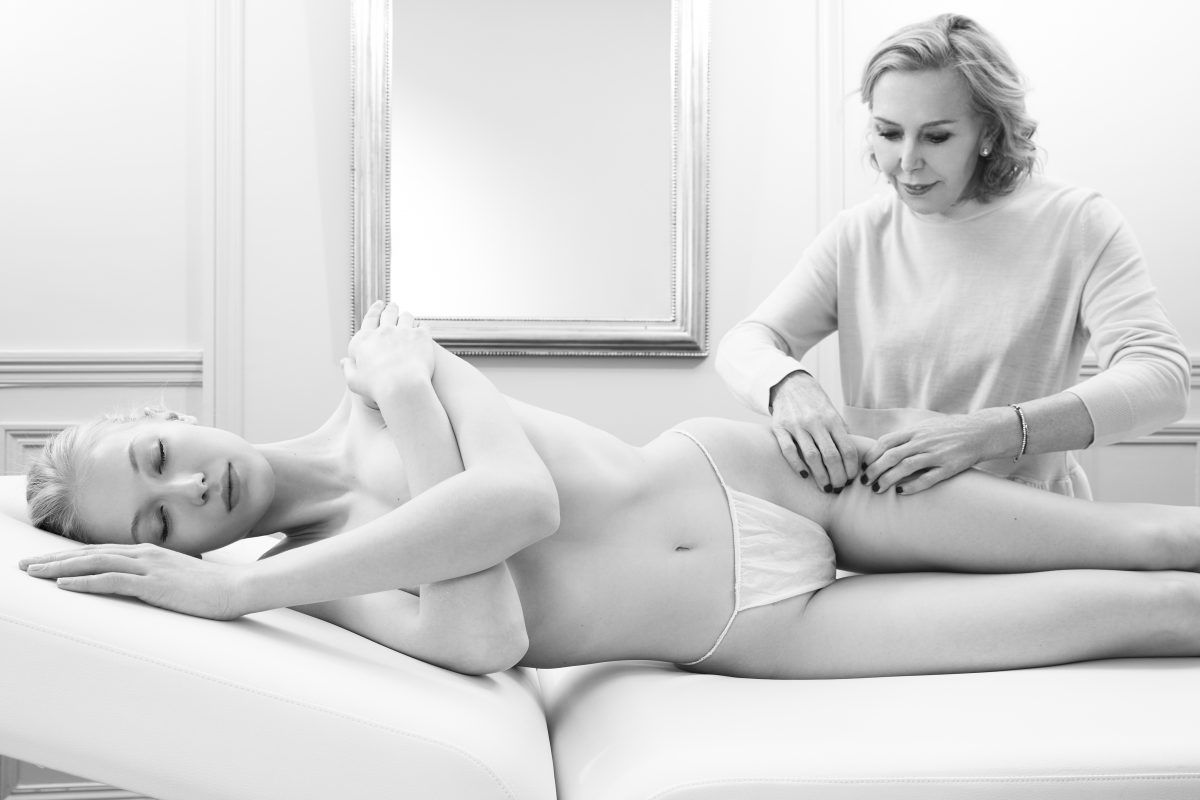 When did you first develop this method?
I have been developing this method for 15 years. The principle was to harmonize the mind and the body. I have training in psychology and also a diploma in acupuncture. I believe that weight is not distributed in certain areas of your body by accident. There is a reason. It's linked to the mind. We act on all of the areas of circulation: your blood, your lymphatic system, and your energy. You have to equalize the body. That is the first part of the technique. The second is a mechanical action on the cellulite. We work on the skin tissue. When we obtain healthy skin tissue, we can resculpt the body. I have no training as a masseuse. I've created this technique using my intuition.
We hear some of your female clients have shed several pounds using your method. Is the main objective weight loss?
Yes, you lose weight because we work on the metabolism, which allows the body to burn more fat. But also, when you're also working on your mind and getting to a positive place mentally, you pay more attention to what you eat.
How long does a client need to do this method before seeing results?
To have the most satisfying results it's necessary to come once a week or two times a week at the beginning. It allows the body to stop storing water and start burning fat.
Do you have many male clients?
We have some and are seeing more and more, because I have created a special method for the men, because men don't have much cellulite, typically. We work more on their stress. We work on their head, their tension in the shoulders, and on their stomach. We work more on their muscles, as well. We work equally on their back, their shoulders, and their stomach.
And for your female clients?
For our female clients we work even more on the stomach because it's the emotional center of a woman's body.
How much does it cost?
At our New York center, the price of the body care with one of my collaborators is $250 per session and $2,200 for 10 sessions. The price of the body care with one of my collaborators in Paris is 150€ per session and 1300€ for 10 sessions.
You just opened your business in New York. Where can clients go to have this method done?
We opened here in July at the Caudalie Spa at The Plaza. I've tried to come once a month in the beginning to meet with clients, but we have a therapist from Paris that trained with me that will be there full-time.
How do you explain your process to first-time clients?
In the beginning, it might hurt, but what hurts is the skin's resistance—the cellulite. You must relax. As you continue with the appointments, your skin tissue will begin to relax. [Ed. Note: We've tried Martine's Remodelage method and it feels like a fabulous massage.]
How do you advise your clients on their diet?
I work with a nutritionist who proposes a simple method. You can eat a little of everything, but we work on food associations. In the morning, you should eat something simple, like a fruit. In the afternoon, you can eat different types of food, and in the evening, just four or five types of food. For instance, you would not associate or mix foods that have starch with ones that have acid, or you would not put lemon with a salad containing raw carrots, because it won't digest well. When we don't digest well, we store fat. The technique is based on the associations of food and it works very, very well. Of course, you must exercise–that's indispensable. But you can lose up to 22 pounds in two months.