Maria Sharapova is in world domination mode! After a brief hiatus, the tennis legend continues to ace at life—both on and off the court—staging a thrilling comeback at the US Open, penning a new memoir, and growing her budding candy empire, Sugarpova. Sharapova shows us her sweet side!
Congrats on an amazing return to the Open. How did it feel to be back?
It is always special being a part of the US Open. There is nothing like the New York crowd excitement during a night match under the lights of Arthur Ashe Stadium. I loved being back in a Grand Slam atmosphere. From the preparation and the practices, to the matches in front of thousands of people, it felt really great.
How did this year's strategy differ from your other competitions?
Overall, I really embraced the excitement I came into the tournament with. The Gram Slam experience is incomparable to any other event, and I certainly missed that feeling.
What moment during this year's Open will you remember most?
My first round on the Monday of the first day of the tournament was really special. I faced a tough opponent and came through in three long sets. I thought we both performed extremely well, and the quality of tennis was well beyond a first-round match. The atmosphere that evening was one of the best I have experienced in my career of playing in New York. I loved every minute of it.
Moving on to candy! How did you end up as a sugar magnate?
I've always wanted to create my own business while I'm playing. I've been a part of big corporations and brands, whether giving design input or creating my own collection, but in the end, I knew I wanted something to be my own. I wanted to learn how to make business decisions, and it certainly was both a learning and growing curve for me.
Where did you catch the entrepreneurial bug?
I think sports and business align in the sense that they're both competitive. With sports, you know what you're going to get—it's pretty regimented. You prepare the best you can but don't know how things will turn out. I love the creative side [of business] and have enjoyed creating the name, the logo, and the packaging [for Sugarpova], trying to make it fun, all of which you can't find in a sport.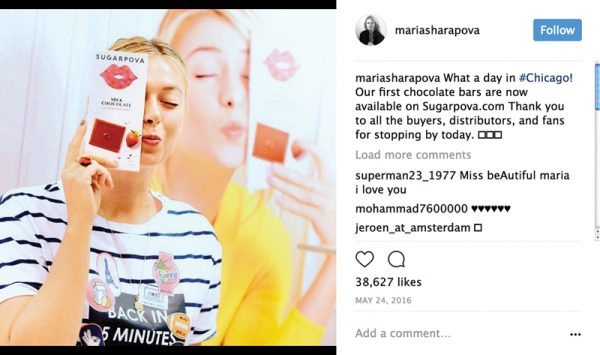 Is it true you tried changing your surname to Sugarpova?
I thought about it. [Laughs] It was a fun idea until I realized how challenging it would have been.
How involved are you in the operations?
Every day I respond to e-mails about everything from distribution to manufacturing to new product launches to the creative. We launched chocolate last year and we're looking into more categories, like chocolate-covered gummies. We look for places that make the best-quality chocolate with natural ingredients and creative ideas.
You attended Harvard Business School—discuss!
It was about getting out of my bubble. We're always around similar people, be it friends or family, so I wanted to put myself in an environment that was new, challenging, and different, and open up my mind. I left there with a lot more knowledge.
Did your classmates know who you were?
Yeah, they did. [Laughs] But I think everyone had similar goals. I was the youngest one in my classes. It made it more challenging, but also more interesting. Everyone was in different fields—food, cars, etc. It was a wide range of people, and it was different from playing my sport, which is a very individual one.
What's the scoop on your new book?
My memoir, Unstoppable, is finally coming out during Fashion Week! I've been working on it for more than two years. The story starts when I moved to the U.S. when I was 7, and how I was under my father's wing for most of the time with my own big dream.
What did you miss most during your hiatus from tennis?
The competition. That's really tough to replace, especially on a professional athlete's level. I just turned 30, and as a tennis player, you think it's the end. But I think I gained a whole new level of appreciation for what my body can do at this age.