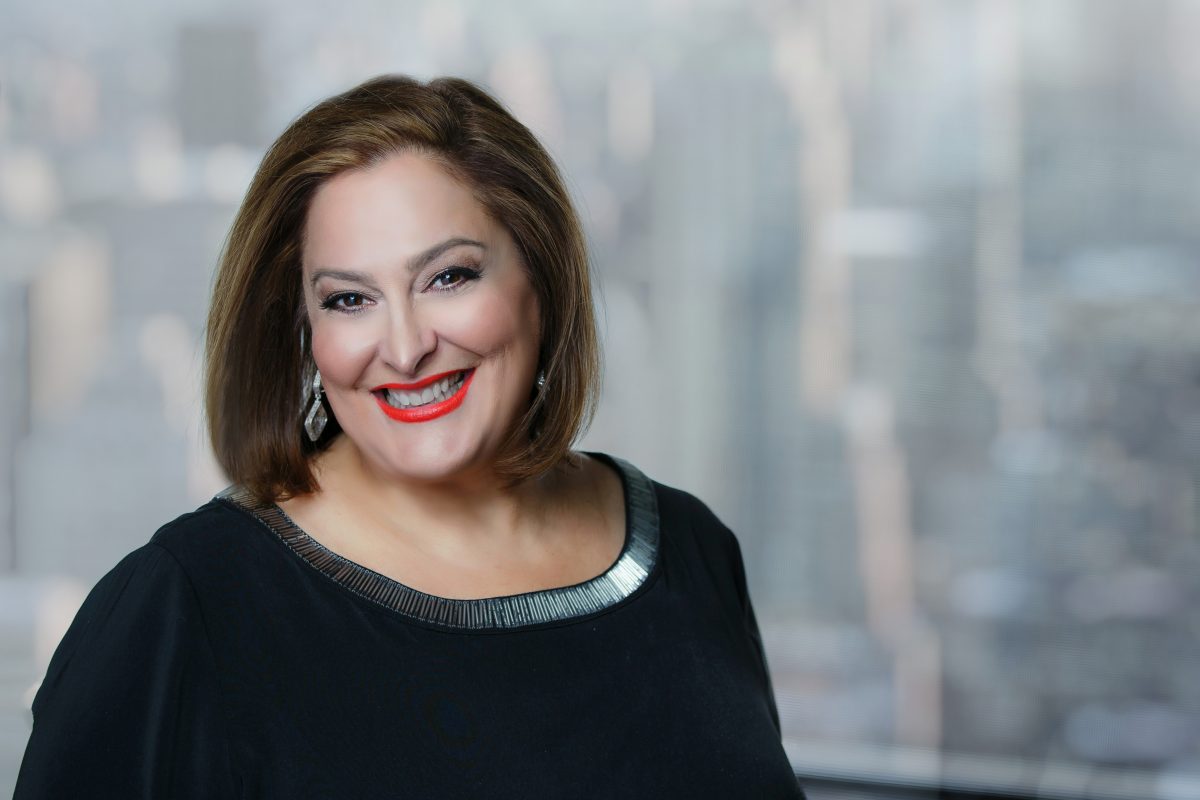 After working as a makeup artist on TV sets and backstage at Broadway, Laura Geller decided to hang out her shingle, and opened a makeup studio on the Upper East Side in the 1990s. It quickly became a go-to for women about town, and paved the way for an expansive line of makeup products. Twenty years later, the beauty maven gives us the dish on her beginnings, biggest hits, and what's to come. 
Laura, you're coming on 20 years in business. How did it all begin?
I've been a makeup artist for over 35 years, and started in television, film, and theater. About 30 years ago, I started doing makeup for my clients privately. They wanted to purchase the products after I finished making them up. I didn't recognize it at the time, but I was able to communicate how to do makeup in a way that encouraged people to buy products, and break makeup down in a way that was goof-proof and not intimidating. I thought, What if I could develop a whole line around products that really help women enjoy doing their makeup in an uncomplicated way? So I created my own line in 1997.
When did you first notice that it was taking off?
When I was at a Cosmetic Executive Women function at the Waldorf and QVC's head of beauty introduced herself and said she knew who I was. For 21 years, I'd had a store with private makeup rooms on the Upper East Side, which was helping me to become well-known. She asked me to try QVC. I had developed a product based on my heritage, which is highlight and contour—my real education is the anatomy of the face. I went on air with it in 1997 and we sold out in five minutes. I thought my career went to heaven and back, and I was done.
Yet here you are! What made your line stand out from others?
Our technology and artisanal way of making makeup out of Italy. QVC kept challenging me to come up with new products. I didn't have a marketing team, and I didn't know what I was doing. I opened my makeup drawer one day and I saw a bronzer that had all these different colors in it. I tracked it down to a small factory in Italy. I went to Italy and discovered this proprietary process of how they make it and why it was so easy to use. I walked the factory line, and they gave me all their proprietary information…no one does that anymore! I was literally picking up a spoon and making it with the artisans. And I never looked back. Truthfully speaking, it's laborious, it's expensive, and it's time consuming, but there's nothing like it in the world.
Why is the bronzer so special?
It does the work for you. All the baked palettes are color-correction products. The foundations have six different color corrective pigments, and it's fragrance free and gluten free.
What was it like breaking into the beauty market in the '90s?
There wasn't as much competition, but I didn't have the benefit of hiring the people I have today because I didn't have the finances. Today, there are so many mentorship programs for people with ideas. Twenty years ago, I didn't know who to call for help with developing my own business. I was packaging my products with my mother's friends in the back of my store. Eventually I found out that there is such a thing as fulfillment houses. Then, I no longer needed the Bridge table in the back of my store [Laughs]. I sound like a dinosaur! But those kinds of things make a difference.
When did you first spark an interest in beauty?
I grew up in the suburbs of Rockland County in New York, and there was a woman on my block who worked at a department store selling product. She was gorgeous. I was so fascinated by how she made herself up, so I'd go to her house and have her make me up for all my parties and Sweet Sixteens. I saw how empowered I felt, and I saw that as an opportunity. Could it be big? I wasn't sure; I didn't know what would happen. Out of high school, I went right into the industry. I got my license and I studied at the School of Visual Arts in New York. I was young when I started, just 18. I probably could have gotten to where I am today a lot sooner, but I kind of enjoyed the learnings along the way.
What was your first big hit?
Our Spackle! It's a phenom now. I thought it was going to be a one and done, and it's not, after 20 years. We started off with one Spackle, and it spun off nine children. Each one does something different as an under-makeup primer. We sort of spearheaded that category.
After dabbling in selling in stores, you made the decision to move to QVC. What's it like selling makeup on TV?
There are so many variables involved in the magic of being on air and selling your product. You don't have to be an actress and you don't have to be television savvy—you have to love what you're doing and you have to believe in your product. You also need quality product. When the customer gets the product at home, she knows whether or not you sold her a bill of goods. I'm only as good as the product.
You started out behind the scenes working as a makeup artist for TV and theater. What were your favorite moments?
I got to work with some of the late greats—Audrey Hepburn, Ginger Rogers, Paul Newman, Charlton Heston, and Gene Simmons of KISS. Those opportunities truly became the fabric of who I am. But at the end of the day I was searching for my comfort, which was teaching women how to do their makeup. And I found it, by happenstance.
Do you miss it?
I do, I miss the old days of carrying my makeup kit! But I get it out of my system when I'm on air or when I do an event.
Roughly how many launches do you have each year?
From 100 to 200, but that includes gift sets and kits and shade extensions. Sometimes we're late for launches because we're sticklers, but we want to get it right. You don't get a second chance to make that first impression.
Is your home flooded with product?
It used to look like that! I moved a year and a half ago, and the mandate was: build me cabinets so I can hide everything. I am a bit of a makeup hoarder, and I never get tired of seeing something new.
What's happening at the brand today?
What's old is new again! I started out in the world of contour and highlight. Now highlighting is the next big category—they call it strobing. We've been doing it all along, but our Gilded Honey became a phenom because of social media, and sold out everywhere. The primer category continues to be strong. We have Spackle Mist, which is the first ever primer in a mist form. You'll see more from us in the lip category next. We found a way to crack the code and bake it as pure pigment. The line is called Baked Iconic Lipsticks. It's sculpted with a curve to the shape of your lip, so you don't need to swipe it more than once. It's not trite to say that we've made a huge difference in this industry. In the United Kingdom we're the No. 1 color brand, we're one of the top three in the United States, and we continue to grow every year. I'm so proud of that.