In perhaps their most comprehensive post for us ever, Ruffian's Brian Wolk and Claude Morais have worked overtime to create the ultimate list of the cool kids to know in Los Angeles. Meet LP, Darryl Gibson, Mojean Aria, Danya Zegarelli, Armen Ra, Sarah Gavlak, Noah Mills, Gregory Siff, Elizabeth Schmidt, and Chrissy Phelan, who explain why the City of Angels is having a renaissance, reveal their favorite dives, and more. It's a must-read!
After three months of experimenting with bi-coastal living, we are thrilled to present our definitive list of the top ten kids currently making L.A. happen. They're the ones at the forefront of hip culture and contributing, in an indelible way, to the current Los Angeles renaissance. This cadre is leading the way as a true source of inspiration to the worlds of art & design, performing arts, music, beauty, fashion, culture, nightlife and luxury. Without any further ado we present…The L.A. cool school.
BY BRIAN WOLK AND CLAUDE MORAIS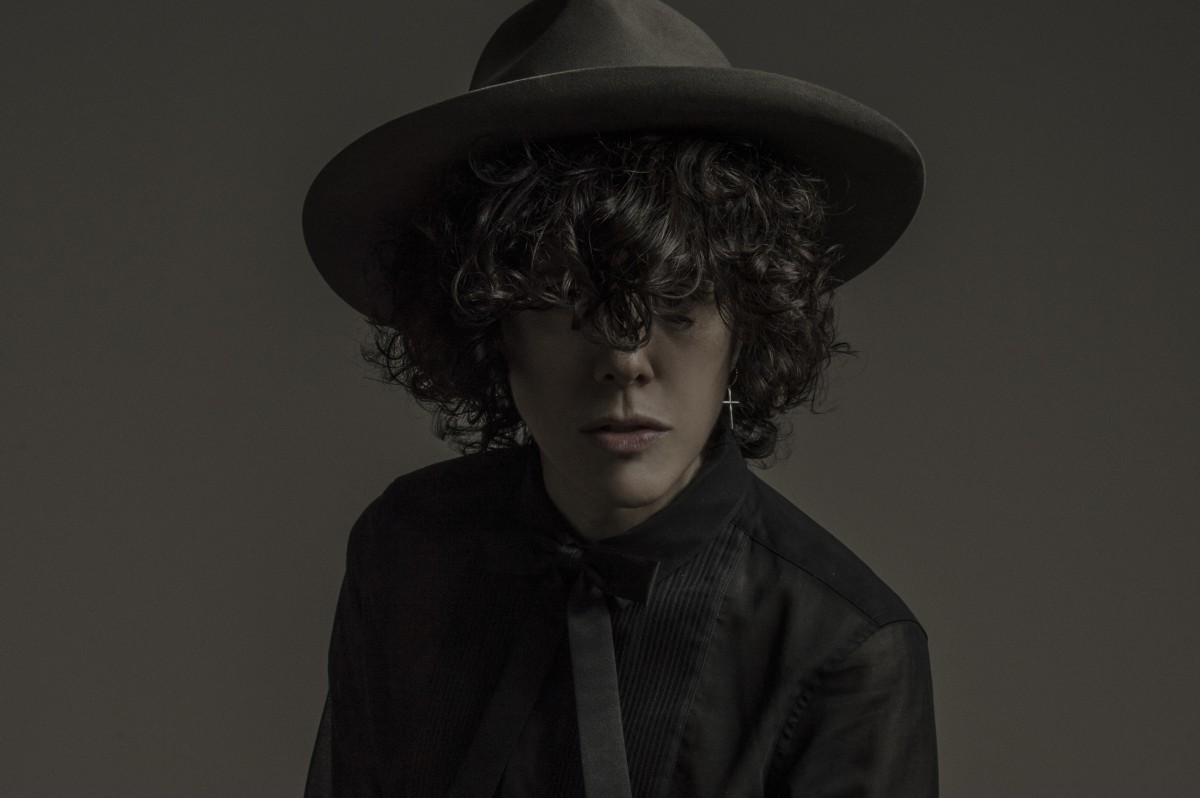 LP, Singer/Musician
What inspires you in Los Angeles? How is that translated in your work?
I seem to feel the muse very strongly here. I don't really know exactly why except I think many musical heroes of mine  (The Doors, Joni Mitchell, Crosby Stills & Nash, Neil Young) have spent time here, and I feel even closer to their songs now somehow having spent time here myself. Also, I feel like the arid desert climate has a magical expansive effect on me.
Why do you think L.A. is culturally relevant and having a renaissance now?
I think the surge of technology and the increased amount of influx back and forth across the country, and the world, in the last 10 years has played a part. L.A. has always been a place where artists love to go; and where many have settled because the weather is kind of awesome and the attitude is laidback. The L.A. artistic community collectively decided it was not going to live in New York City's shadow anymore. And, as most people know, NYC is not as welcoming to struggling artists in terms of affordability. NYC will always be a mecca, of course, but as the world expands, there is room for more in L.A.!
Why did you decide to move to here?
I was pretty much bi-coastal from the time I signed my first major label deal. I was constantly writing and being put with big songwriters who all lived in L.A. As this went on for three to four years my life, my friends and my interest gradually shifted to this coast. I truly didn't see it coming oddly, but suddenly this was my home.
What is your favorite restaurant?
One of my favorites is Crossroads, which is a super high-end vegan place that makes incredible food. A majority of the menu is not soy-based, which is difficult to find sometimes, and they have a great bar that makes it even cooler.
 What is your favorite dive?
Why, Jumbo's Clown Room, of course.
 What is your favorite institution?
Although parks are not institutions per se, I would have to say the Griffith Park Observatory. Plus any and all of the many amazingly beautiful parks around LA from Silver Lake to Malibu.
Where is your secret hideaway?
Somewhere in Big Sur. But if I told you, it wouldn't be so secret anymore now would it.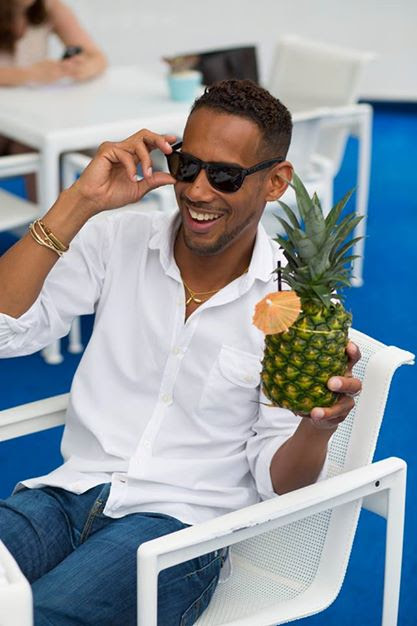 DARRYL GIBSON, Director of Culture & Nightlife Bar Marmont & The Standard Hollywood
What inspires you about Los Angeles? How is that translated in your work?
The diversity of Los Angeles is a great inspiration to me.  It's a reminder for me to never take anything for granted. There's always more than one side to every story.
Why do you think L.A. is culturally relevant and having a renaissance now?
L.A. is a vastly cultural place.  You have to be hungry for stimulation, I think, to get the most out of it.  From what I can tell, there are a lot of truly creative minded people recently moving here from other places. Not people just looking to be stars or chasing fame or whatever, but artists of every discipline that have a lot to say about the world, not just about their craft.  They have a point of view, and they're not afraid to share it. They are bold and courageous. They are bringing something fresh to L.A., it's something that those of us that have been here for a while should be paying attention to.
Why did you decide to move to L.A.?
I moved here to follow my dreams, like most young people, and eventually found myself.
What is your favorite restaurant?
This is an easy one and I'll probably regret sharing this, because it's such a small restaurant and it's really close to my house (so I go there a lot!).  My fave restaurant in LA, hands-down, is Papilles.  It's charming, rustic, unpretentious, and the food is ridiculously good. Tim Carey is a very talented chef and there's a lot of love and attention going into his food.  There isn't one person that I've taken to his restaurant that didn't absolutely love it.  Save room for dessert, the pot de crème is pretty crazy.
What is your favorite dive?
For sure it's Jumbo's Clown Room.  If you don't know, look it up.
What is your favorite institution?
The Chateau Marmont.
Where is your secret hideaway?
I don't know how much of secret it is, but my favorite place to take some time to myself and always gives me added perspective on whatever I'm sorting through in life is a visit to the Hollywood sign.  I live in Hollywood Hills and can easily go on a hike on the trails of Beachwood Canyon. Once you reach the top, there is this little spot where there's the most spectacular view of the city.  On a clear day you can see everything from downtown L.A. to the ocean as well s the Burbank and the Valley.  The best time to go is a sundown, it's really quiet.  Sitting up there looking over the H-O-L-L-Y-W-O-O-D letters at the twinkling lights of Los Angeles always reminds me what a magical place this is.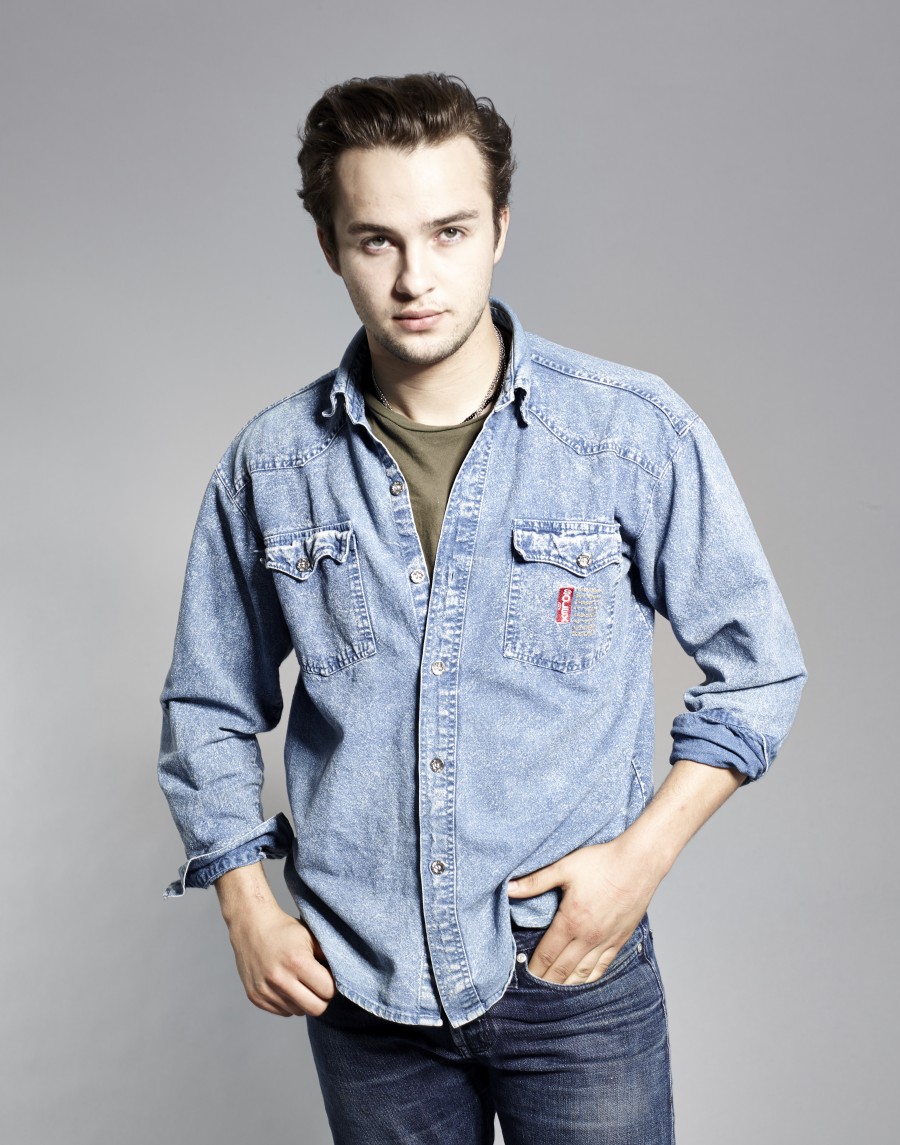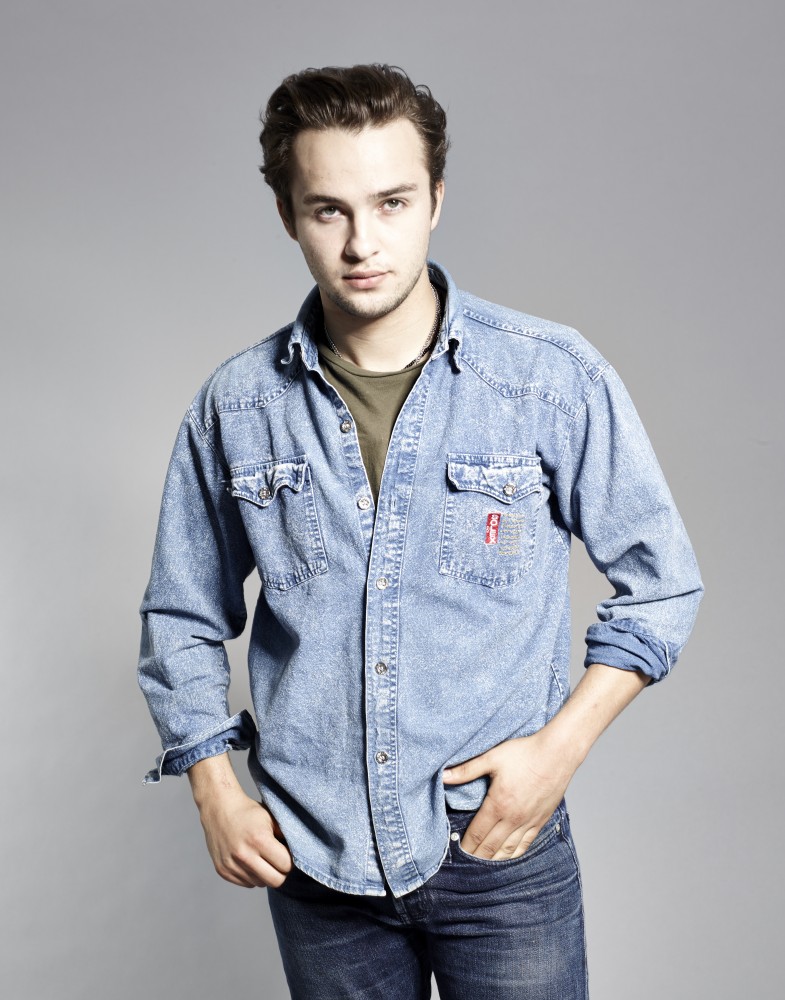 MOJEAN ARIA, Actor
What inspires you in Los Angeles? How is that translated in your work?
I think the most inspirational thing about Los Angeles is that it is a city of huge influence. Whether it be films, music or other art forms it must be said that Los Angeles is the artistic entertainment capital of the world. That's inspiring because I feel like there's a chance that my voice can have a worldwide reach and just that thought gets me pumped to be here on this artistic frontier.
Why do you think L.A. is culturally relevant and having a renaissance now?
Culturally relevant because most pop culture is created here. Having a renaissance is a tough one, I feel like it may be due to the huge surge of Europeans and Middle Easterners that immigrated here in the '70s and '80s. Having settled, a second generation has grown up, learning the best of both worlds, and is becoming hugely influential.
Why did you decide to move here?
I'm from Australia and I feel like the world is becoming more and more American by the minute especially back home. Its practically become a natural progression for actors in Australia to eventually move to The United States since I would say 90 percent of our film and television industry is American.
What is your favorite restaurant?
Dan Tana's. Not just because of the terrific Italian American style servings and food, but the fact that it's been open since the '60s and carries a great piece of history in Hollywood dining. I just can't look past the fact that I can order a delicious veal scaloppine by simply asking the waiter for a Karl Malden.
What is your favorite dive?
I don't go to bars much but I still know Franks N Hanks is the best. It's a little bar in nowhere Koreatown that has no Korean influence at all. It just looks beautifully lost. Drinks are next to free. The place has been open forever. It's the Louvre for people watching and legend has it that Charles Bukowski use to get trashed and write there.
What is your favorite institution?
The New Beverly Cinema. It's the only the theater I know that plays classics films all through the week on a film projector. It's simply not fair that generations before were able to witness films like A Place In The Sun or On The Waterfront on the big screen and my generation is left streaming them of Amazon. Thanks to The New Beverly, there's hope.
Where is your secret hideaway?
Koreatown. It's the one place in Los Angeles where I go when I'm thirsting for an adventure. You truly never know what's going to happen. You walk down the wrong road, step into a building with some fancy lights and next thing you know you are at a karaoke brothel (Yeah, those exist). After attempting to sing hit songs in Korean, you are invited to a late night establishment that has no consideration for the law. They will serve drinks till the wee hours of the morning, not to mention the mouthwatering, random, exquisite foods like fried chicken butts.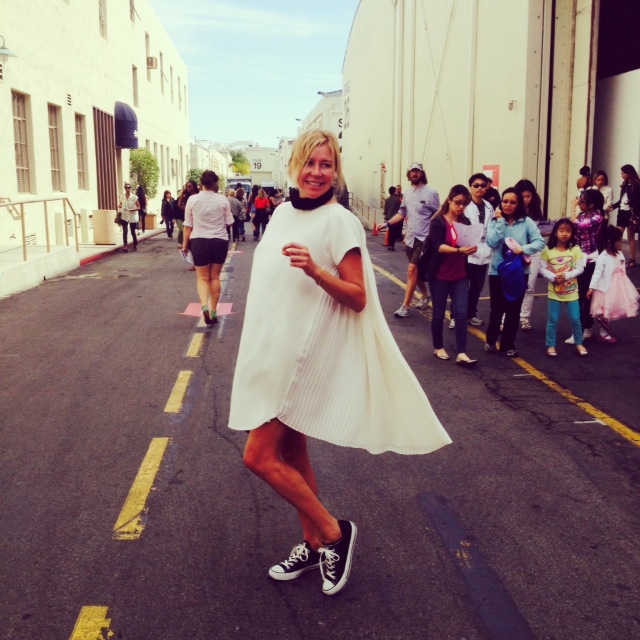 DAYNA ZEGARELLI, Founder Gypset Luxury Marketing and Consulting
Who and what inspire you about Los Angeles? How is that translated in your work?
I was born in Pittsburgh and lived there until I was five. After my father passed away, my mom decided to choose the furthest point away to move on the US map and we relocated to Point Dume in Malibu. I always felt lucky they she went horizontally across the map rather than diagonally otherwise I might have grown up in Mexico. I am grateful to be from Los Angeles. I started interning in the entertainment industry the moment I could drive. I am inspired by LA everyday with its rich history, diversity, landscape and character. I love that L.A. is so malleable, always ready to be reshaped.
Why do you think L.A. is culturally relevant and having a renaissance now?
The city has had many periods that one may refer to as renaissance. I remember my mom's 'L.A'.s the Place' poster in the 1980's that hung proudly in our guest bathroom. I think that every city becomes culturally relevant at different moments, and L.A.'s time is now because we say so. People like L.A. for all of the same reasons that anyone likes anywhere; it just so happens to be that right now an important group of innovators, artists and entrepreneurs are migrating here. We have also been enjoying a very important art moment in LA, and as we know, the art scene is always a trailblazer for real estate and culinary development, and of course for fashion.
What is your favorite restaurant?
I love to sit at the bar at Bruce Marder's Capo on Ocean Avenue in Santa Monica. Being Italian, I'm biased about their Steak Fiorentina and have an affinity for the fancy '80s beach mise en scene.
What is your favorite dive?
Toe Bang in Korea Town is amazing. I found it one holiday season because the LED Christmas lights on the historical facade were blindingly effervescent. Some menu highlights include corn cheese and spam stew. I love a place where you push a button and get service; it makes me feel like I am in a Korean version of The Godfather.
What is your favorite institution?
I should probably say LACMA or MOCA but my favorite institution is the Tower Bar at the Sunset Tower Hotel. I love the history, the décor, the food, the service and of course Dimitri, the omnipresent Maitre'd.
Where is your secret hideaway?
I have been going to Two Bunch Palms Resort and Spa in Palm Desert since I was a teenager. It used to be Al Capone's hideout and brothel complete with escape tunnels carved underground leading to the highway. The ghost of the past plus the cosmic energy of the dessert make for a fully exhilarating experience.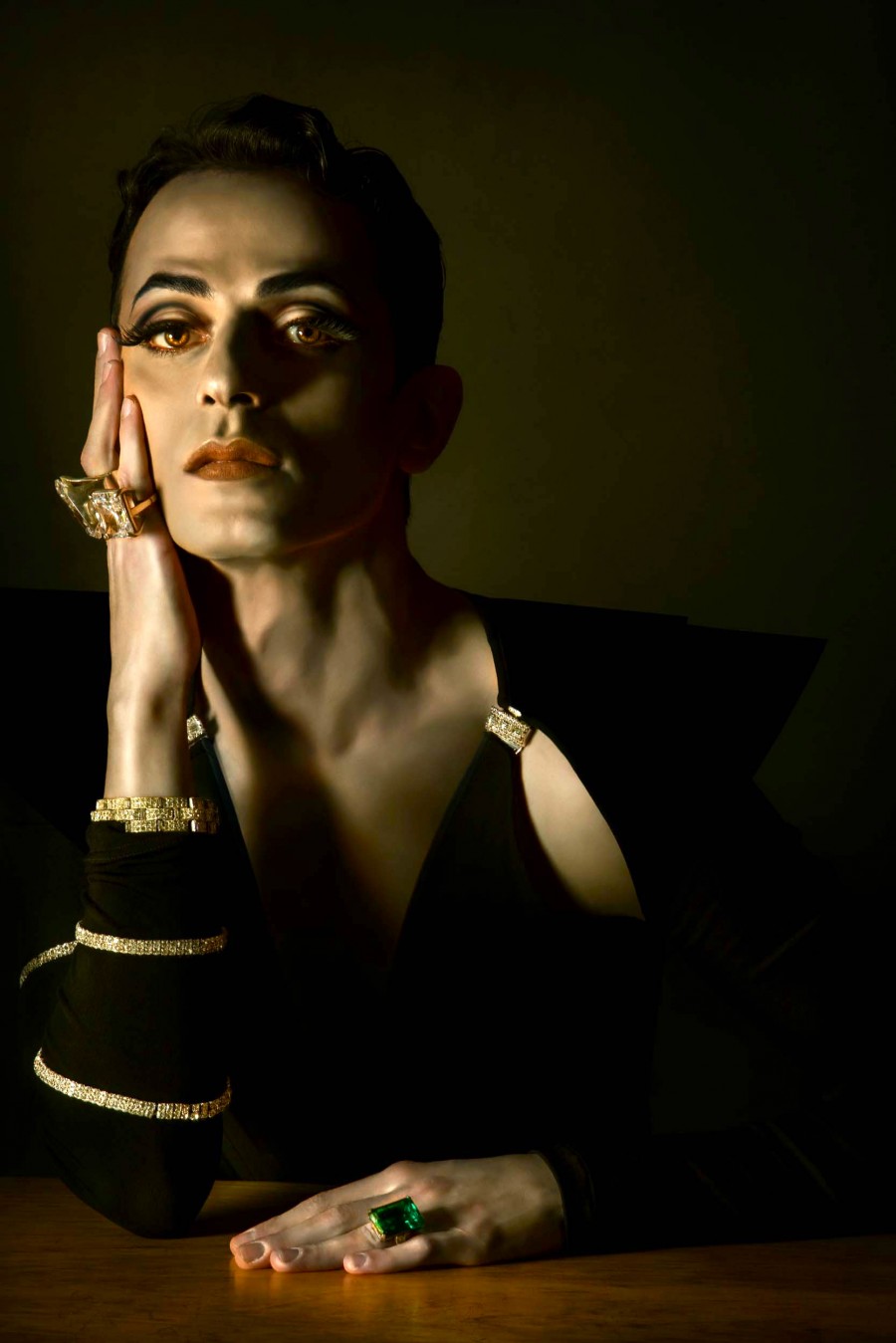 ARMEN RA. Thereminist
What inspires you about Los Angeles? How is that translated in your work?
Mostly dead people. Marilyn Monroe, Cecil B DeMille, Donovan, Adrian, Billy Wilder, Orson Wells, Gloria Swanson, Jim Morrison, Alla Nazimova, to name a few… The high standards of classic Hollywood glamour and production values have always been a part of my work; I aspire to be of that caliber as an image, artist, and musician. Now I am here, in the same dimension that they were inspired in and produced the works that inspired me. I feel them around… Now because of being here and elegant cosmic timing, we have an award-winning documentary about my life and career screening all over the world, including Los Angeles. Going to the Chinese Theater, or other old Hollywood Theaters to see my own film is surreal. That can only happen here.
Why do you think L.A. is culturally relevant and having a renaissance now?
Los Angeles has always been culturally relevant I think. Considering all of the film and music that was born and created here. Besides stars and directors, there were all kinds of musicians poets, make up artists costume designers, art directors, set designers, lighting experts, these peoples work has influenced the entire world for a century, really. It seems that L.A. has become trendier now. A lot of artists and musicians have congregated here again. Comparatively it's easier to live in L.A. as an artist, there's more space and so more people are able to live and create here. There is so much going on its impossible to keep up, especially theater nightlife and live music, classical included. From Hollywood, Silverlake nightlife, to downtown classical music, venues in North Hollywood, Santa Monica, Malibu….The night life spans from fresh creative musicians, club kids and drag artists, to mixed chic lounge scenes that have not been seen for at least 30 years.
Why did you decide to move to L.A.?
I've lived in Tehran, Boston, New York, and finally Los Angeles! My parents had moved here so it made it easier. Marilyn Monroe is the Patroness Saint of this city, she is everywhere, she called me here. The ocean. Seeing the sky, the beautiful trees and flowers everywhere, knowing all the great stars and directors and designers walked these streets inspires me. The weather is unbelievable!  I've wanted to live in Hollywood and be a star since I was a child. Dreams come true-ish.
What is your favorite restaurant?
Chateau Marmont Hotel
What is your favorite dive?
Cantors
What is your favorite institution?
Mental
Where is your secret hideaway?
Westwood Village Memorial Park cemetery.
SARAH GAVLAK, Gallery Owner
What inspires you about Los Angeles? How is that translated in your work?
What inspires me is the feeling here that everyone is doing something different, experimenting and looking for new ways of working.  Like New York was in the 60's when Warhol went there, LA is now the place to go and invent yourself. I love New York, but L.A. is where my creative juices flow…
Why do you think L.A. is culturally relevant and having a renaissance now?
I think L.A. has been culturally relevant for a long time; it's just that more people are understanding that fact…
Why did you decide to move to L.A.?
When I moved here in the 1992 it was the year the Helter Skelter exhibition opened at the Geffen Contemporary (then called the "Temporary Contemporary"). It blew my mind and I could feel how unique the art being made here was. In returning again this time, I feel the same about all the art and artists here, it's just that now the art scene has expanded and there are more people involved. It's really inspiring to see how much it has all grown and changed and I am thrilled to be a part of it again!
What is your favorite restaurant?
Musso and Frank in Hollywood. It's old school, there is nothing fancy or trendy about it, it's just what it is and will never change.
What is your favorite institution?
The Hammer, MOCA, LACMA, and The Getty.
Where is your secret hideaway?
The Rose Garden and Tea Room at The Huntington Library. Taking afternoon tea there is the perfect civilized respite…
NOAH MILLS, Actor/Model
What inspires you about Los Angeles? How is that translated in your work?
I think there is and has always been something about the West that feels kinda wild, the Wild West. Its big, spread out, there so many different microcosms within LA. One day I can be on the east side and be inspired by a Japanese business man in little Tokyo, and the next day be down at the beach and be inspired by an old salty Malibu local with a vintage bug ya know. I love that about here.
Why do you think LA is culturally relevant and having a renaissance now?
There's always been a draw for the weather and lifestyle California can provide, outdoors etc., but recently I feel like its less about the "family lifestyle " that's drawing people here and more about the art, downtown, Venice, fashion labels coming out here to produce, great music venues, great restaurants and bars, which I love cause those are typically the things people kinda "reserve" for NYC and Paris, but they're here too duuuude!
Why did you decide to move to L.A.?
Initially it was to pursue acting to kinda help myself wean off of modeling stuff and be in the thick of the entertainment industry, but my perspective and sense of goals etc. have changed a lot since I've been here.  I would stay for very different reasons then why I came.
What is your favorite restaurant?
It's no secret any more, really…"Cha Cha Chicken" in Santa Monica, Caribbean food, the butter coconut chicken would be my last meal if I was on death row.
What's your favorite dive?
This sounds funny but "cha cha cha's" in Silverlake. It's a Mexican restaurant and bar that's awesome and the "cock and bull" in Venice is a real dive but they have darts and pool so I'm down.
What is your favorite institution?
SAG/Aftra, I guess. They're really the only institution I'm part of that's truly there in my support and interest.
Where is your secret hideaway?
Hope I can still get an appointment after saying this but the Raven spa in Venice. Its a gem, its how I imagine an opium den in Vietnam would look like… minus the opium of course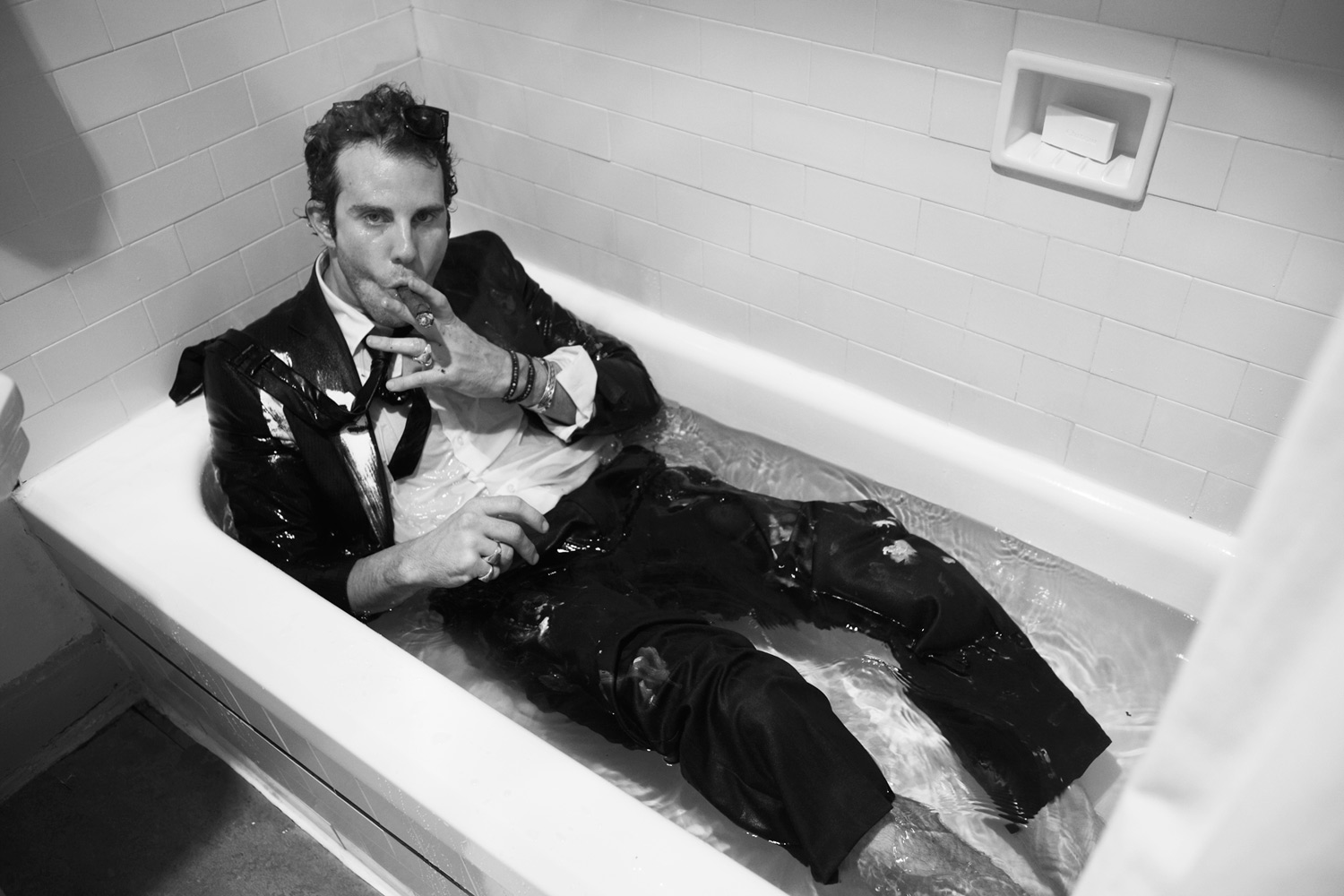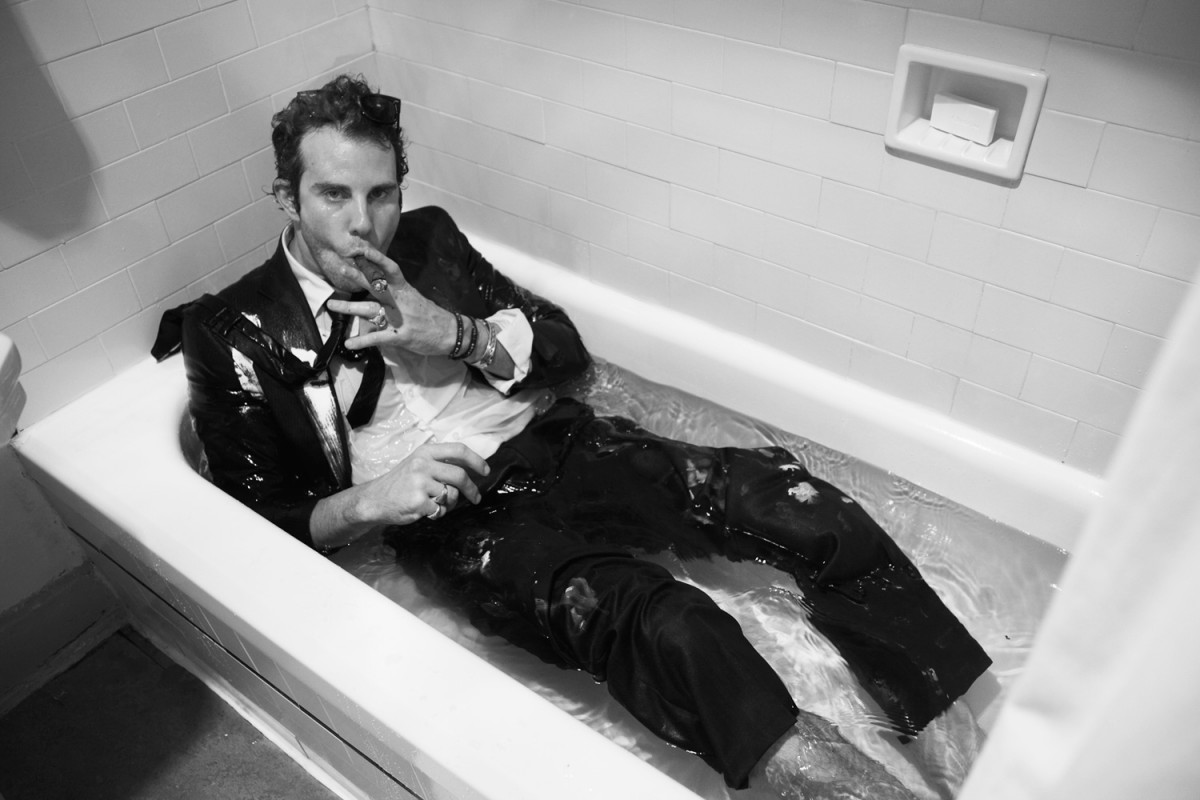 GREGORY SIFF, Artist/Painter/Muralist
What inspires you about Los Angeles? How is that translated in your work?
Sunset Blvd is truly the muse of all muses. The whole strip does things to me. The people you meet on late nights, downtown graffiti, the Pacific Ocean, my girlfriend's super life, chocolate shakes and the hustle. I live for it. It finds it's way into my work as recorded feelings and memories. What a place.
Why do you think L.A. is culturally relevant and having a renaissance now?
Going out in LA is a perfect collision of fashion, art and nightlife right now. I feel like people desire the stimulation of these three heavily and the platform is how you live your life, how you move around this town knowing real depth exists.
Why did you decide to move to L.A.?
I first decided to move to LA to be a star in the motion pictures.
What is your favorite restaurant?
Pace in Laurel Canyon is bomb as hell. Their brick oven pizzas and Tagliatelle are unmatched. Check out the back of the restaurant for a mural I did in honor of Jim Morrison and The Doors on Love Street. Wexler's Deli downtown at Grand Central Market has the greatest black and white cookie. I am looking forward to the Grand Opening of Hyde Sunset, I painted the interior and exterior and got to spend some time and taste the cuisine of Chef Chris Crary. Fire. Chef's and artists get along really well I've noticed over the years.
What is your favorite dive?
Haven't had any dive time lately. When I first moved to LA it was La Poubelle all the way.
Where is your secret hideaway?
Chateau Marmont is a best friend that will never leave you.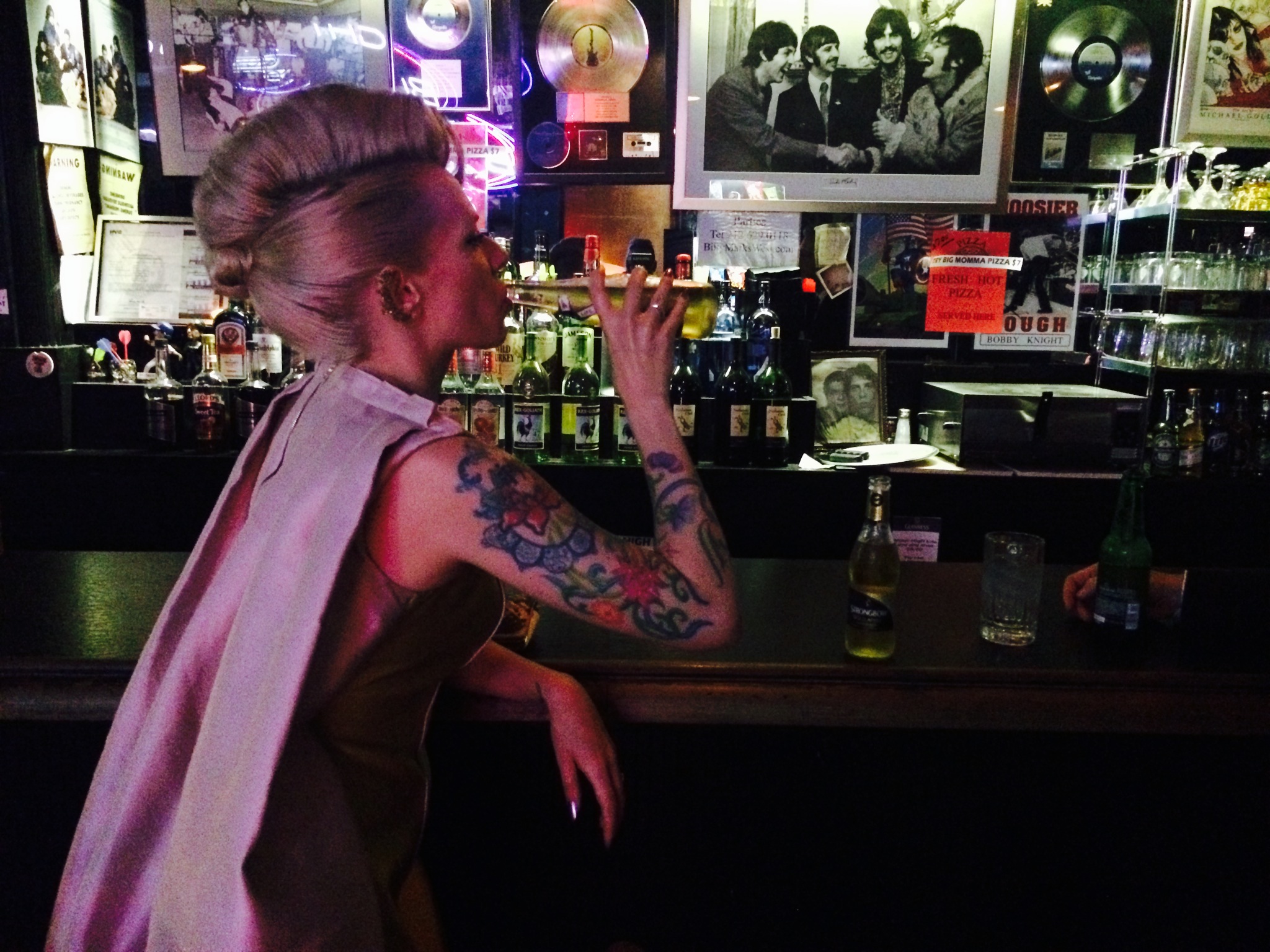 ELIZABETH SCHMIDT, Social Media Impresario/ Make-Up Artist
What inspires you about Los Angeles? How is that translated in your work?
Los Angeles is such an amalgamation of culture; it's almost impossible for me to not find inspiration somewhere. I'm a city girl at heart but I also crave nature and have found such a lovely balance in this city. Street art is a particular fascination of mine and is all over LA. Each mural provides colorful reminders of an artist's struggle or triumph and I find that so alluring. I absolutely love Mr. Brainwash's "Life is Beautiful" mural featuring Billie Holiday. I also am quite inspired by artists Cyrcle, Kobra, and Bumblebee. I treat faces like a canvas much like these street artists treat architecture. My art takes shape through faces and the emotive nature of each face can make my makeup art that much more powerful. When the bustle of the city gets to be too much for me, I always escape to nature. The hiking trails in LA are outstanding and so quiet that I almost forget I'm in the city. This is where I recharge and the hippie at my core gets inspired.
Why do you think L.A. is culturally relevant and having a renaissance now?
Los Angeles continues to shift its focus on what's trendy or cool at any given time. Restaurants and clubs come and go but the one thing that stays the same is the incredible talent in this city. Such incredible art continues to be created here and that will never stop. A fashion renaissance is definitely on the brink of major expansion. Smashbox Studios is reopening this Fall, the very location that Mercedes Benz hosted LA Fashion Week up to 2007. LA Fashion Week continues to expand with more and more talented designers emerging. There will come a point where L.A. based designers will choose to show in here over NY. I can't tell you when that day will come, but it's coming.
Why did you decide to move to L.A.?
At 19, I moved to California in hopes of starting a new life in a completely different environment. Being from Chicago originally, anything west of Illinois was different for me. I went straight to Beauty School in San Diego and received my Estheticians license. After 3 years in San Diego I moved to LA. San Diego was great, but far less interesting and far more conservative than LA.
What is your favorite restaurant?
I have too many favorite places to list them all, so I'll break them into categories. For that "oh so special" feeling, I go to Community. That's actually not the name but that's the text laid into the tile at the entrance of the no-name restaurant next to Animal on Fairfax. It's an invite only space that makes you feel special for even setting foot in the place. For a "melts in your mouth" meal, I go to Sugarfish. It is by far the best sushi joint in LA for an affordable price. For a "decadent delight" I go to The Bazaar by José Andres. The food and hand crafted cocktails are impeccable. Where else can you enjoy molecular gastronomy amongst Louis XIV furniture? Only in L.A.…
What is your favorite dive?
Though it's not a dive per say, I absolutely love Good Times at Davey Wayne's. They just opened and it's walking distance from my home, making it a home away from home. The seventies themed bar by the Houston Brothers has everything a good dive would but without the sticky floors and lingering smell. The interior of the bar is like the living room my father strived for in his hay day. The only thing missing is his 1976 white Corvette.
What is your favorite institution?
My all time favorite institution is The Museum of Jurassic Technology for its bizarre storytelling; unusual artifacts and they sure host a hell of a Holiday party.
Where is your secret hideaway?
There's an incredible house we rent every year in Palm Springs that not many people know about. The owner has a fascination for old Hollywood and every room in the place is home to some kind of historical relic or artifact, be it a photo of L.A. from the early 1900's or art deco sconce. The landscaping on the property is like a secret garden oasis. It's no wonder my husband proposed to me here!
CHRISSY PHELAN, Stylist, General Quarters Barber Shop
Who and what inspire you about Los Angeles? How is that translated in your work?
The history of LA as a whole from the 1930's when Hollywood was really getting it's major start all the way to the 1960's when it was still romantic and exciting is a huge inspiration to me and the look of the shop. Lots of great little shops and small business spread around town were special to the people who lived in that neighborhood. And we get the same feeling when we get to know our clients and their stories when they drop by to shop or get cut or just to check in and have a chat.
Why do you think L.A. is culturally relevant and having a renaissance now?
I'm not sure if it's more culturally relevant than it used to be, but there is definitely a stronger desire for people to immerse themselves in the community in which they are apart of.  People are out discovering L.A. like they haven't in a long time due to all the new local mom and pop type places that are opening. Social media has brought awareness to places in the city that would otherwise go unnoticed. And that broadens the activity and allows people to explore a bit more.
Why did you decide to move to L.A.?
Mama made me do it! I was born and raised here!
What is your favorite restaurant?
At the moment I'm really into Homestate in Los Feliz.
What is your favorite dive?
The Pikey on Sunset Boulevar
What is your favorite institution?
The Hollywood Bowl
Where is your secret hideaway?
If I told you it wouldn't be a secret…