Sarah Jessica Parker is synonymous with haute heels, so no wonder that her über-feminine, color-saturated foray into shoe design, SJP, is the real deal. (Getting Manolo mastermind George Malkemus on board didn't hurt, either.) As the brand celebrates one year in business this month, we caught up with Parker about her NYFW debut, breaking into bridal and bags, and where she salvages her soles.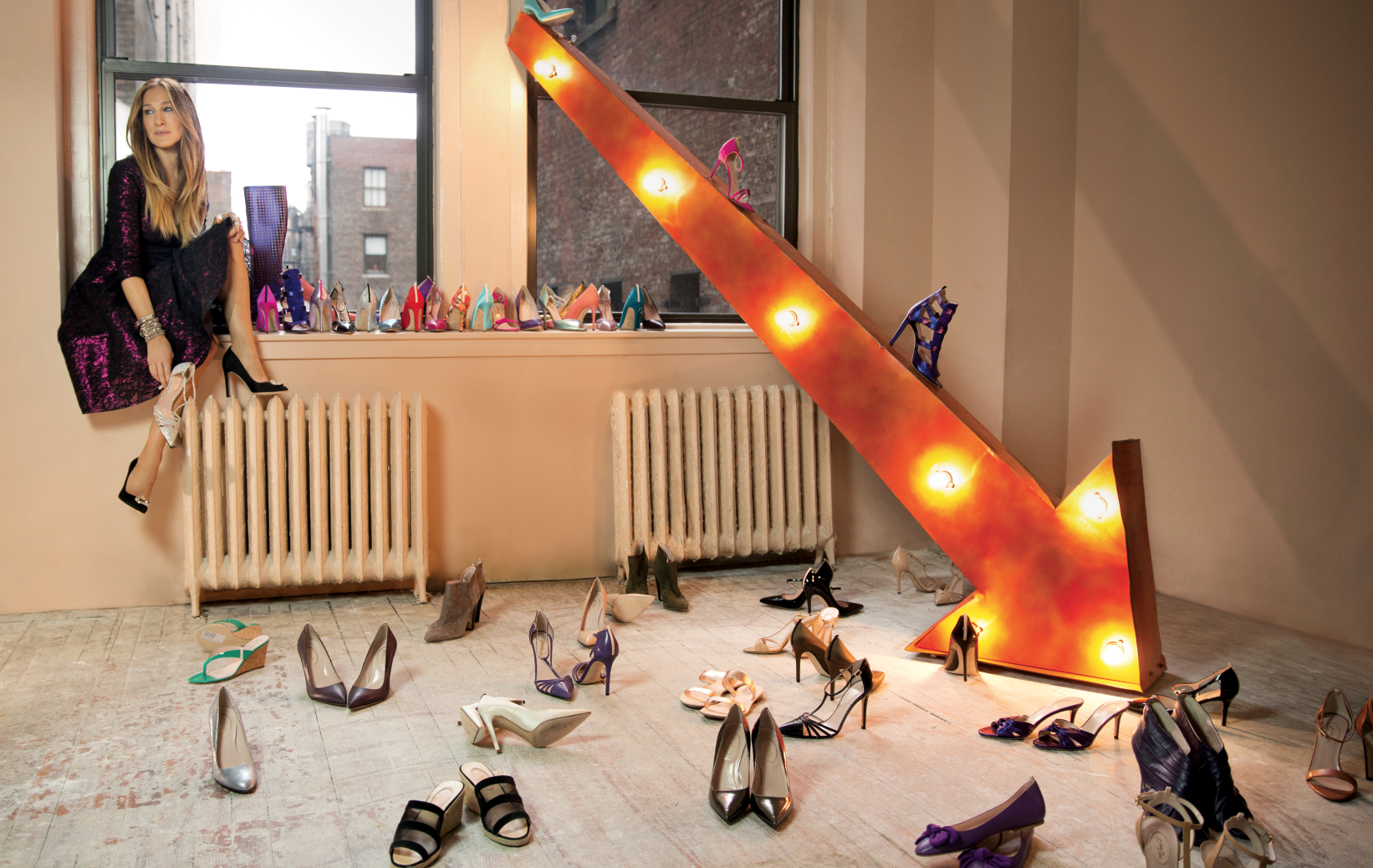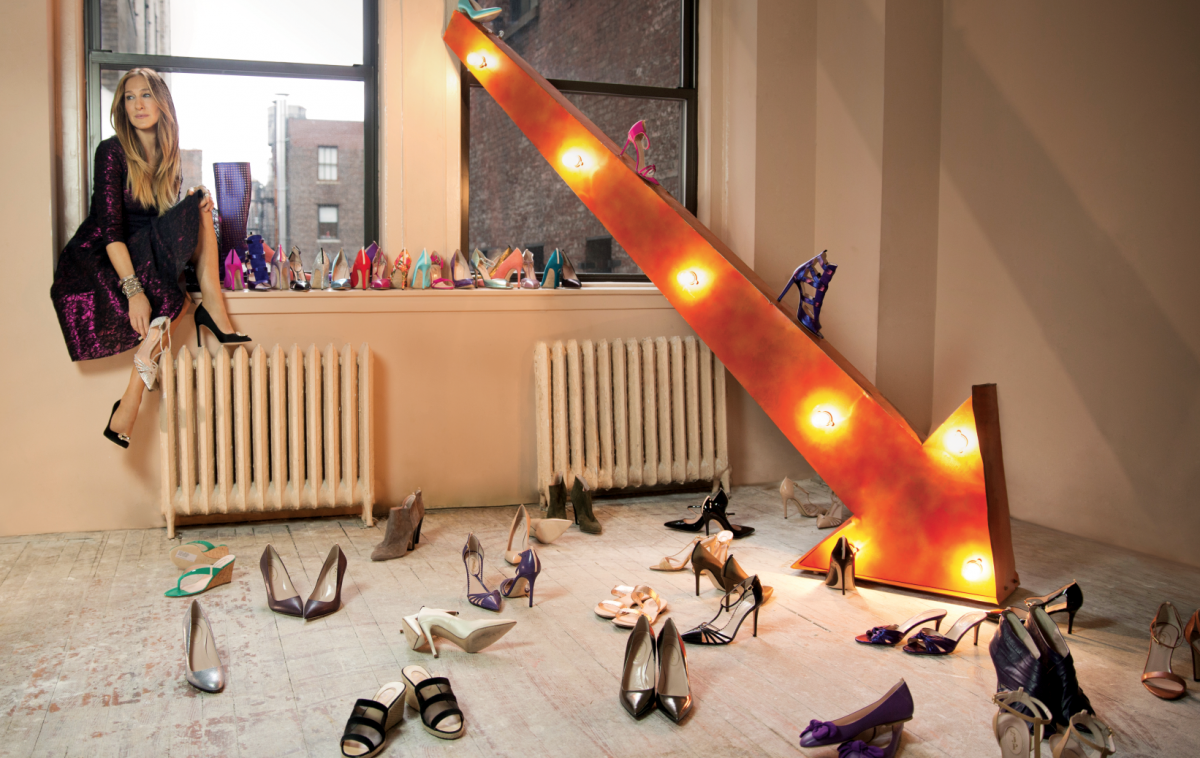 What was your first big-ticket shoe purchase?
Manolo Blahniks. It was in the early '80s in Los Angeles—my friend's mother owned a store on Sunset Plaza, Madeleine Gallay. I had little-to-no money, but my friend said, "This shoe designer is coming to my mom's store and he's doing a trunk show," so I went. It was Manolo Blahnik and George Malkemus. It was pouring rain; very few people showed up. I custom-ordered four or five pairs, and Manolo signed them all.
Congrats on the first anniversary of your shoe line.
I can't believe how quickly the year has passed—it's been lightning fast in terms of how much our little company has grown! It's been thrilling, challenging, and an education.
What kinds of retailers were on your short list?
I've been very public about my affection for Nordstrom—we'd hoped to launch there, and that relationship has been really lovely. But expanding retail is satisfying: It allows us to tell more people about the brand, and how it was built on color and the single sole. Zappos Couture gives the opportunity to be a little more editorial, and they have a very different customer than Nordstrom. Neiman Marcus has a really different customer, too: She's looking for sophistication and elegance, and she loves a seven-millimeter shoe.
Who are your fashion industry mentors?
Definitely George [Malkemus], Laura Mercier, Donna Karan, Narciso [Rodriguez], Sarah Burton, and Stella McCartney…
What's your design process like?
I look at every shoe that every person is wearing! My eyes constantly scan the street or the airport when I travel, whether it's a 2-year-old girl or a 70-year-old man. But for the most part, I'm sitting in a room thinking of new colors for our "essential" styles, like the Carrie and the Lady.
Why did you decide to dabble in bridal?
It happened by accident, honestly. We kept hearing that customers were wearing our shoes on their wedding days, in shades like pistachio and coral, and they started sending us pictures from their wedding days. We realized that there was space to rethink the wedding shoe. Women are breaking the rules these days!
You've also branched out into bags.
It's been very successful, surprisingly! We recently coordinated the palette and materials of our shoes and bags, because the two don't overlap in production.
What else are you working on?
We make really nice candles that sell really well, and I know why—they smell so freaking good. We also have a couple of other initiatives being investigated for down the road. We're being prudent. We're mindful of not growing too much, too fast, or too soon.
You already sell your shoes in Dubai. Which other international markets are you eyeing?
I think it's inevitable that we'll pick up one more retailer outside of the U.S. in 2015. I imagine Western Europe will be part of our plans soon, too. We've had all sorts of interesting opportunities.
Is your line doing anything at NYFW this season?
We're doing the shoes for Tome's show! We've built the shoes per their request; they picked beautiful colors. We considered a couple of designers, and I loved Tome's collections—they have a real simplicity, and it's a nice, doable opportunity. We wanted a partnership that felt authentic, not grabby.
What's your relationship like with New York Fashion Week?
It changes all the time. This year I'll go to Tome, and I have friends' shows, like Narciso [Rodriguez], Francisco [Costa], Oscar [de la Renta], and DVF, that I see when I can. I'm intimidated by the press—I mean the actual press of bodies, all the photographers. But that goes away when you're watching those minutes of total drama and excitement.
What's your office like?
We have a temporary office space in Midtown, and we're building an office space in the Flatiron area that will be open in a few months.
You've walked in heels on and off sets for years. What are your sole-saving secrets?
Angel Feet on Perry Street is really lovely. It's so quiet, and there are only two chairs. It's a real indulgence; I don't go a lot. I wish I went more! It's miraculous that it's still there, with soaring rents and all.
Got any tricks for dealing with blisters?
Oh, I'm the worst! I was a dancer so I've sort of always just slapped on a Band-Aid or walked on the outside of my foot. I have a very high tolerance for pain.
Where do you sell your cast-offs?
A lot of pieces are archived, and some clothes I give to my sisters, sisters-in-law, friends, and babysitters. A lot goes to charity, including items for auctions. Now and then, I'll send something to Ina.
Any shoes you wish you'd bought over the years?
Probably a thrift store shoe that I'm sure I talked myself out of. You can't say with any legitimacy, "Oh, God, I really need that shoe." I'm not really good at shopping—I get a lot of anxiety afterward, and I just don't have the time.
Do you enjoy shopping for your daughters?
The dirty little secret is that I don't shop much for them, either! People send the girls things, which is really nice, and my older sister has a 9-year-old daughter, so we literally get bins of hand-me-downs. Also, my mom saved all our clothes, so she also sends those, too. I'll only shop if there's something super special.
Like what?
Well, Tabitha doesn't like tight things. She won't wear anything that shows her "diaper line," as she calls it, even though she hasn't worn diapers in years. She doesn't like anything to feel tight there, including jeans, because they're too stiff. Loretta won't wear anything scratchy. She has super sensitive, pale skin; she's, like, allergic to Band-Aids. She always asks for "cozy, cozy, cozy!" clothing. 
Are your girls as into shoes as you are?
They're into it, but it doesn't seem to be any more or less than their peers—it seems to be developmentally pretty normal. They have absolute certainty about what looks and feels good. They choose for themselves every single day—I only step in when there are weather-related issues. If we're going to the theater or ballet, I want them to look nice and be respectful of the performers. They like dressing up, anyway!
Do you own any unabashedly ugly shoes?
I've been wearing a certain weird waterproof boot a bunch lately. Some might call them ugly, but I have such affection for how they get me through the day. They make my feet look kind of big, but when I'm running around from subway to soccer practice with kids in the weather? I genuinely don't care.
You recently filmed All Roads Lead to Rome. What drew you to that flick?
To be honest, I signed on because I really admire the director, Ella Lemhagen. I was hopeful she'd make it a worthwhile experience for being away from my family for that long. It was a complicated experience; I hope the movie turns out well!