Read today's dose of chic intel right here…
Janelle Monáe Comes Out (Rolling Stone)
Rumors about Monáe's sexuality have circulated for years, but she has been loath to address them publicly until now. In a new interview with Rolling Stone, published earlier today, Monáe called herself "a queer black woman," saying that as "someone who has been in relationships with both men and women – I consider myself to be a free-ass motherfucker." Monáe initially considered herself bisexual, "but then later I read about pansexuality and was like, 'Oh, these are things that I identify with too.' I'm open to learning more about who I am."
Prince William to Serve as Prince Harry's Best Man
Kensington Palace announced today on Twitter that Prince Harry's best man will be none other than his big brother Will. Of course, most people suspected as much all along, but this morning's tweet makes it official.
Prince Harry has asked his brother The Duke of Cambridge to be his Best Man at his wedding to Ms. Meghan Markle. pic.twitter.com/7TvZ2VlEk2

— Kensington Palace (@KensingtonRoyal) April 26, 2018
A Comprehensive Accounting of the Designer Fur Debate (WWD)
Fur has been a talking point in fashion for a while now, with many designers issuing statements both for and against. WWD gathered all those statements up into one handy, and lengthy, article. While designers like Stella McCartney, John Galliano, and Alessandro Michele have made their anti-fur positions very clear, many more, like Miuccia Prada, Clare Waight Keller, and Pierpaolo Piccioli see the debate in less black and white terms.  "Maybe we [can] transform the knowhow and the craft into something different," says Piccioli. "Maybe using fake fur with fantastic craftsmanship is also very luxurious and very couture. It's not the material that makes a difference but the craft of the people. I'm experimenting. I am open to new challenges. Why not?"
Brooks Brothers Celebrates Bicentennial With Black-Tie Bash at Jazz at Lincoln Center
It's hard to believe it, but Brooks Brothers has been in business for 200 years! To celebrate, they grew a big, fancy party in NYC with tons of celebrity guests, including Katie Holmes, Yara Shahidi, and Christina Hendricks.
Meghan Markle Gets Married on "Suits" (Vanity Fair)
Meghan Markle is (TV) married! On Wednesday night, the soon-to-be Royal did a dress rehearsal of sorts when her "Suits" character Rachel Zane walked down the aisle with longtime love Mike Ross on the show's season 7 finale. The USA Network show has seen a huge ratings boost since Meghan Markle and Prince Harry's engagement was announced in November and it would seem the writers found a way to capitalize on the Royal Wedding fever before Markle left the show to live happily ever after. Last night's episode is the last one Markle will appear in, as she is retiring from acting to focus on her philanthropic duties.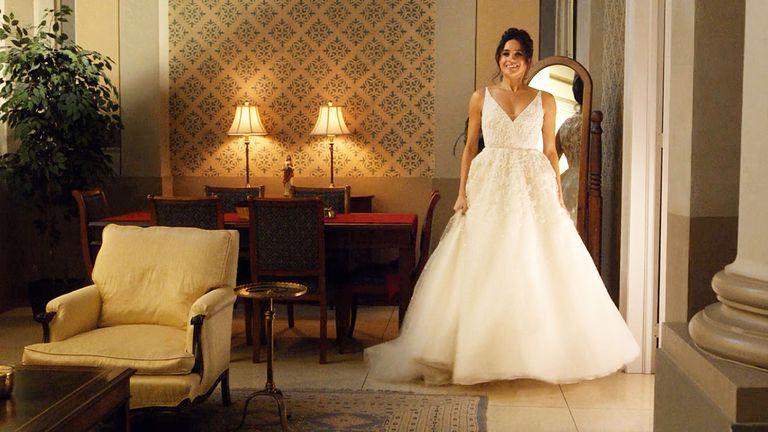 Here's a supercut of the wedding ceremony, complete with bespoke vows read over John Legend music. It's kind of magical.
Kanye West Just Tweeted Pictures of His Home With Kim Kardashian and It Looks Like a Marble Insane Asylum
The wacky digital escapades of Kanye West continue. On Wednesday, amidst a slew of otherwise unrelated tweets, West posted pictures of the home he shares with his wife, Kim Kardashian West, and their children. He captioned the first shot "do this look like the sunken place

" a reference to Jordan Peele's film "Get Out," which Kim also made reference to in a spate of tweets defending her husband's mental state. She wrote, "He's actually out of the sunken place when he's being himself which is very expressive."
do this look like the sunken place 😂 pic.twitter.com/ixzKnaaaSy

— KANYE WEST (@kanyewest) April 25, 2018
— KANYE WEST (@kanyewest) April 25, 2018
more tweets from the sunken place 😂 pic.twitter.com/nJQdQ2aVKn

— KANYE WEST (@kanyewest) April 25, 2018
The home is beautiful in an un-lived-in, museum sort of way. It really does look like a medieval, marble mental institution. West expectedly switched gears after posting the shots, tweeting shortly thereafter: "I leave my emojis bart Simpson color". Kim responded to this blasts of their home in a seemingly "joking" manner, tweeting:
Ummm babe. We had a rule to not show our home on social media! Soooo can we now allow KUWTK filming in the home? 🤔😂 https://t.co/bUMAn29K5K

— Kim Kardashian West (@KimKardashian) April 25, 2018
Subscribe to our newsletter and follow us on Facebook to stay up to date on all the latest fashion news and juicy industry gossip.