At 94, Iris Apfel is unstoppable (no news there). We caught up with the fashion icon to get the low-down on her latest gig as the face of WiseWear, a new wearable tech brand that tracks fitness, sends mobile alerts, and even dispatches a distress signal to emergency contacts (accidents do happen!). Iris tells us all about her debut into tech territory, a first for the style maven who seems to have done it all. 
So, how did you get introduced to WiseWear?
I was out in California for my movie IRIS last spring, and I met [WiseWear's CMO] Jordan Ramirez. I was very intrigued because I never drink enough water and sometimes get lightheaded. So when I heard what they were doing, and that they could monitor things like this, I thought it was just fantastic. WiseWear was actually started because founder Jerry Wilmink's grandfather, who he adored, fell as a result of dehydration and ended up passing away. Jerry was determined to do something to help other people avoid the pitfall. They asked me if I would be interested—and I was, so we got together.
Are you big into technology?
No. I am beyond un-techy. I don't know how to do anything. I can barely even work my own telephone. I hate it—I have the big, fancy-shmancy one, and it has too many things that get in my way. I don't like it at all.
You mean an iPhone?
Yeah. Technologically, I live in the 17th century. I don't do email or anything like that. I'm incompetent. But technology is a wonderful thing, if you know how to use it. You need it to get around these days. We're bombarded by it. It's just something I'm clumsy at operating. I'm learning though. When you're 94, it's a whole different mindset.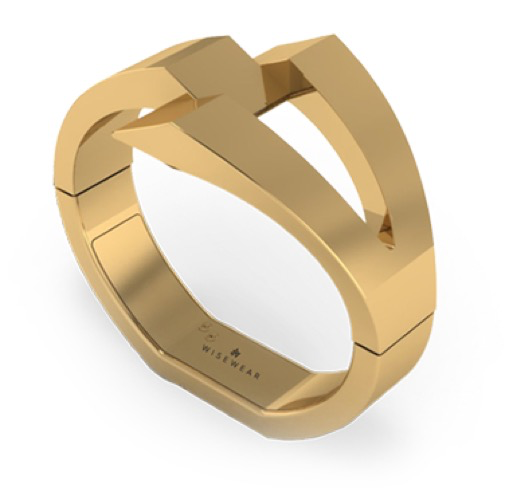 Did you know you have over 76,000 Instagram followers?
Well, I don't post. I'm not on anything. Everyone does it for me. I'm not a fan of social media. I have no idea what's on it—the only way I know what's going on is if someone tells me.
As the new face of WiseWear, do you plan on designing pieces of your own?
I'll be designing some jewelry as well as promoting the line. And not only bracelets, but I'm thinking of a belt buckle, a necklace, and perhaps a brooch. They want me to bring the pieces into the high-style category. I think it's brilliant to combine two worlds and have somebody wear something that's beautiful but also so practical.
What else have you been up to lately?
It's been nonstop. I just came down to Palm Beach, where I have a home, for a program at the Society of the Four Arts; I was in conversation with designer Naeem Khan. It was a sellout that went very well!
How long are you staying in Palm Beach?
Probably until February, when I leave for Paris for a big project with Le Bon Marché. They're throwing a party in my honor and will show 10 of my outfits, as well as putting me in 10 of their windows. We also designed some product together. It's going to be fun.
How do you keep up with all of these projects?
I'm a multi-tasker—black belt! I love to work and do a lot of things at once…of course, things that don't conflict with each other. I actually just got a call from a network that's doing a new show and they want me to be a part of it. I'm very fortunate and grateful to have these wonderful opportunities at my age. I am a very curious person that likes to do things all of the time. I thank god every night.