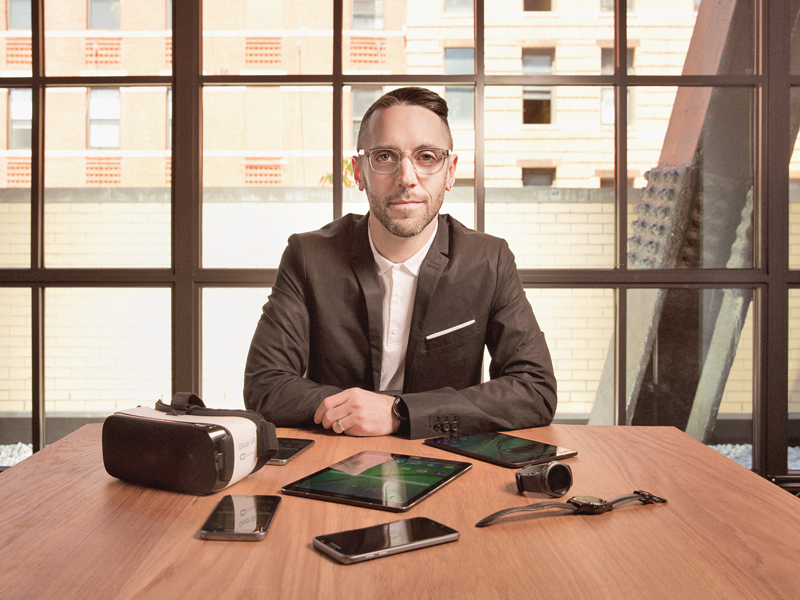 Samsung 837 is breaking the boundaries of reality for designers and brands with its high-tech offerings this NYFW, from installations to virtual reality to live-streaming and more. Zach Overton, VP/GM at Samsung, reveals what the future looks like at the Washington Street destination and beyond.
What's the concept behind Samsung 837?
It's our global flagship and Market Center of Excellence here in the heart of New York City, which opened in February. Open to the general public, the living lab features Samsung product installations and technology touchpoints across three floors. 837 isn't just a venue, it's an experiential space where we bring cultural moments to life, all amplified by our technology. It's the physical manifestation of the Samsung brand, living at the intersection of technology and culture. The space is about bringing people and ideas together, and we execute that promise through our immersive programming and activations. We focus on passion pillars, including fashion, art, technology, health and fitness, and more. There's something here for everyone to enjoy. We believe that through the access we provide to cultural moments and exclusive events, like NYFW, we help make life better.
Can you give a few examples of recent events and partnerships?
Since 837 launched, we have created several robust partnerships, from The Infatuation to Wanderlust, NBC and The Olympics and, of course, the CFDA. We launched our partnership with the CFDA this spring, working with them to select their Platform 3 emerging designers. We worked with these designers to create virtual reality (VR) content about their inspiration and design process that debuted at NYFW: Men's and 837. What was so impactful about this content was that it allowed the fashion enthusiasts at NYFW: Men's and beyond to have a personal connection to the designer prior to viewing the collection.
What's lined up for NYFW?
We are so excited to be part of NYFW this season. Fashion is a passion point that runs deep within our target audience, and we are a proud partner of the CFDA. Samsung 837 is at the forefront of helping designers and brands reach an all-new, large, and influential audience of enthusiasts in unexpected ways. As a leader in virtual reality, we are helping designers welcome their fans into immersive experiences of their fashion shows and collections.

NEW YORK, NY – JUNE 06: CFDA president Steven Kolb arrives at the official 2016 CFDA Fashion Awards after party hosted by Samsung 837 in NYC on June 6, 2016 in New York City. (Photo by Neilson Barnard/Getty Images for Samsung)

Samsung positions 837 as an "un-fashion week" destination. Why is it taking this approach?
Samsung is constantly innovating to enhance how people can enjoy the things they love, and NYFW is no exception. At 837, fashion and technology are integrated to create a fully immersive experience. We like to think of 837 as the un-fashion week destination, democratizing the industry's biggest events by providing guests with access to fashion and beauty's major moments. For example,  the Kendall + Kylie fall collection launch and huge blowout celebration and Olivine Gabbro's runway show at 837. We're integrating technology and virtual reality to elevate the brands' presence and reach a broader audience. Celebrity makeup artist Charlotte Tilbury will debut her new fragrance and reveal her VR film using Samsung Gear VR, which features Kate Moss. Some of the CFDA's most promising designers, Timo Weiland and Gypsy Sport, will also take over the space to unveil their most recent collections. For Timo Weiland's fashion show, "see now buy now" will become a reality through Samsung technology. We offer three floors in the space to allow for fully immersive shows, including live-streaming and see-now, buy-now purchasing.
How did 837 team up with this group of designers?
We wanted to curate a unique mix, and we think we've achieved that. What all of these designers have in common is their desire to innovate and be on the forefront of what's happening in fashion.
Before fashion week, 837 wrapped up its first summer concert series—how'd that go?
Throughout the summer we hosted Live@837NYC, a weekly concert series on Thursday nights with artists including Gwen Stefani, Tegan and Sara, Phantogram, Marina and the Diamonds, Diplo, St. Lucia, Capital Cities, Cold War Kids, Years & Years, and A$AP Ferg. 837 has become one of the hottest concert venues, but we don't sell tickets—it's the un-concert. We offer our consumers access to some of the biggest names in music. Providing access is what Samsung and 837 is all about—we bring cultural moments to life.
THE 837 CROWD: A taste of who's amping up their tech game this NYFW…
Read the full issue HERE.
Photography: Getty Images, BFANYC.com, Courtesy