Style and substance come together in Dany Garcia's fashion line, GSTQ, in a way that's befitting of a founder whose many accomplishments are inspiring a whole new generation. A true multifaceted businesswoman, producer, athlete, investor, mom, and mentor, Garcia launched GSTQ in 2021, noticing the potential to "design clothes that move with our customers while they make the moves." Consider us motivated! Here's what you need to know. 
Tell us the backstory to the name GSTQ!
I played the French horn in my high school orchestra. We were given sheet music for the British royal anthem, "God Save the Queen," and it filled me with aspirations of greatness. I thought to myself, how can I get to that level? I loved the idea and the mindset became so important, it carried me forward through all life's challenges. Eventually I realized that GSTQ could be a brand that encourages everyone to stand in their extraordinary presence. 
Take us back to what you were doing when you dreamed up the brand.
My philosophy for all The Garcia Company portfolio brands is investing in the success of humans, and I truly believe that life is all about balance. As a businesswoman and an athlete going from the gym to meetings, I saw an opportunity to fill the space between athleisure and power dressing and drive a new category anchored in fashion, while simultaneously powering and empowering with performance. We consider how fabrics move and stretch, and most importantly, how it can be worn all day comfortably and confidently in an elevated fashionable way. 
We love GSTQ's mission, "Polished to perform." What helps you perform your best?
I perform my best when I have mental clarity. I'm deeply committed to showing up fully for every role I have, and in order to do that, I have to remain joyful, consistent, disciplined, and deliberate in my purpose. I take pride in showing up every day as myself, and oftentimes being the first or only forging a path. 
In what way is GSTQ the culmination of all the industries you've worked in during your career?
I've developed a holistic family-based approach to The Garcia Companies. I care deeply about creating opportunities for everyone involved, from the individuals I work with to our players, crews, and customers. I like to say that we set people up to have great moments, but that their greatest moments in life are still to come. When getting dressed in GSTQ, I want our customers to think about leaving their own mark on the world. The brand is also another example of how we can all challenge the status quo just by showing up authentically as ourselves.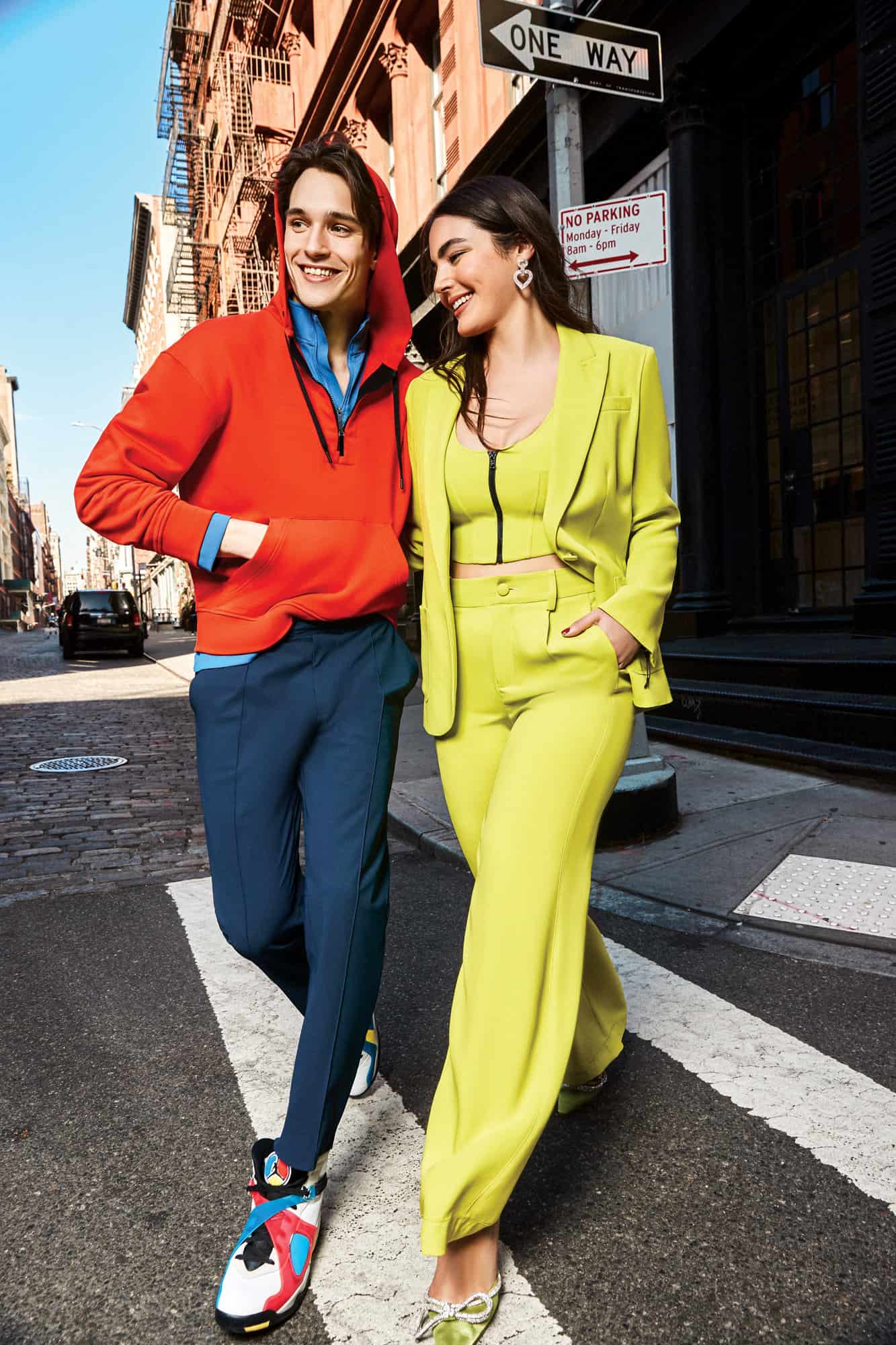 What have been some highlights and milestones so far?
GSTQ launched as people were starting to reimagine their lives during an uncertain time. People were getting back to socializing more and reentering the workplace, and our thoughtfully designed pieces supported our customer transitioning to a new normal. We had a great response, and while we're constantly growing our community, some of our first customers still shop with us regularly. Since then, we've built a fashion brand with a strong purpose and fierce employee culture. We continue to expand our distribution through strategic partnerships and our core offering with our menswear launch. 
Tell us about some hero pieces, and why you think they resonated?
Our women's sheer bomber is a statement piece that provides easy layering and styling, and our stretch suits are bold and polished, but still comfortable and easy to wear, whether you're working from home, traveling, or in the office. Our men's game day track suit and suit separates can be mixed and matched with the larger collection to give our consumers a variety of styling options. 
Your career has been all about breaking glass ceilings and breaking down barriers to further representation and opportunity. Where does that drive and passion come from?
It stems from my own experiences of overcoming adversity and the unwavering support of my family. Growing up as the child to Cuban immigrant parents, financial stability was often a challenge in my community. Pair that with the early stages of my career, and even now, of finding myself as the only woman in the room and you get a fierce determination to shatter those barriers and pave the way for others who may face similar obstacles.
How are you fostering that for the next generation?
I strive to build diverse teams filled with various cultural backgrounds, and I encourage each individual to bring their unique perspectives to the table. It's essential for me to create an environment where everyone's voices are heard and valued. I aim to inspire that success knows no bounds. I want people to see that with dedication, hard work, and relentless belief in themselves, they can achieve their dreams regardless of where they come from.
What's the mantra that always motivates you?
"Do the day as beautifully as possible." This simple reminder encourages me to approach each moment with intention, to infuse even the smallest of actions with purpose and grace, and to find joy in challenges and triumphs.
What's coming up?
We're excited about our Rockefeller Center pop-up, which will be open from October to January. 
Subscribe to our newsletter and follow us on Facebook and Instagram to stay up to date on all the latest fashion news and juicy industry gossip.