On the hunt for unique holiday gifts? Check out ID Pop Shop in the heart of the Meatpacking District, a holiday destination through December 21, and get your hands on a range of items from local New York designers. Founders Barbara Wilkinson and Raoul Calleja give us the details.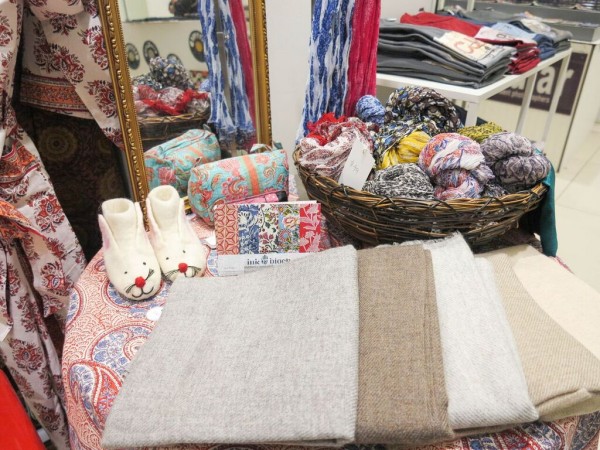 What provoked you to bring ID Pop Shop to NYC?
Barbara: As independent designers ourselves, Raoul and I rely on direct-to-consumer retail events to sell our products, but we weren't finding the right type of events. When we organized our first ID Pop Shop in June 2011, retail events for independent brands were limited to weekend markets, flea markets, or the ubiquitous shopping parties that combined drinking and shopping. These shows were becoming less appealing and less lucrative, especially if they weren't curated carefully.
Raoul: While we weren't the first to organize a retail pop-up event, we believe we definitely filled a much-needed niche in the NYC retail environment. ID Pop Shop has not only provided an excellent platform for independent designers to showcase their designs, but we also proved the viability of local and independent talent. It has been a win-win for customers and designers alike.
Have you held other pop-up shops in the past?
Raoul: With the exception of our current holiday pop-up shop in the Meatpacking District, all our other events have taken place in Chelsea Market's big event space. We wanted to do something different for our holiday event and found this beautiful newly renovated venue on West 14th Street right at the foot of The High Line.
How many designers are featured in the shop?
Raoul: We have 25 designers participating in our holiday pop-up shop. Many of them have been regular participants since our very first ID Pop Shop, but we like to keep our events fresh by featuring new brands as well. Over the past four and a half years, more than 135 of the best independent local designers have participated to showcase their collections. New brands contact us all the time and we review each one to determine if they're a fit for ID Pop Shop. Rather than an application process, participating in our events is by "invitation only." We want only the highest caliber of products, and they must be designed in New York City. We curate each event carefully so there isn't an overabundance of any category. For example, we limit jewelry and ensure that the styles are all different. By doing this, everybody wins.
Merchandise highlights?
Barbara: We have something for everyone—apparel, art, bath and body, handbags, fragrance, jewelry, even women's footwear. We always make sure we have a diverse group of brands with high-quality products.
Any upcoming in-store events?
Barbara: We are running a couple of Instagram contests where customers who visit have a chance to win gift items from the designers. Also most designers are offering prices lower than their retail prices so it pays to buy in person. If we organize any other in-store events or offers, we will be posting them on social media, so people should continue to follow us on Facebook, Twitter, and Instagram.
What are your gift recommendations?
Barbara: We have gifts for everyone on your list. There is organic skincare from Malaya Organics, wall art from Real.Weird.Art. Jewelry can range from stocking stuffer stud earrings to solid gold necklaces with raw diamonds, and everything in between. Perfumer Raymond Matts has a line of signature fragrances for both men and women. Accessories made entirely of old vinyl records from Wrecords by Monkey, knitwear accessories by Volang, and original photography on leather wallets and mugs from Raoul's brand Vernakular Photo Designs.
Anything else we should know?
Raoul: While many of the designers are participating for the full three weeks, we do have some weekly rotations, so we urge customers to come back each week to check out the new designers and products.
ID Pop Shop: 446 West 14th Street
New York, NY 10014