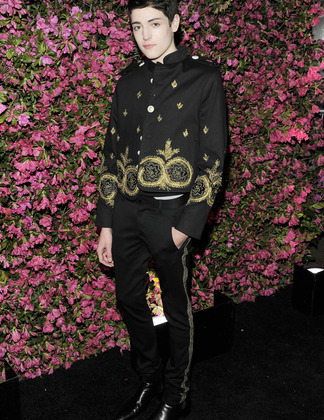 Harry Brant, Audio Book And Antique Furniture Aficionado!
|
Ready to rethink your reading appetite and pick up a Lagerfeld-approved obsession? Make like Harry Brant and get to work on your audio book collection, for the former, and read on for the latter. We caught up with the perpetually dapper Brant bro at last week's Chanel Tribeca Film Festival Artists Dinner. You just might rethink your plane pursuits (Us Weekly binges, anyone?)…
Cool getup. What were you thinking while you got dressed?
It's kind of the one night of the year where you can go a little more crazy. For some reason, I always associate Chanel with an elegant black piece that has detailing, so I thought this outfit would be perfect!.

What would your ideal afternoon with the Kaiser consist of?
I happen to know that Karl Lagerfeld has an immense knowledge of 18th and 20th century furniture; in fact, he's decorated entire homes with those kinds of pieces! So, I'd just want to pick his brain about decorative arts.
Are you into that sort of thing?
I so am! I recently had a Ludwig II [of Bavaria] obsession. I was on a plane recently and read a book on Ludwig from cover to cover.
Sounds like pretty heavy in-flight reading material! Is that your usual?
I am a book addict! Mostly, I listen to audiobooks. Otherwise I can't fall asleep.
How often to do you listen to audio books?
Every night. A lot of the time, I like to re-listen to audio books; otherwise, I get so excited I can't fall asleep. If I start a new audio book, I finish it in a day or two.

Which fashionette would you want to narrate one of your audio books?
Azzedine, because he only speaks French. So it would help me with my French!
J'adore! So, how much Chanel is in your closet?
I have one item: a Chanel T shirt that I stole from my mother. It's one of the structured Resort shirts.
Is your mom, Stephanie Seymour, cool with that?
I don't think she knows! Now she will…