Mainstream magazines are struggling, but ultra-targeted indie fashion books are experiencing something of a renaissance. Case in point: Garage, the art and fashion biannual founded by Dasha Zhukova, which was acquired by Vice Media
in 2016. New editor-in-chief Mark Guiducci and creative director Brian Phillips fill us in on their grand plans.

Mark, how did you end up at Garage?
Mark Guiducci: It was the middle of August and I got a call out of the blue from Dasha [Zhukova]. I had been at Vogue for five years, most recently as the arts editor, and I was happy there, but by the end of August, I made my decision, and then I went straight to Europe to see the collections. Brian [Phillips] and I launched the website on October 13, and three days before that, we photographed 41 New Yorkers who comprised what we called the "Garage Band." It was our way of announcing the site was live, but also that we are doing this from New York. Before, the magazine had been produced
in London, but it's still an international magazine.
Why did you team up with Brian, who has a background in branding and PR, as opposed to a traditional print editor?
Guiducci: We were friendly, and I had known the work he had done for Kenzo and some of his other clients. I always knew how smart he was, and that he had his hands in art as much as in fashion. That was the most important thing.
Brian, why did you take on the project?
Brian Phillips: Magazines were the reason I got into this business in the first place. I've worked with many great editors and creative directors from the other side, and I've always been a huge admirer of publishing, and independent publishing, specifically. It took me a few minutes to digest what Mark was proposing, but I immediately jumped at the chance to work with Mark and Garage. Dasha's concept was really prescient in terms of the merger of creative disciplines and bringing them into conversation with one another. I've always tried to do that through my work.
What's the plan for digital?
Phillips: I'm super excited to surprise everybody with what is possible in the medium of video content.
Guiducci: The title has been owned by Vice Media for some time, but the website only launched in October, and it's only going to continue to ramp up in terms of what we do—not just in the number of stories that we produce, but also how we use that network to twist the medium or make mediums meet for the first time. When Dasha launched the magazine, there was still some skepticism about the idea of fashion and art collaborating, and sometimes those collaborations often looked like they were superficial. But Dasha found ways to make it meaningful, so when we were thinking about what we wanted to do, that was something we always came back to—the root of the first few issues and the genesis of the magazine.
What is Dasha's level of involvement now that Garage is part of Vice Media?
Guiducci: We speak every day. Dasha's in New York now, and she cares very much. But she hasn't said no to anything. She's been super open and supportive of everything that we want to do.
You've enlisted fine artists to photograph the fashion. Anyone we know?
Phillips: I'm really proud that there are going to be names that you've never seen before in fashion magazines…and maybe even some art magazines.
Guiducci: Juxtaposed with names that you've definitely heard of.
Phillips: Laurel Nakadate is a fine-artist photographer who has never worked with fashion before, but we love her work and wanted to challenge her with this opportunity. She did an incredible story with an amazing new stylist, Matt Holmes, whose work is exciting as well. We invited Susan Meiselas, an acclaimed photojournalist who has worked with Magnum and been exhibited at The Whitney and other museums, to revisit a body of work that she had done 25 years ago called Pandora's Box. For Garage, she explored BDSM culture and what has changed or stayed the same, photographing relationships between real doms and subs.
Guiducci: [Laughs] There's not really another way to say it.
Phillips: [Laughs] But we said to her, "This is an inspiring body of work to us as fans of photography, would you reconsider this through a fashion lens?" That was an idea from Stella Greenspan, our fashion editor-at-large, so we put them together.
Guiducci: We're always making sure that there's more going on than just a fashion story.
Were there any stories that each of you felt personally attached to?
Guiducci: Even though Brian was the engine behind it, I'm really proud of Hedi Slimane's pictures. Hedi did a portfolio of 13 Los Angeles artists, and they are not the typical ones you see at all the big L.A. events. It's a group of people that we really believe in. I personally would want to go see their studios and collect their art myself. I'm really excited to have these portraits out in the world.
Phillips: We're also not just introducing new artists, but also new fashion designers and photographers.
Guiducci: Flo Ngala, a young photographer here in New York in her early twenties, is a good example of that. We sent her clothes and she shot them on her rooftop, as she does in her own fine-art practice. Her pictures were definitely some of our favorites.
Phillips: We see Garage as a platform for voices that aren't necessarily in the mainstream.
What was the concept for the Spring cover?
Guiducci: When we began putting the print issue together in October, we knew that the most obvious theme is New York and Americana, not only because it's the first issue that's being produced here, but it's also something that's radiating from the top down in culture. For obvious reasons, Americana is being redefined every 10 minutes. So we wanted to choose an iconic New York artist to inspire us, and Andy Warhol seemed to be at the top of the list. At first you might think, "Warhol? How many times have we seen Warhol?" But he's so relevant right now—not only is Raf [Simons] doing so much with the Warhol Foundation at Calvin Klein, and The Whitney is staging the first Warhol retrospective organized by an American institution in three decades, but also, the president is a Warholian figure of the first order. We started there and rediscovered Warhol's Polaroids of himself in drag, and thought about who could really go there. We decided to ask Amy Adams, who said yes, enthusiastically. I couldn't believe the alacrity with which she accepted. She was game in a big way.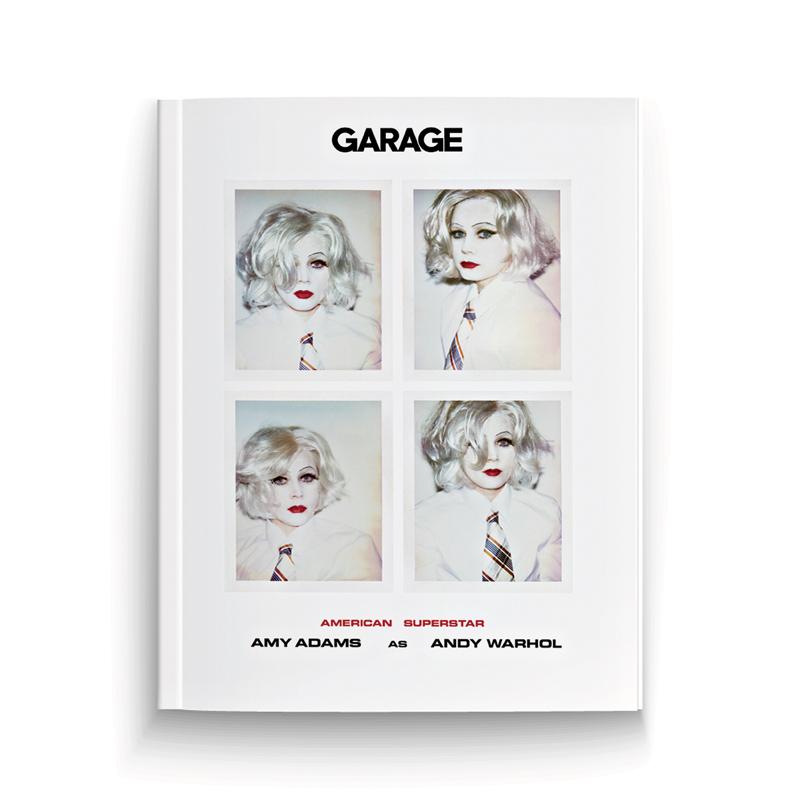 Who photographed the cover?
Guiducci: Inez & Vinoodh, and it was styled by Mel Ottenberg.
Phillips: [Amy] is without a doubt one of the best actresses of this generation. Being able to watch her inhabit these iconic characters like Warhol, Liza Minnelli, Dolly Parton, and Debbie Harry was incredible. The dexterity in terms of transforming her demeanor, facial expressions, and voice as she was getting into character with hair and makeup was remarkable. Inez & Vinoodh also photographed her on the same type of Polaroid camera that Warhol himself used. It had a lightbulb that you plug in. It was different from what a normal magazine would do. Even the preciousness of the project with the Polaroids themselves, which are so ephemeral, capture that sort of instantaneous satisfaction. It's almost like a rebuttal to our digital moment, because these Polaroids are artifacts of that day. They're raw and obviously, unretouched.
Guiducci: In the interview, I discuss with Amy about how so many actresses just want to look pretty and she said, "Well, how boring is that?"
Phillips: I think seeing her performing for the camera and stretching herself is inspiring. She really takes her craft seriously.
How difficult was it to curate all these giant projects in just four months?
Guiducci: We worked through Christmas…
Phillips: …and we're not afraid to ask people to do challenging things.
Guiducci: Even at Vogue, I asked people to do insane things all of the time. Always just ask! But we're excited to have six months to produce the next issue. [Laughs]
What's next, then?
Guiducci: As we progress, the magazine will continue to be the purest form of Garage and the thing that we get to be so proud of, but ultimately, we're a digital brand that has a biannual magazine. My job day-to-day, especially now that the issue has shipped, is to run the website. The digital will be the driving force going forward. We publish five stories a day at the moment, and it's a mix of art and fashion, of course, but then there will be a heavy design element and ways to think about what the Garage point of view is on food and entertainment. We'll be doing stories about film, television, and theater.
What's your philosophy about driving digital content?
Guiducci: I don't want to build a beast that has to be fed with rubbish, but I think there are ways to talk about what's going on in a timely, relevant way without having to stoop down into the gutter. I know that sounds like I'm trying to have it both ways, but basically our editorial standpoint is the same for our print magazine as it is for our digital. And in addition to the print and digital publications, the third wing of our editorial strategy is about bringing Garage to life, whether that is a performance or an exhibition or an [augmented reality] installation or even some kind of travel experience.
Phillips: My job is to bring exciting creators who can do original work for the digital platform. We're going to be ambitious in the people we engage for digital projects. We're talking about amazing video artists and incredible photographers that are doing things just for gargage.vice.com. It could also be tentpole projects with filmmakers and documentarians.
Guiducci: Since the beginning, Garage has always had an element of technology in it. One of the 2014 covers was of a Jeff Koons sculpture of Cara Delevingne, but it was an augmented reality sculpture that you could see come to life. It's really important to Dasha that we harness what Vice has to offer in that regard to push the medium forward. So when we're talking to artists or creators, that's always at the forefront of the conversation.
Brian, how will you balance running your agencies, Black Frame and Framework, while working on Garage?
Phillips: I have an amazing team at Black Frame, and when I set up Framework, our creative and content division, it was with an eye to be able to do more things that were purely from a creative standpoint. They're completely separate from each other, and run by different teams. I'm the only crossover there. But I'm sort of relentless in the things I like to do, and I'm good at time management. It's just a day-by-day thing, seeing how much you can add without going bananas.
So far, so good.