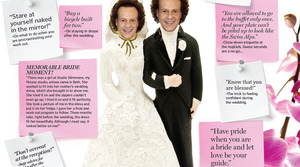 From The Daily Brides: Simmons Says
|
When it comes to wedding etiquette and feeling fab about your bod on the big day, who better than fitness legend Richard Simmons to offer his wisdom? Brides take note!
It is safe to lose one pound a week. If you lose it fast, you will gain it back in your ass. –On where a bride-to-be should start her regime.
Stare at yourself naked in the mirror! –On what you should do when you're procrastinating working out.
Know that she is blessed. –On how a woman can feel confident on her wedding day.
I cry too much at weddings. Plus! I want to wear a white Vera Wang outfit. –On the number of weddings he's been in.
Don't overeat at the reception! –Sage advice for brides after the 'I do's' are done.
No make up! No fancy hair! No gooey dress! –On how a woman can look gorgeous on her wedding day.
Stretch your entire body in the morning and pray for a peaceful life. –On whether you need to work out on your wedding day.
Go to Mardi Gras in New Orleans and practice catching the beads off the floats. –On how to increase the chances of catching the bouquet.
Buy a bicycle built for two. –On how to stay in shape after the wedding.
You are allowed to go to the buffet only once and it can't be piled up to look like the Swiss Alps. –On how many times you can go to the buffet table at a wedding.