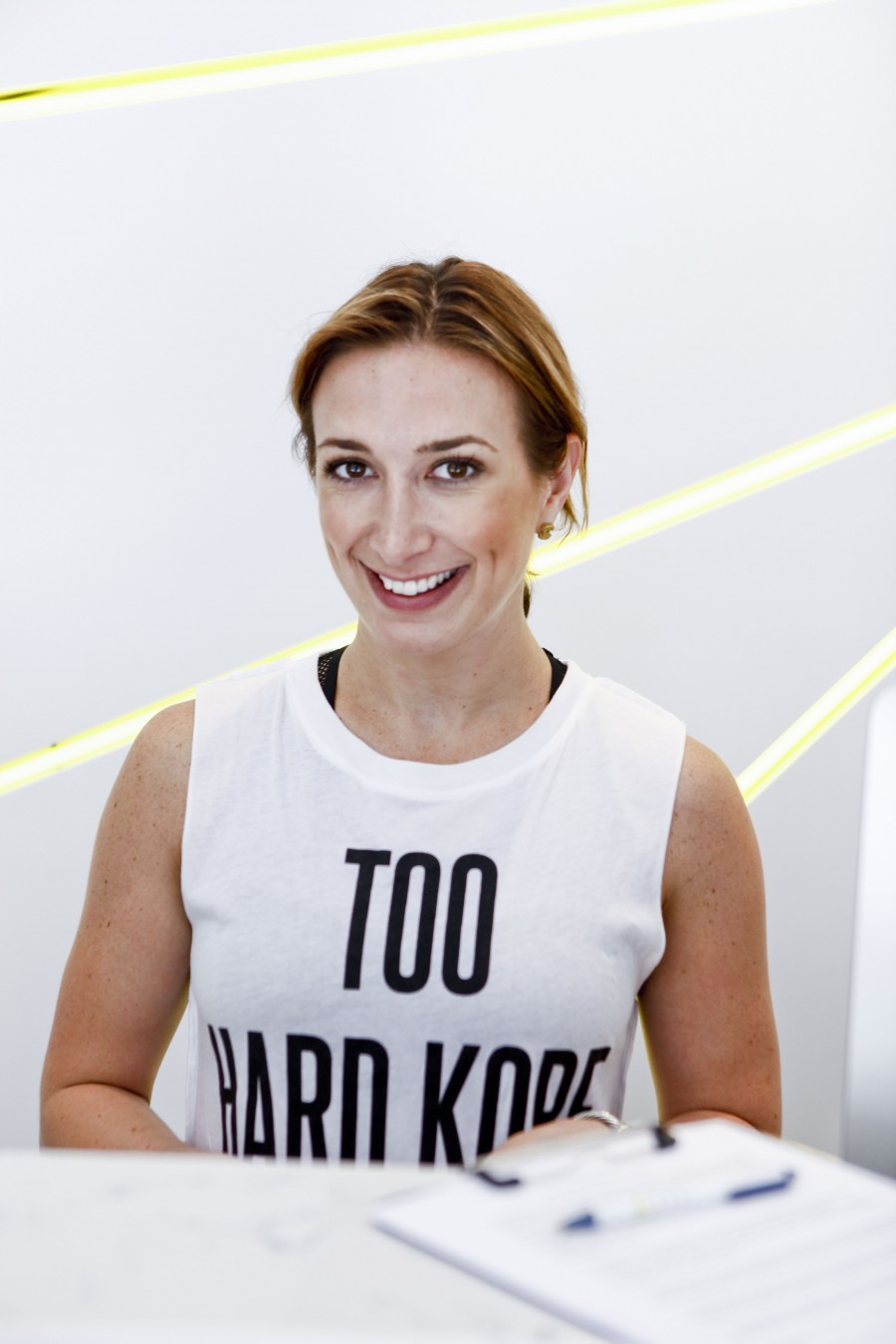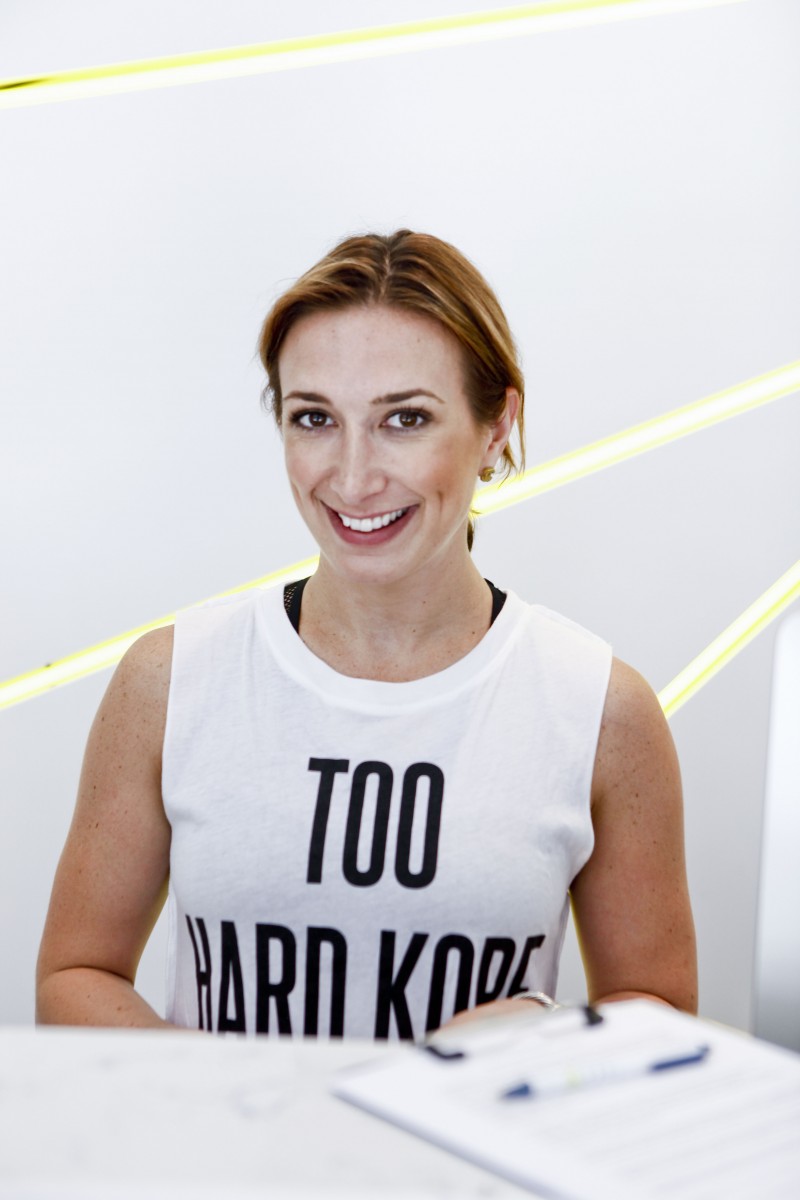 Ready for the latest installment of our Fitness Dossiers, those endorphin-addled explorations of all those super-chicly branded, sometimes quizzically named boutique fitness haute spots around town? This week is all about HIIT, at Meatpacking studio KORE. Founder and CEO Jessica Bolbach gave us the skinny…
BY ALEXANDRA ILYASHOV
KORE in three words:  HIIT meets club!

KORE mantra: High-ER Intensity Interval Training.

Before KORE…I was in advertising. I started in print, at Us Weekly then moved into digital at CaveOnline (EVOLVE Media) and then to H360.
The hard sell: KORE's group classes offer a functional fitness training program that combines strategically calibrated lighting and dynamic music to a deliver a challenging, full body workout, and an overall fun experience. The KORE workout is formatted as a "bell curve":  it starts out with a functional warm-up then moves to the "KORE 4" stage, an eight-minute cardio and calisthenics blast, then moves to the "SEQUENCE IV," in which KORE instructors utilize their creativity and style to incorporate the fitness modalities that are at the heart of the KORE method, then a cool-down. No matter the instructor's combination of movements, the music and lighting are thoughtfully orchestrated based on that day's class sequence.

If was a fashion house, it would be… Diane von Furstenberg.
Ideal après-class snack: Liquiteria Acai bowls! I also love E-Boost before a workout.
Biggest misconception about KORE: That it's a kettlebell class. Yes, we use kettlebells at some points during the workout because they're an effective tool,  but the method incorporates so much more than just that piece of equipment.
Advice for a first-timer: Don't be intimidated by the fact that KORE is a High-Intensity class, because you can absolutely take it at your own pace. Our instructors are always cognizant of the varying levels of fitness in the room and will give proper modifications for each move.
Major mistakes newbies make:  Your body is capable of so much more than you think, so just go into the class with an open mind and you'll get so much out of the experience.
Why you'll see kettlebells figure so prominently into the workout: Kettlebells are highly effective in helping to expertly sculpt the body and will provide the added challenge needed to transform the body for the best results.

Earliest fitness memory, ever:   Going to my oldest brothers personal training gym that he owned on 57th street. It was called Physical Structure. I was probably 8 years old.

Chic styles spotted in class: Lots of sexy-sporty mesh and cutouts and tons of neon. I've noticed even the men wear a lot of neon. The bright colors really lend themselves to the atmosphere of the studio, which incorporates curated lighting to feel like a club.
KORE soundtrack: KORE's classes are very heavily based on the beat of the music used during the workout. The instructor curates music with specially calibrated BPMs to drive the combination of movements and push clients to the max. So, the typical soundtrack inevitably includes a lot of house music and remixes of popular songs to keep the energy up. If you heard something you liked in class, you can even check out some of our instructors' curated playlists on SoundCloud, here.
Go-to workouts beyond KORE: I'm always at KORE, but I'd count chasing after my two bulldogs, Rosey and Jax, as my extracurricular exercise!

Classes clocked weekly:  I aim to take at least three classes per week. I strive for more if time permits!
Why you'll find KORE in the Meatpacking area: Meatpacking was just screaming for this kind of workout in the form of a luxury experience. It's one of the areas of the city that's not yet over-saturated with boutique fitness and there's certainly not any sort of high-intensity studio in the neighborhood yet.

Expansion plans: We have a few options in the works in the Hamptons, plus additional NYC locations. You'll know about them soon!
KORE's draw for the fashion set: KORE focuses not only on the effectiveness of the workout, but the overall exercise experience as well. KORE's studio is a luxury boutique facility in NYC's Meatpacking District and ultimately keeps the discerning tastes of our clientele in mind by offering spa-like amenities, VIP car service, and more.
PART II: The Daily weighs in…
Location and logistics: One location in the Meatpacking, 336 W. 13th St.; 

What you'll shell out: First-timers can get two classes for $35; a single class costs $35, five classes run $165, 20 classes are priced at $600, 30 classes go for $850, and a 50-class package is priced at $3,500.
Stroll-right-into-a-meeting or absolutely-shower-necessitating? Oh yes, you'll get a proper flushed face/full-body glisten going on! Luckily, there are two showers and a superbly stocked locker room of products to get groomed with.
It's worth it if… You like a fun, high-energy workout with lots of direction and a chance to dabble with equipment you might not be acquainted with but are curious about (such as TRX and kettelbells) without committing to a full hour of playing with the gear.