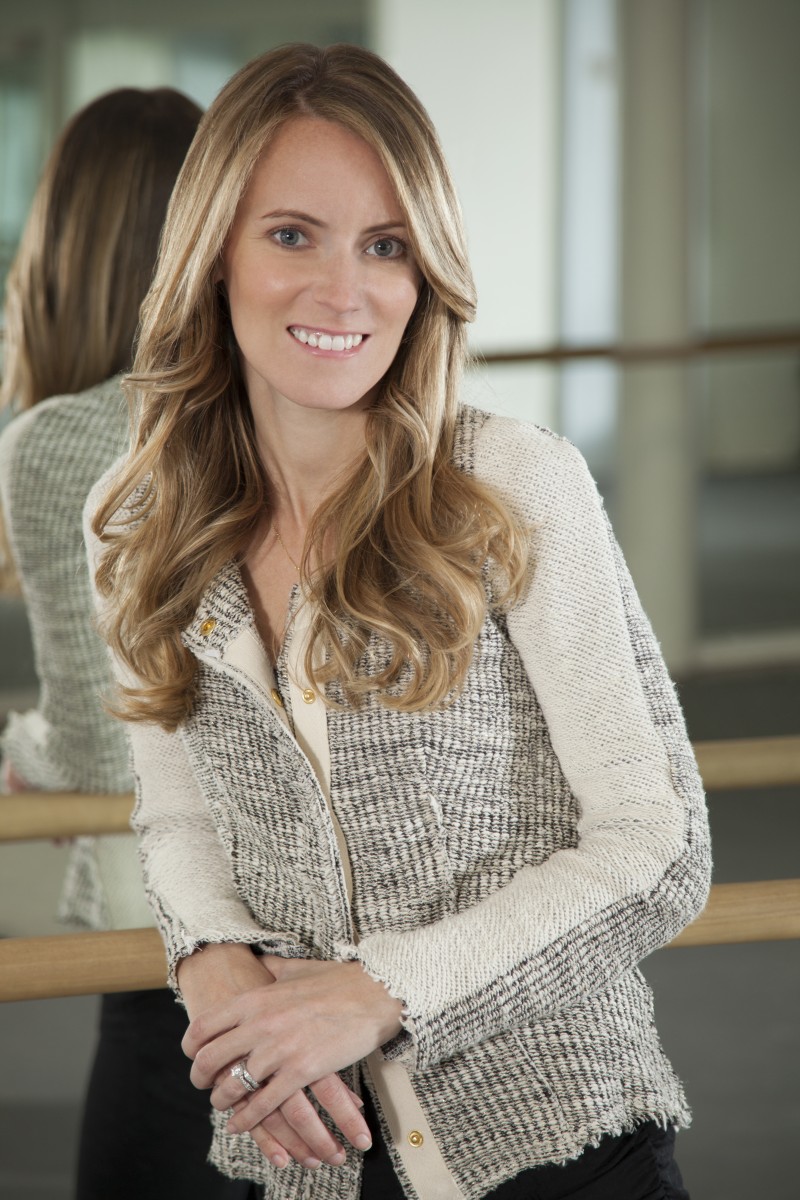 Ready for the latest installment of our Fitness Dossiers, those endorphin-addled explorations of all those super-chicly branded, sometimes quizzically named boutique fitness haute spots around town? Seriously souped-up pilates is on the menu this time around—we headed to FLEX Studios, which has a proprietary FLEXformer (it's like a Megaformer, if you're familiar, and it melds two classic pieces of Pilates equipment: the Chair and the Reformer). Besides the muscle-exhausting benefits of the FLEXformer, the boutique studio offers athletically-skewed barre classes and TRX classes as well. Quite the smorgasbord, no? Owner Jeanette Simon gave us the rundown.
BY ALEXANDRA ILYASHOV
FLEX Studios in three words: Form-focused and fast.

Before FLEX Studios… I was working in corporate events at Yahoo!
The hard sell: FLEX Pilates, our signature class, is unique because it's more fast-paced than other typical Pilates workouts. Also, we use our proprietary FLEXformer in this class–a combination of the two most effective pieces of Pilates equipment, the Reformer and the Pilates chair. This machine is found nowhere in the country besides our two FLEX Studios.
More on that FLEXformer: My director of Pilates, Jenn Seracuse, and I worked very closely with Villency Design Group, the masterminds behind the SoulCycle and Peloton bikes and other quintessential fitness equipment. The FLEXformer's design allows instructors to integrate some 30+ exercise moves into their routines. It's really been a great way for us to present a challenge to our clients and help them continue to transform their bodies.
Why you'll find both barre and Pilates offerings:  I wanted to give clients and option without having to create memberships at several different studios. That's why we offer Pilates and Barre in the same studio as TRX, a completely different kind of workout. Also, New Yorkers tend to have 'workout ADD' and crave more of a challenge and something a bit more fast-paced than your typical Pilates workout.

If FLEX Studios was a fashion house, it would be… Theory. I find Theory to be a go-to for classic pieces with a little unique and edgy twist. That's how I think of FLEX: classic, tried and true workouts but with a contemporary twist.
Ideal après-class snack: I'm partial to a spinach smoothie from Brazilia, which is steps away from our new NoHo studio.
Biggest misconception about FLEX Studios: Pilates is slow, easy and won't make you break a sweat. That couldn't be more untrue at FLEX Studios.
Advice for a first-timer: Don't get discouraged if the instructor comes around to adjust your form several times throughout the class during your first experience. Pilates is very form-focused by nature and at FLEX, we're sticklers for perfecting form so our clients can get the most out of their workouts and see results more quickly.
Major mistakes newbies make: Lots of new clients tend to neglect form because they're so focused on completing a move that they don't stop to check themselves out in the mirror and listen to the very specific cues from the instructor. A slight correction in form can change the exercise drastically.
Why you'll feel so sore from FLEX Studios' classes:  Chances are, you're not used to working all the muscles we hit during our classes at FLEX. We not only target the large muscle groups to help burn calories, but we also focus heavily on the accessory muscles, which will ultimately transform your body.

Earliest fitness memory, ever: Swim lessons as a 3 year old!

Chic styles spotted in class: We see a lot of colorful, patterned pants and form-fitting tops.
The FLEX Studios soundtrack: We give our trainers freedom to create their playlists, and you'll sometimes hear a pop song in the mix, but they are all very up to speed on the latest remixes and mash-ups. You won't hear slow, spa-like music in any class at FLEX. Instead, you'll hear fast, high-energy tunes! 
Go-to workouts beyond FLEX Studios: My kids keep me active. I also enjoy the occasional spin class.

Workout we'll never catch you doing: A boot camp class. It's just not my thing!

Classes clocked weekly: I usually take at least 3 classes per week.
Why you'll find FLEX Studios' first locations near Union Square and in Noho: Union Square was an area that wasn't necessarily over-populated with fitness, at least not boutique fitness, and that's worked to our advantage. Also, our Union Square location is conveniently located near a number of subway stops, so it's easy for our clients to commute to the space. With our second studio, we wanted to be in the middle of a fitness "hub," so we set our sights on NoHo. The area has really become a burgeoning fitness mecca over the last few years and we wanted to be in the heart of it.
Expansion plans: At the moment, we are continuing to focus on our two existing studios. The NYC fitness scene is very exciting right now, so we're focusing our efforts on this great city for now, maintaining a strong client base at our original Union Square location as well as our recently opened NoHo studio.
FLEX Studios' draw for the fashion set: A strong core is important for a number of reasons…one of them being the ability to wear whatever you want! Pilates has always been a staple in the fitness world and I think busy New Yorkers appreciate the classes at FLEX because they can get a full-body workout in 55 minutes, then they can go about their days.
PART II: The Daily weighs in…
Location and logistics: Union Square location at 47 W. 14th St., 2nd fl., and the recently-opened Noho location at 650 Broadway.

What you'll shell out: Newbies can do one class for $25 or an unlimited month (one class per day) for $250; a single class costs $38 ($42 for a FLEX90 class), five classes will run you $180, a 10-pack goes for $340, 20 classes cost $600. One month of unlimited classes costs $375, three months costs $325 per month, and six months will run you $1,800. Private and semi-private sessions also available.
Stroll-right-into-a-meeting or absolutely-shower-necessitating?
You can put yourself together decently after class (nice touches like dry shampoo, make-up remover wipes, facial moisturizer, hair bands, etc. help with that process) but yes, you're going to sweat! Spacious bathrooms plus one shower are available at the Noho location.
It's worth it if…You love SLT and/or Brooklyn Bodyburn and want to try Pilates hybrid machine with arguably even more bells and whistles (hello, Pilates chair!). Also great if you like the benefits of barre but could do without the high-strung vibe at some studios; you'll dig the more athletic approach to the same kind of thigh-burning, quivery benefits barre dishes up.