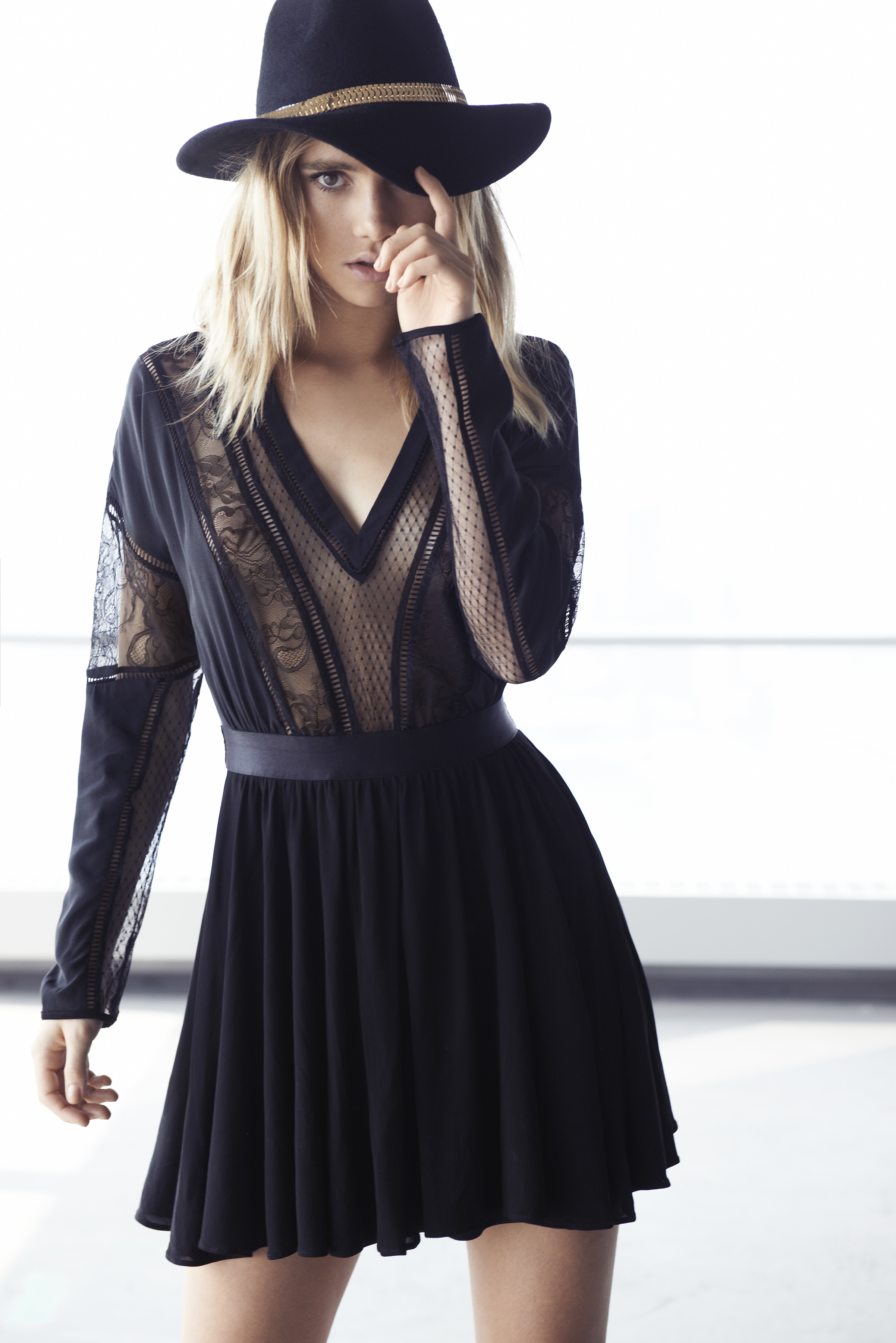 Express is taking things to a new level with Edition, its first high-end capsule collection, with It girls Suki Waterhouse and Magdalena Frackowiak fronting the campaign. The collection, which officially launched this week, luxifies the brand's cool-girl street style with higher quality fabrics and new techniques, and prices range from $50-$500. Selects to pine for: the metallic rooster feather mini, updated classic tuxedo vest, and genuine leather (and accessible) moto jacket. "We tapped into our talented design team to develop a high-end capsule collection that is very style-driven, aspirational, and provides another option for her on-the-go, fashionable lifestyle," said David Kornberg, Express president and CEO. The Daily called on Kornberg for more details…
How long has Edition been in the works?
We've been perfecting the details for months. We designed each garment with unique details and special fabrics that we want the customer to appreciate when she wears them!
Tell us about some of the pieces in the collection, please!
It's made up of key pieces that we thought a woman would want to have in her wardrobe. It's modern takes on iconic classics, like a perfect tuxedo suit, a beautiful leather biker jacket, and skinny pant, plus a simple, versatile silk blouse that you can style in different ways. We also wanted to layer in must-have fashion pieces, such as beautiful lace items, romantic blouses, faux fur, and cocktail dresses.
It sounds thoughtfully edited—how did you pare it down to these items?
We focused on the very specific needs of our high fashion girl-on-the-go, so it made it easy! We started with the key pieces and then layered on the more novel items.
What new techniques and materials did the design team use?
We wanted to use really luxurious fabrics like silk, lamb leather, coated guipure laces—materials that are beautiful to the touch and feel great. We also concentrated on elevating the details and used techniques like hand-beading, and we also used silk covered buttons and grosgrain ribbon trims.
We love the feathered skirt…
It's such a beautiful piece! We wanted to do something fun and sexy for her to go to a party in. The feathers are metallic-coated to give them an iridescent finish for a unique feeling.
Who is this capsule made for?
The girl who's sexy, confident, cool, and irresistibly individual.
And what was the design team's creative process like?
It's very collaborative. It all starts with a strong vision—from the initial concept to the complete styles, all the way to the final shoot. From the styles to fabrics, each designer is able to bring unique ideas that come together beautifully as a collection.
Is there another collection lined up?
Can't say much at the moment…but it is definitely something we are thinking about!