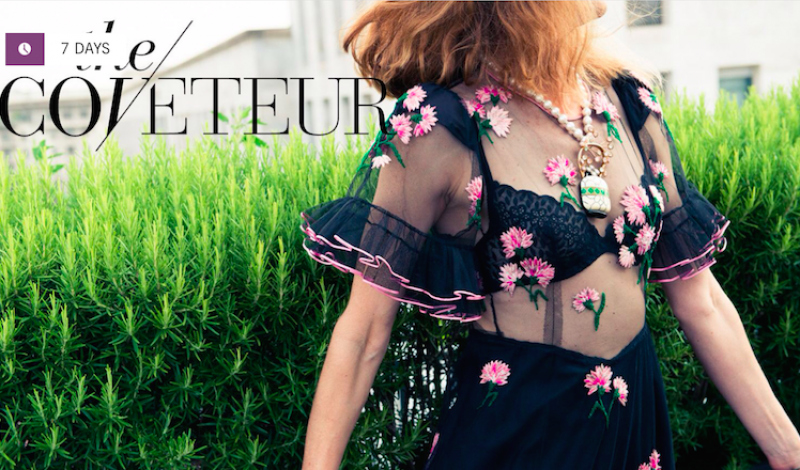 BFA
Exclusive! Covet Fashion Collaborates with The Coveteur
|
The Coveteur fans, get ready! The site is partnering up with mobile styling app Covet Fashion, whose 3 million monthly consumers will now have access to the awe-inspiring closets of The Coveteur…tomorrow! The initiative brings The Coveteur's highly curated content directly to Covet Fashion's community, tapping into a loyal audience that, on average, engages with the app for 30 to 60 minutes a day. Through a series of style challenges—focused on tricks to make your fall clothes feel new again—Covet users will be able to style directly with The Coveteur picks and experiment with editor tips.
Giving us more on the collab, we caught up with The Coveteur co-founder Stephanie Mark and SVP and GM of Covet Fashion Blair Ethington…
How did this collaboration come about?
SM: The best thing about this partnership is the similarities between Covet Fashion and The Coveteur that you might not realize at first, aside from the name, obviously! We are very different platforms, but in the end we both connect style and fashion-minded consumers with the amazing brands that they love in fun and interesting ways. Our team and the Covet team both saw an opportunity to do something together for that reason.
Has The Coveteur ever done something like this before?
SM: The Coveteur turns five in a few months, and over five years we've done tons of amazing partnerships with brands, publishers, and others. This is our first foray into gaming!
What will The Coveteur's role be in delivering content to the app?
SM: Readers come to The Coveteur because we have a unique voice and point of view, kind of like getting advice from your best girlfriend who also happens to be a fashion maven. Covet Fashion users will be able to take inspiration directly from The Coveteur editors and put their own personal spin on it through Covet's virtual style challenges. They will even have access to our editor's picks to incorporate into their looks within the app! It's like borrowing from The Coveteur editor's closets and getting to style their favorite items for yourself – virtually!
What can we expect to find on the app?
BE: Covet Fashion users see us as their go-to for fashion inspiration and as a way to experiment with the latest trends, so we're excited to bring the expert advice of The Coveteur's editors to our users to incorporate into their looks. With The Coveteur style challenges, users will be tasked to create the best looks for trends that are personal to each editor. We take the beautiful imagery and eloquent written word of the editors and make it interactive, driving deeper engagement with the editors and their personal picks, which include items from brands like Zimmermann, Veda, and Veronica Beard.
What are you most excited for users to see?
BE: I am most excited for our users to essentially gain access to The Coveteur's closets and style the garments for themselves. I've been a longtime admirer of the elevated content The Coveteur puts out, and it's a personal dream to go into one of those closets and mix and match the items I love, so being able to give our users that kind of access is very exciting. The part of my job that I love the most is hearing from Coveters about how we've impacted their style on a daily basis. Through this partnership, I'm excited to push that learning even farther. I think our users will come away with new style ideas and more confidence!
What made you want to collaborate with The Coveteur?
BE: We provide a platform that allows consumers to learn and show how they would express themselves if they were given an unlimited closet, while getting inspiration, feedback, and tips from the broader community. The Coveteur also provides unique access to the fashion world by giving an inside peek into some of the most awe-inspiring closets in the world, so the integration just seemed very natural. We both reach an audience of consumers that love fashion and self-expression and we're excited to merge our audiences and content to create a truly interactive and aspirational experience.
How long has this been in the works?
BE: This actually happened fairly quickly and seamlessly. We met their team through a mutual friend a few months ago, and it was clear from the beginning that our audiences had a similar mindset, so everything progressed very easily from there. They're an amazing team to work with, and we're excited to kick off on Friday!