I'm a big fan of laser facials and the like — the kind of treatments you can only get in a dermatologist's office. What I'm not a fan of is actually going to the dermatologist. Even when the offices are nice, they still feel so medical, and, honestly, I resent having to make an appointment with my doctor or a nurse just to find out what treatments are available and how much they cost. I understand needing a consult for more invasive procedures or things that might require actual downtime, but laser hair removal or a little botox? And why can't they just tell me how much it costs up front? Why do I have to go into the office (and shell out for a copay) just to be handed a pamphlet they could easily have emailed me or posted online?
Ever/Body is different. First of all, their website lays it all out for you — procedures, pricing, and appointments. You don't need to book a separate consultation. You can, if you want to — consults are free— but you don't have to. There's a little quiz you can take to figure out which treatment is best for you or you can just choose for yourself from their curated selection.
Their menu is pretty small, but that's a good thing. There's no nonsense. The services offered are safe, effective, backed by sound scientific research (no jade eggs here), have little to no down time, and are performed by a medical professional. More abundant options are nice in theory, but they can be overwhelming and a lot of times it feels like those "options" are really just up-sold versions of the same thing. There is no up-selling at Ever/Body.
You can make your reservation by phone if you want, but booking online is super-easy. You can choose your provider or just book the next available appointment for the procedure you want to have done. Although they recommend booking a few days in advance, I managed to secure an appointment for a Clear + Brilliant laser facial on a Saturday afternoon with less than 24 hours notice, no problem, although that will probably change as more and more people find out about it.
Ever/Body's offices, at 453 West Broadway between Prince and Houston, are beautiful. It doesn't look or feel like a doctor's office. It's more like a slick spa. The cool, green color pallet in the space is soothing, but feels fresh and modern. There are nice little alcoves for you to sit in while you wait for your appointment and a lovely moss wall.
The treatment rooms are spacious, calm, and much more aesthetically pleasing than a typical doctor's office.
My provider, Julie, went over the treatment with me and then covered my face in numbing cream to prepare me for the laser. Once my face was good and tingly (maybe 10 minutes), she removed the cream and got to work with the laser. The Clear + Brilliant laser facial works by creating micro-injuries that trigger the production of collagen and cellular repair, nudging fresh, new skin to the surface. It's known as a "mini Fraxel" and is great for people who aren't quite ready for or don't need a full-blown Fraxle facial, which is both painful and has significant downtime (remember Sanantha on that episode of Sex and the City).
The procedure was a little uncomfortable, but completely manageable and over in a few minutes. If you've ever had Ultherapy, it's less intense than that.
My face was splotchy and a little puffy after my treatment, but it wasn't too bad. I put on some Supergoop sunscreen (that stuff is AMAZING and you can buy it at the Ever/Body office if you don't have it already) and just went about my day. By the evening, there was a little more swelling and it looked like I had a bad sunburn on my face, but Julie had warned me about both these things, so I wasn't worried. I washed with Cetaphil and covered my face with Aquaphor and by the morning the redness and swelling was almost completely gone.
Two days later, and my skin still feels a little sand-papery — those outer layers are still in the process of sloughing off — but it looks great — my fine lines are reduced, the pores on my nose are smaller, and the overall tone and texture have improved as well, especially on my forehead where I had a smattering of small pimples before the treatment. I still need to wait a few days before I will see full results, but things are definitely moving in the right direction, and a friend of mine yesterday said my skin looked especially nice.
Ever/Body currently only has the one location in Soho, but they plan to expand quickly, having raised $17 million in financing already. "We built Ever/Body for everyone seeking skincare and body treatments that create a visible difference – without making you look like a different person," says Ever/Body CEO and co-founder, Kate Twist. We've created a modern approach to skincare that delivers the kind of digitally-native experience our clients expect, without sacrificing safety and
high-quality clinical care."
Indeed, they have. Do yourself a favor and check it out soon.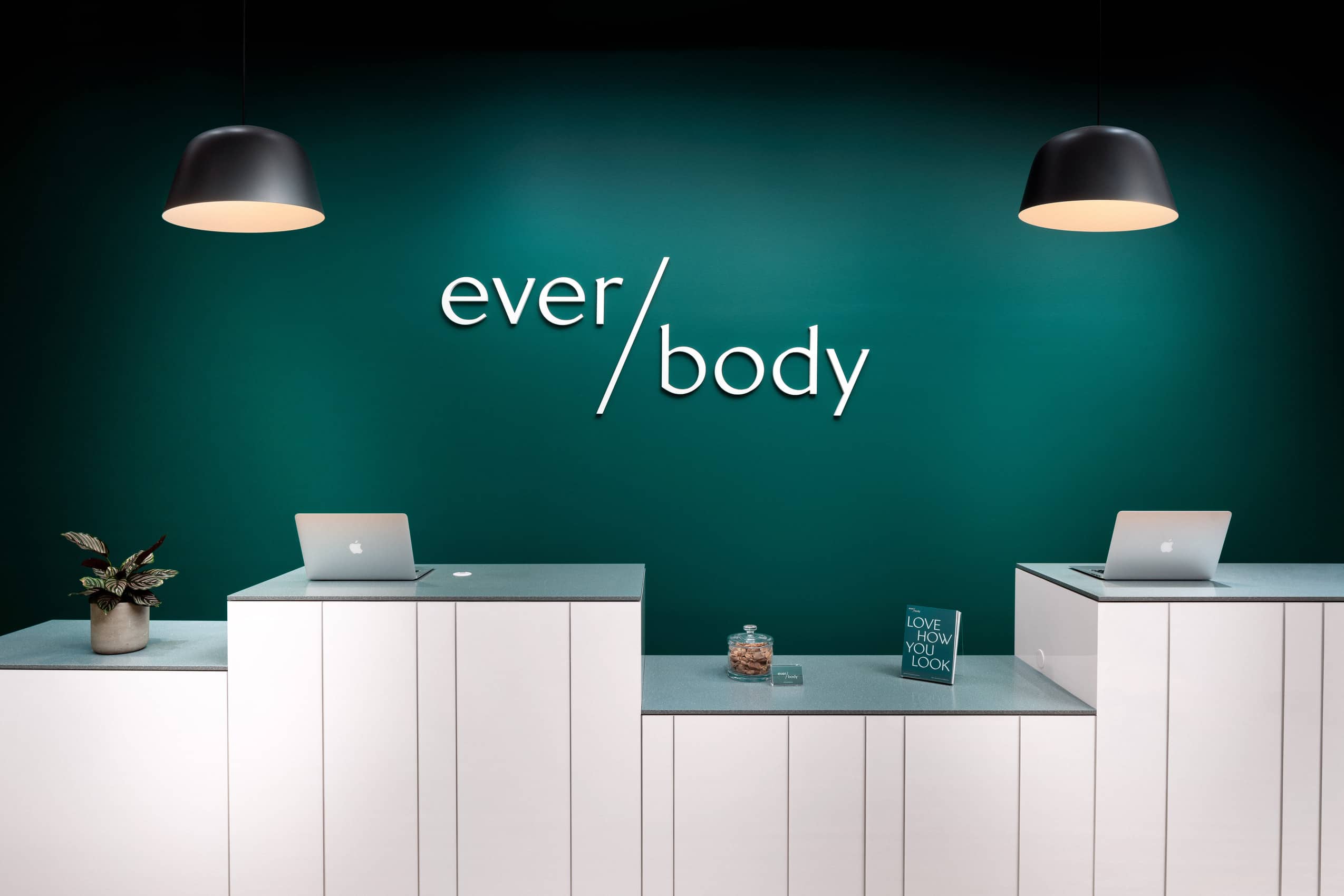 Visit Everbody.com for a full list of treatments, pricing, and to book your appointment today. 
Subscribe to our newsletter and follow us on Facebook and Instagram to stay up to date on all the latest fashion news and juicy industry gossip.