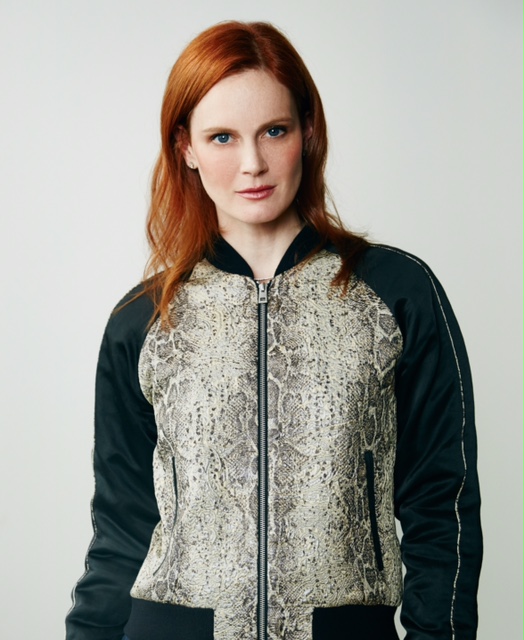 If you were around in the early 2000s, chances are you've seen more than one fashion campaign with Emily Sandberg Gold. In the past few years, she parted ways with her modeling career and started a new chapter. Enter Twice Social, a marketing consulting agency she created to help fashion brands and models curate their public image and maximize social media. Sandberg flew in from Nashville, where she and her fashion-tech company are based, to share the story.
Emily, how did you first get into modeling, and how did that turn into Twice Social?
I moved to New York when I was 18 and was figuring out what to do. This was in 1998/1999. Someone suggested I try modeling, so I applied to Bebe. Then I went down to Next Model Management. They wanted to sign me that day. I started working and six months later I was on the cover of Italian Vogue and then I was the face of Fendi and DKNY and doing all the runways. My agents were great and they were very honest with me. They said, 'Look, you have a great three to five years and then it's over. It doesn't matter how high you get, there's only a couple of Giseles in the business.' It was very helpful because I was able to think about the next step. I decided to get into acting and I did a couple of films. Then I started a blog called Supermodel Blogger—it doesn't exist anymore. I wrote about my experiences and current events in the modeling industry. That's how I got involved with social media. I was one of the first 1,000 people on Twitter and I immediately fell into this group of nerds who were all first adopters. I learned from them the behind the scenes of social media and how it all works, and how you build a community and an audience. Branding-wise, it was similar to my experience in the fashion industry. I understood how to create an image and a brand.
When did you officially launch Twice Social?
In 2015 when I moved to Nashville. The fashion industry there was small, and I wanted to be a part of it. The best way I could see myself being a part of it was to help grow it, and the best way I could see myself doing that is through social media. I had this understanding of creating a brand and business, and wanted to bring that to models. It's a scary place to be, when your career is winding down. The options right now are limited. You can get into acting, you can go back to college. Models who make it are some of the smartest women I know. I wanted to support them in their goals.
Who are some of your clients?
It's models from IMG, The Lions, and New York Models, the actual model agencies, and brands like Express and Nicole Miller. It's a variety.
How many people are on your team?
There are 10 of us, and we're based in Nashville. There's a core four-person team that works very closely together. We're the creative directors. Our team will get together and strategize on what each girl needs to do and what we're going to create, or what each brand needs to do.
What is your day to day like?
There's a lot of emailing with the clients, meetings, phone calls to talk about logistics of that week, which is anything from organizing a photo shoot to what follower numbers are looking like and how to expand, or discussing an ad campaign for a product we are going to promote. Then there's the actual execution part, the behind the scenes of the business.
Do you actually post to social media on behalf of your clients?
With the models, we do everything from posting and captioning on their behalf to laying out their photos for them to developing storylines to creating mood boards. We are hands-on. But some girls don't want us to post for them. When we start with a new girl, her number one goal is always to get 1 million followers in six months. I don't know why that's the goal. If they're asking for it that means it's possible. Twice Social doesn't need to know why that needs to happen, but we need to know how to make that happen.
Which platform are your clients paying the most attention to?
For the brands, it's Facebook and Instagram, because it's a very visual, content-focused market. But it's mainly Facebook Live, Facebook for ad targeting, and Instagram. Some of them still use Twitter for customer service.
What were some of your most memorable experiences as a model?
There's so many. I did a cover of Italian Vogue with Steven Meisel. They had asked permission to cut my hair into this mullet thing. I said to Steven, we should just cut all my hair off so that it's an inch all around, and then I think we should do a Mia Farrow story. A month later he called me to do a cover and a Mia Farrow story in Italian Vogue. He has always supported me from the beginning. I walked into his studio as an 18-year-old in an Adidas tracksuit and I took off my hat and all this red hair came out. I walked up  to him and I was like, 'Why are you wearing sunglasses in a dark room?' I was this ballsy girl that had no idea what she was doing and did not know the protocol. He saw something and he believed in me. I didn't know what I was doing and I felt incredibly uncomfortable. He would have the art director and the stylist stand behind him and do poses that I could copy.
Who else did you work with?
My other huge supporter is Peter Lindbergh. I would commute from New York to Paris for French Vogue, Italian Vogue, German Vogue, whatever, and I was just shooting nonstop. I would get on a plane, get to Paris, shoot, leave the shoot, get back on the plane, fly back to New York, and go back and forth. I was exhausted. I told my agents I needed to stop for bit, and I did for six months. I had to take care of myself. I sent a letter to Steven, Paolo Roversi, and Peter, and all three supported me. Peter called me and said that he was shooting a Gap campaign for actresses. He knew I had done a couple of films and that they wouldn't consider me an actress, but he wanted me to come on set. I went, I shot it, and they ended up using all models instead, so I was booked for the campaign. It was the Holiday Stripes campaign. We had to dance for the commercial. I am a terrible dancer, so I ended up just turning my back to the camera and whipping around. I was like, 'Can I just do this?'And that ended up being one of the key points in the commercial and went onto the billboards. Peter really helped me get on my feet.
Who are you still in touch with?
I used to hang out with Karen Elson and we had a pack that we traveled in. Lily Aldridge lives in Nashville, and I hung out with her a couple of times, and Niki Taylor lives in Nashville as well. I stay in touch with a lot of past agents, like The Lions. It's important to keep in touch because they were there for you, and it's fun for them to see their little babies grow up, in a way.
So what's next for Twice Social?
I've been so focused on New York and I want to continue doing that. I want to push deeper into the fashion industry, because that's where my talent, my experience, and my insights lie. In New York, the focus is to lay down roots and provide great service to the fashion industry. In Nashville I want to expand into the lifestyle category. There's a lot of lifestyle brands and companies there and I want to make sure I'm in that mix.