Here's one thing to look forward to…The Rolling Stones exhibition, Exhibitionism, opens next week at Industria in New York and is touted as the largest touring experience of its kind ever to be staged. The 17,000-square-foot exhibit includes over 500 original objects from the band's archives including instruments diaries, and artwork from Andy Warhol, John Pasche, Walton Ford, Michael Cooper, and Shepard Fairey. Fashion fans will also find satisfaction (see what we did there?) with nearly 70 costumes on display from designers such as Alexander McQueen, Prada, JP Gaultier, Gucci, Dior, and L'Wren Scott. We got the scoop from the exhibition's curator (and a true Rolling Stones girl) Ileen Gallagher.
Tell us a little bit about your background!
I began my career in art museums and have degrees in art history and museum studies. But I took a deep dive into popular culture when I was offered the job as director of exhibitions for the Rock and Roll Hall of Fame, and worked there two years before the museum opened, through the opening, and then three years into the life of the museum. In 1999, I started my own company specializing in both art and popular culture— organizing, curating, and managing various projects, from exhibitions and museums to website and special events.  
How did you end up as the curator of such an extraordinary project?
In 2012 I was approached by band management to put together a photography exhibition to celebrate the publication of The Rolling Stones 50, published by Thames and Hudson.  The photography exhibition held at Somerset House commemorated the event. In 2014, iEC [International Entertainment Consulting] negotiated with the band to create a large-scale traveling exhibition, and I was introduced to iEC through the band management and, well, the rest is history.
Tell us about the exhibition. What's in it?
It's a thematic celebration of the 54-year career of one the greatest rock and roll bands. There are a series of galleries that explore their music and their cultural contributions. The band has always collaborated with artists, musicians, filmmakers, designers, and photographers that are part of the zeitgeist, [which] has resulted in great album covers, stage design, logo art, costumes, films, photographs, and video. As you enter the exhibit, there is a video presentation that's a quick cut to the career of the band. Then you enter into [their] early years, beginning with a recreation of their first apartment at Edith Grove where Mick, Keith, Charlie, and Brian lived when they were dirt poor. [Then] you are in a gallery where you meet the band members and learn about their background and early days on the road. You then enter the Recording Gallery where there is a re-creation of a recording studio, and also a gallery devoted to Music and Lyrics that features important guitars and handwritten lyrics. You learn about Mick and Keith's songwriting. Art and Design gallery presents artwork for the tongue logo, and artwork from their album covers and posters and features artwork by Andy Warhol, Walton Ford, Robert Frank, David Bailey and many other artists and photographers. There is an art gallery that features drawings, paintings, and lithographs by Andy Warhol and Richard Hamilton. Stage Design features designs and stage models. The Style gallery features 67 outfits and shows a progression of their fashions from the 1960s to the present. It also talks about their style and how many important cultural moments in our history are associated with The Rolling Stones, such as the concert at Altamont and their concert in Prague. Backstage puts you in the position of the band as they prepare to go onstage, and the last gallery is a kick-ass 3-D performance from one of their concerts.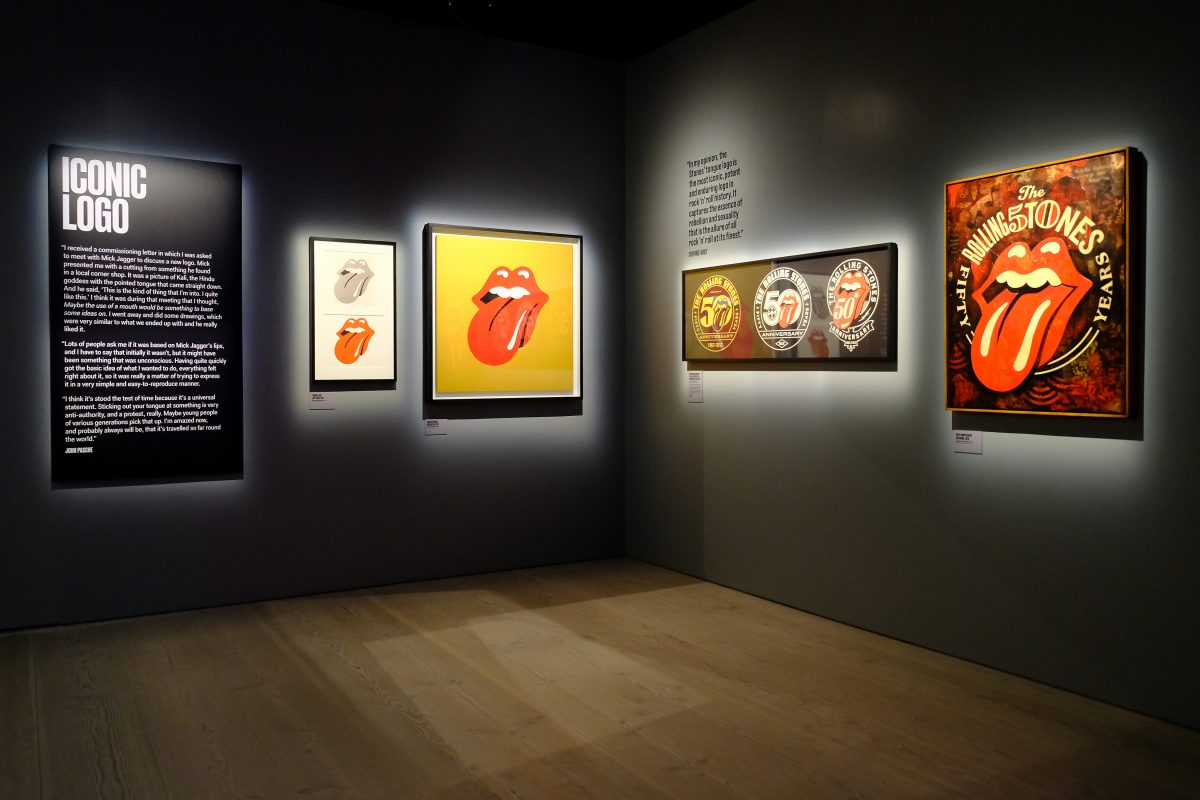 Where have the costumes been all these years?
The band has maintained an excellent archive of their clothing and they have been well cared for in a storage facility outside London.
How closely was the band involved with the exhibition?
Very! We had several design review meetings with them and they had very valuable input throughout the development process.  I interviewed all of them for the exhibition and they provided great information and stories.
If you could take something home after the exhibition, what would it be?
It would have to be the Omega shirt that Mick wore during the 1975 tour that included Madison Square Garden and Altamont. I look at that shirt and it evokes moments and memories–it is really a cultural touchstone.
What was your personal experience with The Rolling Stones over the years? Did you see a concert?
The first time I saw the band was at Winterland in San Francisco in 1972. Stevie Wonder opened for them. I was going to [UCLA] Berkeley at the time. Since then I have seen them on numerous occasions in different settings, from small theaters to huge arenas. Growing up, it was Beatles versus Stones, and I was always a Stones girl–they were a little dangerous, sexy, and dirty, and very appealing!
Which member of the band do you connect with most?
I connected with all of them in different ways and they were all very generous with their time and knowledge.  I spent the most time with Mick and found him to be fascinating, extremely intelligent, and very funny.
What's the opening day going to be like for you?
Opening day will be fun! We did this once already in London and it was a blast, and I expect no less from New York. Actually, I expect more!