Nearly one decade ago, Emily Schuman left her 9-to-5 to start her own blog, Cupcakes and Cashmere, aiming to guide and inspire readers on all-things fashion and lifestyle. Since then, she's launched her own Cupcakes and Cashmere clothing line, sold in major retailers like Nordstrom and websites like Shopbop, and has also launched bedding and lighting lines. Now she's expanding her brand further with the launch of e-commerce, comprised of a curated selection of her favorite things. Schuman fills us in on her latest brand expansion. 
Emily, what sparked the idea to tap into the e-comm space?
This is something that I have wanted to do for a while now. I've been curating online for about nine years now with my blog, and now it's all in one place where I have control over everything from the product selection to the site experience to packaging and description. It's really nice to have control over every aspect.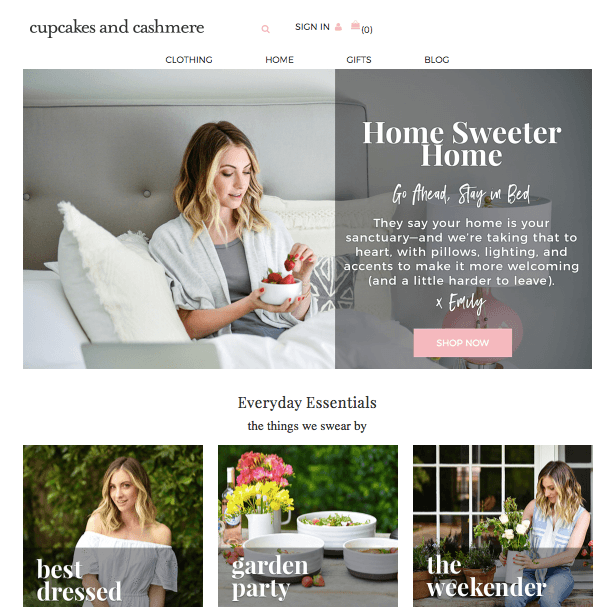 What kinds of products will we find on the site?
The way that we've approached [the site] is similar to how I've gone about the blog in that I want it to be from the entire lifestyle angle, covering both fashion and home. I believe what you wear is just as important as how you design your home. We launched with three separate categories: clothing, home, and gift. It's a very very curated collection. For example, we have denim, but we didn't want to launch with 20 denim lines. It was important for me to launch with my favorite denim line, which is Mother Denim. The same goes for dresses. We have Dress the Population, which is a really fantastic and affordable dress line for occasion dresses. Within the gift section, we have a line called Mary Mary—a lot of those products we couldn't even keep in-stock the first day. We've been scrambling to do reorders!
How have your readers reacted to your latest project?
It's been very very well received. It's been fun hearing people's feedback. They are really excited and in some ways surprised and delighted by things they've found. In other ways they are like, This is exactly what we were looking for and what we thought it would be. We really look at this as a long-term strategy. This is a marathon, not a sprint, so we are trying to be very strategic and careful in how we approach those next categories.
How often will you update new product?
It will change over time, but currently we are looking to update twice a week.
You also have your Cupcakes and Cashmere clothing line, a bedding line, and a lighting line. How are you balancing the different components of your brand?
Balancing everything is probably the biggest struggle that I've faced! I'm really passionate and excited about every project I'm working on, but the main thing is trying to segment my day, whether that's in the very beginning of the day at 6 a.m. when my two-year-old gets up and I'm on mom duty to sitting down at the computer. I think I do best when I have a lot going on.
How big is your team?
On the blog side, we're a four-person team, and we're hiring more. For e-commerce and my lines—it takes a village. There are a lot of people involved. With the e-commerce, a lot of people initially thought it would be me packaging things and putting the tape on each package. While I'm very involved and decide what every package should look and feel like, we have a wonderful partner in place and large teams that are helping to run everything with digital marketing and customer service.
What's different about blogging today?
The most compelling thing to me is to see how everyone's paths have gone in different directions. They're not just bloggers anymore—they're these incredible multi-hyphenate entrepreneurs who have taken their platform and are translating it, as well as their loyal fan base, in different and interesting ways.
Who's business models inspire you most these days?
There are a lot of women who I look up to. I think Gwyneth Paltrow has done a really incredible job, as well as Martha Stewart and Ina Garten. The common thread with all of those is they're obviously very savvy business women but at the core they're very committed and passionate about what they're doing. That level of authenticity is what's most important .
What other categories do you see yourself tapping into in the future?
A lot! We have some exciting projects that are in the works in categories that I've not done yet. The main thing is I always want to be creating products that I'm excited and passionate about and where there's a void to be filled. If I already feel there's an overly-saturated marketplace and there's no need for it, I won't pursue it. That's my guiding force in everything I take on. I'm excited to dip my toe into more categories in the future!