She's got a museum-worthy art collection, a stuff-of-legend wedding, and one of the best-stocked closets around. Now,
with Minnie Muse, her relaunched fashion-centric website, Colby Mugrabi is a professional influencer to be reckoned with.
What's the story with Minnie Muse?
I came up with the idea in high school. I lived in New York part-time and would write for Teen Vogue during Fashion Week. Ever since I was a little girl, I woke up early to watch the runway shows before school—this was when you'd have to wait until they were posted the next day on style.com. I wanted another outlet that I could use the other 50 weeks a year, when I wasn't in New York or Paris doing my little blogging for Teen Vogue, so I launched my website! It initially started as an art and fashion site, a portfolio for my projects. I never thought about monetizing it. I stopped doing it once I moved to New York to go to NYU. I went to Gallatin and studied art history and fashion business. Throughout those four years, my interests expanded into architecture and furniture design. In my senior thesis project, I learned that an artist's book is something that changes the way you see something else, which is kind of the motto that's always in the back of my mind. I got married and was thinking about what to do that utilizes my skill set, so I decided to launch under the same name, Minnie Muse, and make a digital digest that focuses on the history of art, fashion, design, and architecture, as well as the cross-pollination of those fields.
How did you come up with the name?
When I was younger, my friends wanted to be singers or actors, but I wanted to be John Galliano's muse. That, to me, was my light at the end of the tunnel—John Galliano and his designs, and the beautiful environment he created each season.
Tell us about the logo.
It's based off an Alexander Calder pin. Calder had a series of initial brooches, which he would give to his friends and family. I saw one designed for his daughter with the initials MR, and the M was rendered into a squiggle line, so I took that idea and hand-drew my logo for my site.
Do you have a team?
I have a lovely girl helping me one day a week. I can't do everything, and I know that social media is such an important element, so she's going to help me with that. It's also important to bounce ideas off of someone. I think my husband's tired of me asking him about what he thinks about Picasso's opera costumes and stuff like that. [Laughs]
Where did you and your husband, [Tico Mugrabi], meet?
At an Urs Fischer opening. I love his work. My best friend invited me to go, and I was in class all day at NYU, so I went straight from there. It turns out that Tico organized it!
Fate! Your wedding at Hôtel du Cap-Eden-Roc was the talk of Instagram. Were you surprised?
Yeah, because I asked people not to Instagram it! I actually don't think it was as bad as it could have been. It's so disrespectful when everyone is focused on their phone at a wedding—I just wanted everyone to live in the moment. It was such a magical time!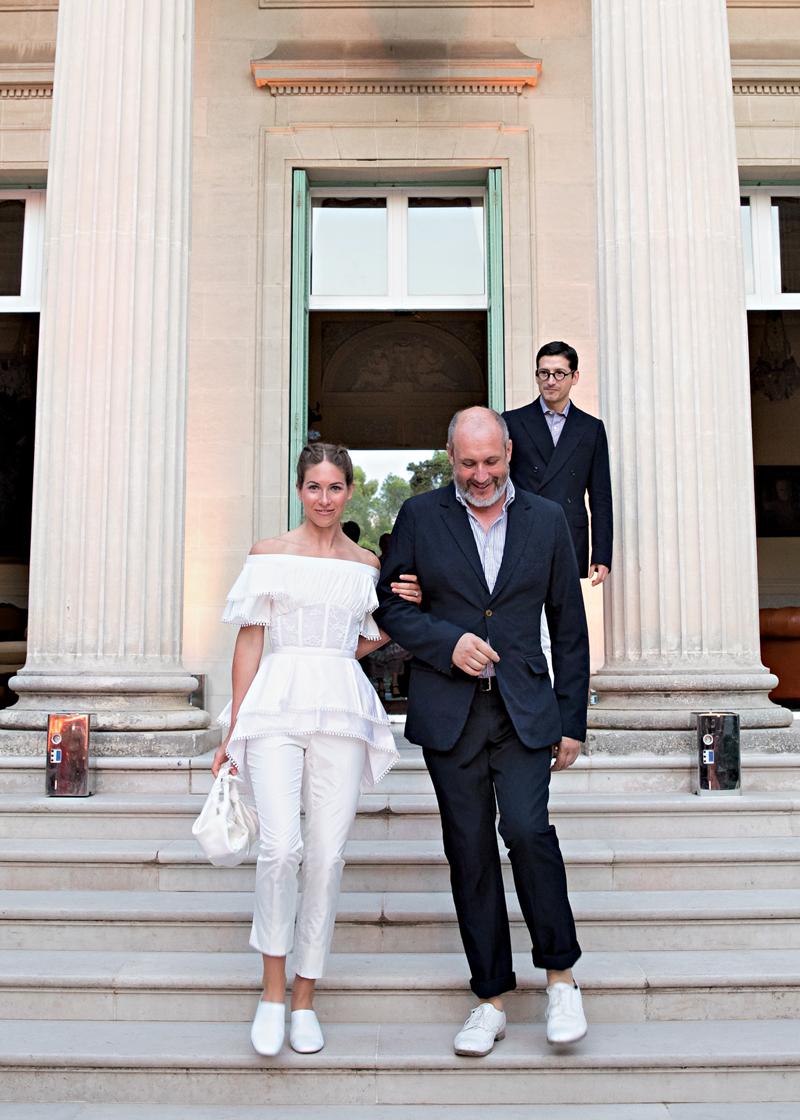 You're originally from Chicago. What are  the differences between living there versus in New York?
I was always a New Yorker at heart. I loved growing up in Chicago—it's a much quieter, calmer place. I think one of the best museums, if not the best, is the Art Institute of Chicago. There's amazing culture and architecture there, but I feed off the energy of New York. I totally understand how some people don't feel this way about the city, because it can be tough and overwhelming at some points, but I love it so much.
How did you get into art?
Honestly, I have no idea! Ever since I was little, I was obsessed with fashion, and then came my love for art. My mom is an interior designer, so I grew up around fabric samples, but I never wanted to be a fashion designer.
What was the first painting you ever purchased?
I'm married to an art dealer, so luckily, he takes care of that [Laughs], but my parents bought me some fun art when I was little. I also had some great pieces from street artists in my apartment when I was going to school. I'd like to get into buying art, but we're lucky to live with great things already.
Favorite artists?
I can appreciate so many forms of art, whether it's something I want to live with or not. Visually, I love abstract expressionism and Warhol, Urs Fischer, Jeff Koons, and Picasso. Having Minnie Muse and being able to do a wide variety of research has also opened my eyes to lots of different forms of art that I probably otherwise wouldn't have discovered.
What are your go-to museums and galleries in the city?
I love The Met and MoMA, and I do a lot of research at the Costume Institute library. I love the Neue Galerie and its café there, too, and Gagosian always has amazing shows.
What's the aesthetic of your home?
The most important thing in life, whether you have good taste or bad taste, is to have some sort of taste and eye for curation. At home, we have mid-century furniture, pop art, contemporary art, African masks.… It's a nice blend.
You just returned from couture. Which shows did you see?
Dior, Proenza Schouler—the designers are my dear friends—and Chanel. The garden setting was so beautiful. I also went to Valentino—it brought me to tears.
Where will we see you at Fashion Week?
The Row is on the top of my list. I love going to my friend Brett Heyman of Edie Parker's presentations. Last year, she created a newsstand that was stocked with Cheetos—my favorite thing in the world!