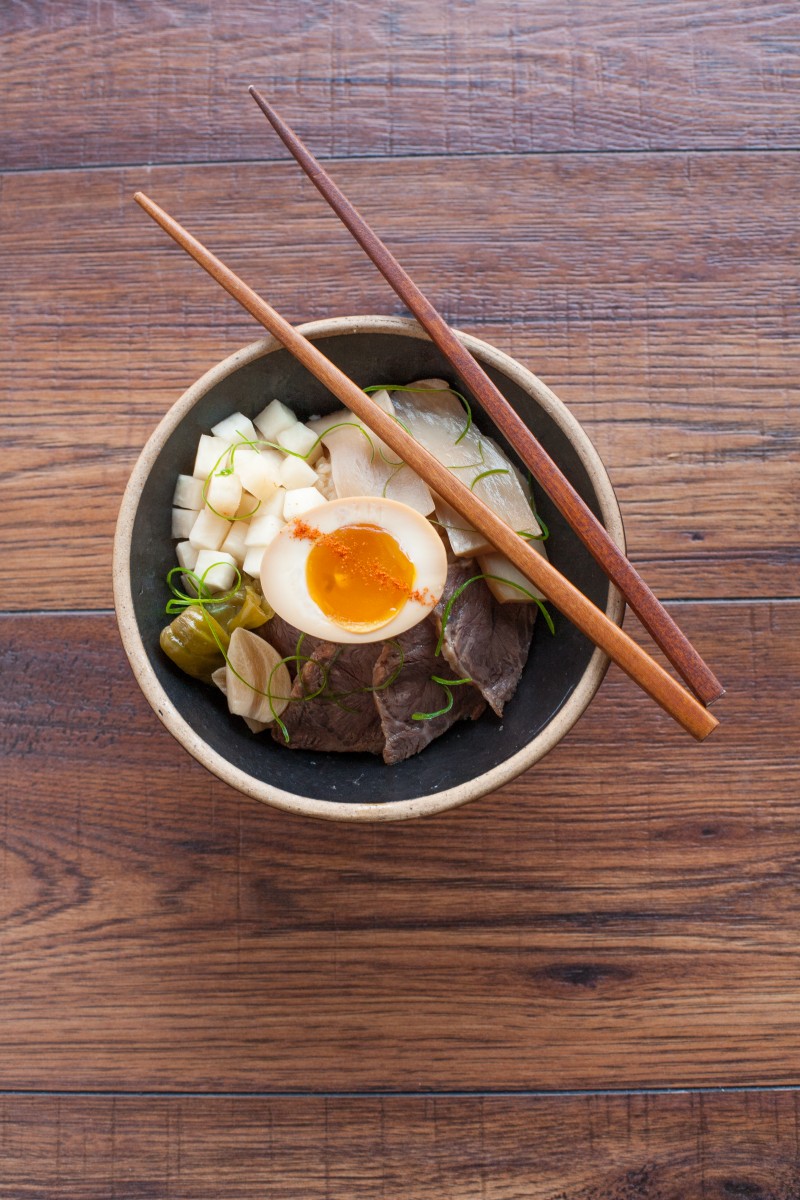 Since opening this spring, Oiji has been packing 'em into its petite, tastefully appointed East Village digs thanks to its modern, delicious take on Korean cuisine. Oh, and there are those homemade honey butter chips New York's Rob Patronite and Robin Raisfeld couldn't get enough of (more on those later). General manager Max Soh filled us in… 
How did Oiji come about?
Co-owners/chefs Brian Kim and Tae Kyung Ku, who were both raised in Seoul, Korea, met while they were attending the Culinary Institute of America in Hyde Park, N.Y.  They were roommates and quickly became friends, realizing they shared the same vision upon graduation: to bring a new perspective on Korean cooking to New York City.  They then sought out to create a new category for Korean cuisine in Oiji, refined authentic Korean.
Why did you name the restaurant Oiji? 
Many people in the United States know what Kimchi is, but not Oiji. Oiji is the most common cucumber kimchi in Korea. Our goal with the restaurant was to introduce Korean dishes that were also not so common in New York. We thought the name Oiji represented that same concept.
Why did you decide to set up shop in the East Village? 
We love the diversity of the East Village.  You can find any type of cuisine here; we thought it would be the best home for Oiji.

Where did Oiji's chef/owner duo cook previously? 
Kim and Ku cooked at Bouley and Gramercy Tavern, respectively, before embarking on their journey to create Oiji. Rounding out the team is me: I'm a Korean-American who grew up in both Korea and the United States, and I'm also a graduate of the Culinary Institute of America. I've cooked at Bouley, Gordon Ramsay at the London and Nobu as Chef de Cuisine in Crystal Cruise before turning my attention to the management side of the business.
Any chicsters of note that've dined at Oiji?
We've been honored to have notable chefs visit including Michael White and John DeLucie as well as influencers from the fashion community including Khoa Nguyen of Moschino and Sean Scottini of Armani.
Those honey butter chips have been such a hit! What's the story behind them?
Honey Butter Chips, highlights Kim and Ku's sense of humor and whimsy. A manufactured and packaged snack food, Honey Butter Chips created a cult phenomenon when they were introduced in 2014. K-Pop stars began posting selfies with bags of them with captions such as, "Stop tempting me." The snack food has become so popular that convenience stores are routinely sold out. Kim and Ku eschew the Korean-made package variety in place of their homemade version. Made to order, it's a fun and quintessential contemporary Korean end to the meal, albeit with the Kim/Ku twist. We sell around 20 orders a night, but the process is quite labor intensive, so we limit the number of orders we can put out in one night.
What's your ideal meal at Oiji?
JangJoRim Buttered Rice. It is delicious comfort food that can be compared to mac 'n cheese.
How is Oiji different from other Korean restaurants around NYC?  
At Oiji, we explore traditional flavors and dishes while utilizing modern cooking techniques, ingredients, artful plating and portion sizes. We offer a Korean dining experience that is at once familiar, with ingredients and dishes we've grown up with as Koreans, yet surprising because of the modern way we interpret them. It's approachable food using French techniques but preserving our favorite Korean flavors.