Curious about CBD's many benefits? Julie Winter, founding partner and COO of CBD for Life, explains the wonder ingredient's wellness and beauty domination.
Tell us how CBD for Life was first created.
We created CBD for Life after my sister Beth Stavola, founding partner and CEO, learned about the wonderful healing properties of CBD. She infused CBD with essential oils to create a rub that helps manage her chronic back pain from spine scoliosis, a condition she suffered since her early teenage years. Beth felt immediate relief from applying the rub daily. As a wonderful side effect of using the rub, she noticed significant improvement, clearing, and softening of her skin. After months of extensive research, we met with a chemist to create our luxurious formulations. Two years later, CBD for Life was born!
How does the Pain Relief Spray work, exactly?
CBD is great in aiding in pain relief and reducing inflammation; while CBD is our main focus, we wanted to use lidocaine, a natural antiseptic that's great for sore muscles and joint pain but can also be used for burns, scrapes, and bug bites.
What is your process for developing new products?
We do market research, see what's out there, and listen to what clients are asking for. We're also constantly staying on top of new research. We start at a concept phase and explore the best delivery, then start working with our chemist on formulations. We then look at performance over a three-month period, and move on to packaging. We also do compatibility testing to make sure the products' efficacy remains intact. Finally, we plan our production calendar. It's probably about a 6-to-8 month process to work on product development.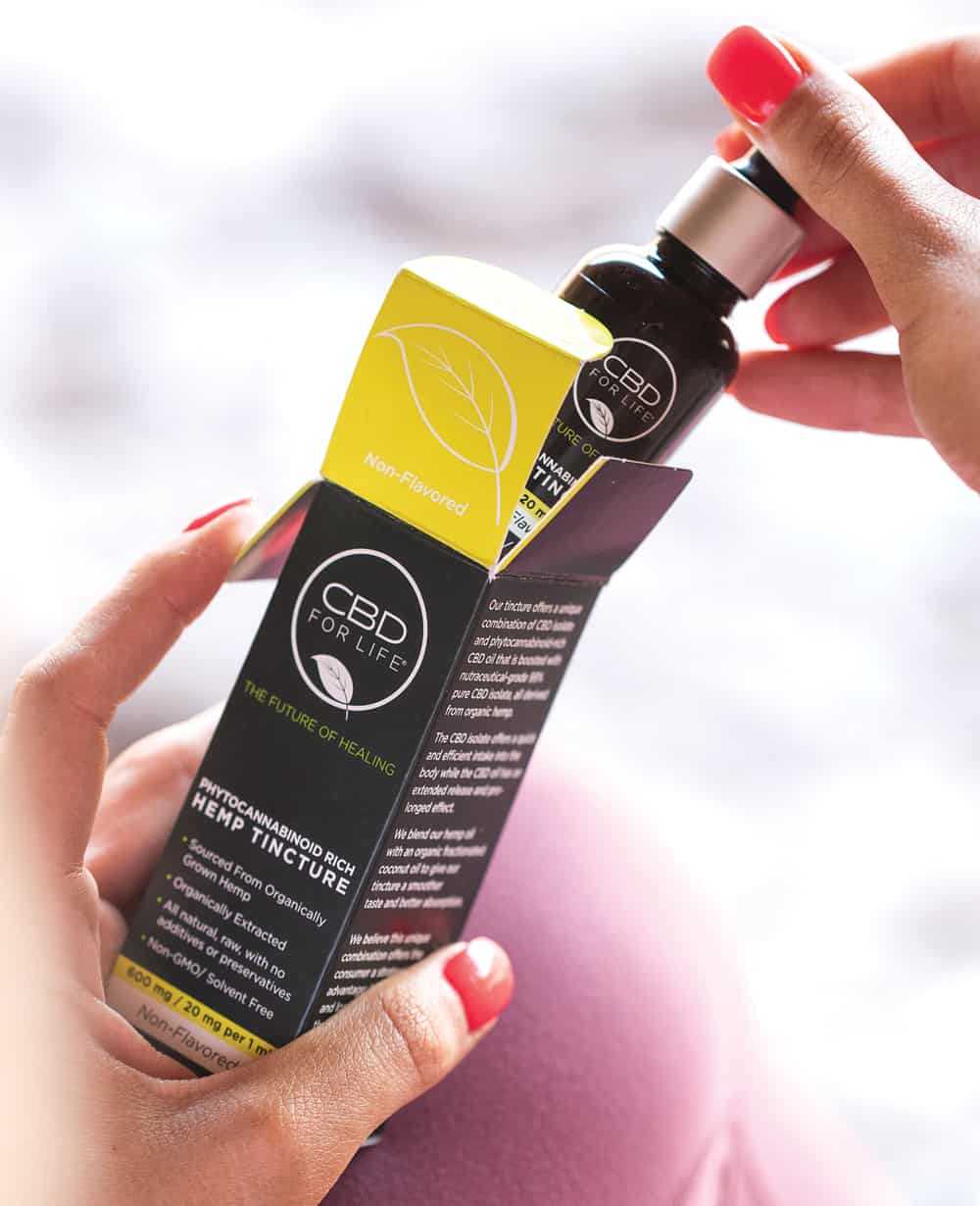 Why do you think CBD has become so popular?
Cannabis as a whole is more accepted. People aren't looking at it as a bad habit or gateway drug. There's much more understanding of the endocannabinoid system and how these plants are phytocannabinoids, a plant-based version of what your body makes and contains. CBD is this amazing chemical compound that has no psychoactive effects. It makes people feel good, pretty much instantaneously. Over time, people wake up with less pain and they sleep better. It's long-lasting, not something that only works short-term.
How has CBD changed your lifestyle?
I have Type 1 diabetes and use CBD for deeper REM sleep, which gives my body more time to repair itself. It also helps me control my sugar levels. I wake up feeling overall better using CBD. As much as I'm a fan of natural products, there was a time that if I couldn't sleep, I'd take a Tylenol PM to help with sleep and anxiety, but that feeds into bad cycles. When I sleep well, wake up feeling good and I'm not anxious, I can really live my best life.
What made you decide to branch out into beauty?
When we first started working in CBD, the natural thing to do was go into pain and wellness. After taking tinctures and using topicals, I noticed other positive side effects, like the softening and clearing of my skin, especially since I'd suffered from rosacea. It seemed like a natural progression into skincare and skin health.
How can CBD elevate beauty and wellness products?
CBD is a phytocannabinoid, or plant-based, that helps heal skin conditions naturally by interacting with your own endocannabinoid system and bringing your body back into homeostasis. It is different than any other beauty product with synthetic or even other natural ingredients, because they're not actually working with your endocannabinoid system.
View this post on Instagram
What's your daily regimen?
I use CBD for Life Face & Body Cleanser; it leaves my skin feeling clean without stripping the oils. CBD is an adaptogen, so it brings your body back into balance and regulates oil production. I also use a toner from our new line launching later this year, specifically engineered to calm skin and reduce redness. Then, I use both Pure CBD Face Cream and Eye Serum, and our Tinctures, 20 mg, morning and night.
Why are wellness and self-care so popular?
I think people realize that the most important thing you can do in this life is take care of yourself and your body. You'll look your best and feel the most beautiful if you're healthy from the inside out.
Do you get out to the Hamptons much?
We go to Montauk every year, usually in August or September. We stay at the Surf Club; we love it there. My husband is from Long Island, so he has family in every part of the Hamptons!
Any summer wellness tips for Hamptonites?
Tinctures are great for hangovers, so make sure to pack your CBD for Life Tinctures. They help with nausea and anxiety. Also, a few Hamptons bars serve CBD mocktails and cocktails, so check those out. We have a CBD cocktail recipe coming out on August 26th; be on the lookout for it on our website!
Any wellness recommendations for using CBD?
A tincture a day keeps anxiety to a minimum. I recommend incorporating a tincture into your daily regimen for a calming effect.
What's the next big trend in beauty and wellness?
Sleeping masks to calm your skin overnight, and deodorant to kill underarm bacteria.
What's launching next from CBD for Life?
Vape Pens will be available soon!
Read the complete new issue of The Daily Summer below!
Subscribe to our newsletter and follow us on Facebook  and Instagram to stay up to date on all the latest fashion news and juicy industry gossip.