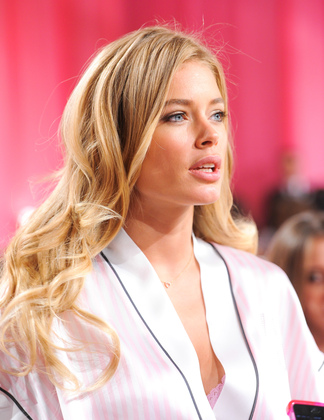 Catching Up With…Doutzen Kroes Backstage at Victoria's Secret
|
Doutzen Kroes returns to the Victoria's Secret runway tonight, and as she was getting those wings ready, the mod took a moment to chat with us about her nerves, Instagram, and the criticism she's gotten for her son's healthy eating habits. We heart this Angel.
How are you feeling?
I feel great. I feel like I've done everything I could in my power to look the way I wanted to. I worked out. I'm all set. I'm not nervous now…but I will be before the show.
What do you do to calm down?
There's nothing I can do. This is it. I have to get out there. There's no escape!
You're a very devoted Instagram user. What do you love about it?
I love it because it's an outlet towards the fans. It's nice to have interaction with your fans and show a little bit of your life and to sometimes be a little provocative. You who you really are. You can see through pictures what somebody is like.
Do you read the comments people leave?
Sometimes I do. It makes me mad, which is when I know I shouldn't [read comments]. But sometimes they're really sweet. When I Instagram about my three-year-old son's food, I like to read those comments and get involved. It's so important for kids to get healthy food and nutritional food. You can eat anything, but if there isn't any nutritional value, you might as well not eat it.
Does he like sweets?
For something sweet, he likes dates. People criticize me on that! They say kids should have sugar or pizza. Until he figures out that there's a difference, I'm going to continue giving him healthy food. I don't want him to get teased in school, but if there's a birthday, I talk to the moms and we make sure we give healthy treats. I'm not obsessed with it, but if he goes over the moon for a date or a watermelon, why would I change that?
Do you eat sweets?
I don't have a sweet tooth, but I love French fries and potato chips. I'm more savory!