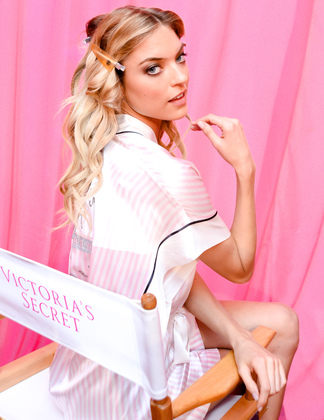 Meet Victoria's Secret First-Timer Martha Hunt!
|
Who's that girl? One of Victoria's latest secrets, VS show newbie Martha Hunt. The mod's been featured by the lingerie line aplenty this year, and she'll be making her show debut tonight and coming to a TV set near you on December 10th on CBS. We chatted with Hunt backstage at the Armory today about casting realities, girl crushing on Adriana Lima, and more. Anyone that uses the term "carb party" is a keeper in our book…

So, it's your first-ever VS show.
Woohoo!
You seem pretty calm for a newbie!
Thank you, I'm a bit surprised with myself. Let's just say that now that the casting's over with, I feel so much more relaxed.
What was the casting like?
It was brutal. You go out there in just your bra and underwear, in really bad office lighting. You have nothing to hide, and you have those 15 seconds to show them you should be in the show. It's a lot of pressure.

How did you celebrate when you found out you'd made it into the show?
With cocktails and pasta! I got my final carb party over with, and then it was training time.
How long have you wanted to be among Angels?
Since…forever. But I didn't put all my hopes into it. When I finally got the show, that's when I got excited.
Did you get any advice from VS vets before the show?
They told me to get ready, because I'd be feeling a lot of anxiety before the show.
Do you have a favorite Angel?
Oh my God, Adriana Lima. When I met her for the first time, she is the most commanding presence. You just can't stop looking at her. She's intoxicating. And Candice Swanepoel is just the sweetest girl. She's actually, like, an angel.
Do you expect to be recognized more after the VS show airs?
It's actually already happening a little; a couple of times. It usually happens at the more awkward moments.
Whereabouts?
Once I was at Whole Foods, I'd just come from the gym, and I was so sweaty. This couple approached me and said, "Excuse me, do you know somewhere close by to eat?" I recommended ABC Kitchen, and then they said, "You look like that model, Martha Hunt." It totally threw me off.
What are your post-show plans?
I'm gonna party all night! I'll be dancing my butt off.