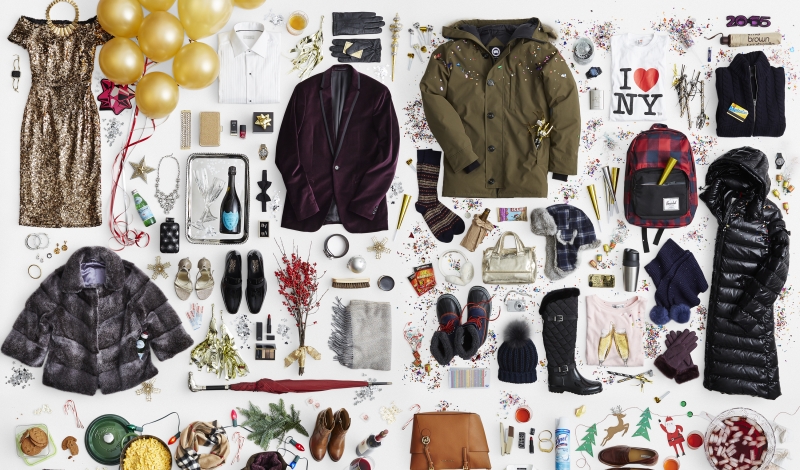 Photo courtesy
Bloomingdale's Introduces A Holiday Campaign That's Shoppable Via Instagram
Just in time for the holiday season, Bloomingdale's has figured out how to make Instagram shoppable. Granted, it took a lot of work, and while it isn't quite as simple as clicking and purchasing, the retailer has made for a very playful, tap-happy, and social experience. Plus, their holiday gift guide will alleviate some of the stresses that tend to accompany holiday shopping. With plenty of subaccounts, tags, and imagery to take into consideration, we phoned up Jonathan Paul, the store's OVP of social media, to fill in the blanks. We suggest grabbing your phone, heading to @bloomingdales and following along as he explains…
So how, exactly, does this Instagram campaign work?
We're going to put up four Instagram posts, starting with one this week, two next week, and one the week of Christmas. Each post will have four different tags that will take you to four different Bloomingdale's subaccounts. Each subaccount is essentially a zoomed-in area of the section of the photo you were tapping on, with nine pictures that tile together to create that zoomed-in view. Each of these subaccounts has its own profile page, so you can click the link in the bio and purchase those items directly from our site.
What was it like shooting these detailed images filled with so much product?
The whole point of the campaign was to draw attention to the whole breadth of the Bloomingdale's assortment, and we have a lot of stuff. I knew that was something we really wanted to convey, but I didn't really feel it viscerally until I was in the studio with our photographer Alice Gao, a million assistants, and the prop stylists. I can't even explain how much product we had. It was absolutely out of control. We would be putting product in the frame and I would say "I want to focus on Bloomingdale's products, so let's take that out" and they'd be like "But you sell that!" It was astounding!
Is every product in each image available from Bloomingdale's?
The themes were chosen to be seasonally appropriate and to tell stories. They were also chosen to be vehicles for having little gags, winks, and surprises inside of them. In the dressy holiday party post, we put shoe polish and Band-Aids next to a high heel. In the office party, you have a phone off the hook and Post-It notes with little jokes written on them.
Does social media have a bigger impact on shoppers around the holiday season?
Retailers certainly hope so! It's definitely a noisy time of year; it's very hard to stand out as a brand during a season when everyone really amplifies their social presence and increases their cadence. We tried to stand out from all the social media posts that are very literal and promotional. Our goal was to give something that was more of an experience; something that was a bit more immersive and interactive.
How does your background in editorial at The New York Times, T: The New York Times Style Magazine, and New York inform your social media strategy at Bloomingdale's?
On social, my approach has been to lean more towards the editorial direction and fit different designers together. Generally speaking, retailers tend to avoid mixing designers in their advertising and marketing campaigns. But here, we mixed designers to tell a story with a product, rather than product for product.
REPORTING BY NICOLLE DUDEK