Men's bloggers Moti Ankari of The Metro Man and Marcel Floruss of One Dapper Street are taking big steps—literally—in a new direction. Enter Ankari Floruss, the duo's first shoe line comprised of seven classic styles that will have guys set every day of the week. The pals are no strangers to design—they've collaborated on numerous projects (from bowties to suits) with brands, and now they're taking their experience to the next level at a time when bloggers are being more criticized than ever. Take it away, guys! 
Marcel, what sparked the idea to collaborate with Moti on a men's shoe line?
Moti actually brought the idea to me. The whole seven days, seven shoes was his creative concept, and I was immediately on board for more than one reason. We've been working together as bloggers and have been best friends for quite some time—I normally wouldn't go into business with a lot of my friends, but I knew that we worked well together. Separate from him, I had the idea of a simple shoe collection that doesn't offer everything to try and please the mass market. I was really into the idea of minimizing it through the most beautiful shoes, and that was kind of the picture that he came to me with. I was smitten!
Moti, why did designing shoes feel natural to you? 
I own so many pairs of shoes—like 190—but I wear a very limited amount throughout the week. I bet all these guys go on websites and try to find shoes but are overwhelmed by all of the choices, so I wanted to create an edited collection of the most classic silhouettes. If I did it on my own it would be weird, and I thought of Marcel because he was my first best friend from the blogging industry. We met at F.I.T.—he studied fashion merchandising and I studied marketing—so with both of our knowledge, you get the power duo!
Why did you decide to make the shoes in Spain?
Marcel: People associate a certain level of quality with Spanish or Italian craftsmanship when it comes to footwear, so that was important to us.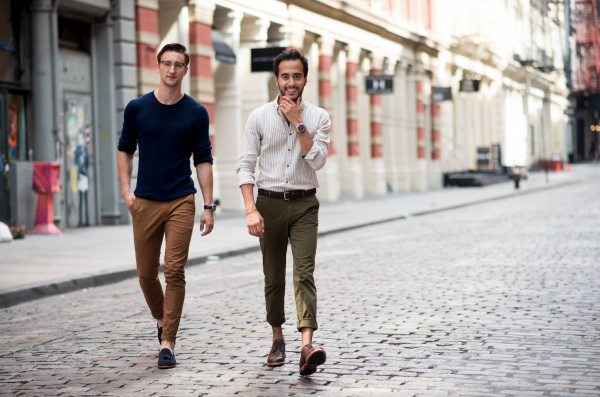 Are your personal styles similar?
Moti: I feel like out of all the bloggers out there, Marcel and I have the most similar personal style. I like quality pieces that are durable and timeless. My personal style changes every day. There was a time where I would wear a suit every day, but now I wear bomber jackets with T-shirts.
Marcel: It's always changing for me, as well.  I don't care what the price tag is if the quality is right. Truthfully, I think we're both very versatile. In our shoe collection we have sneakers and dress shoes that you could wear with both a suit and jeans and T-shirt. Moti and I are both footwear guys. We're not doing an entire collection, we don't have plans to do ready-to-wear or expand into women's—we just want to do what we know and love.
Are there plans for seasonal launches of Ankari Floruss?
Moti: That's the plan! We want to see how this goes—hopefully it goes well with the support of our friends, family and our support system—but we're planning Spring/Summer 2017 next.
Why do you think so many bloggers are tapping into design these days?
Marcel: We're doing this because we want to do it for the joy of it, but as an influencer, it's an artist's life. You never know what could happen—if you all of a sudden don't get any campaigns, if money is going to stay steady, or if blogging and Instagram should ever change. So Moti and I are thinking about building something that could potentially outlive our blog.
Moti: I also think bloggers are evolving. There are so many now; when I first started there were four guys. We want to give back to the people who have been supporting us this whole time—our followers, friends, and families. This is a nod to them.
The controversy between Vogue editors and bloggers has been a hot topic. Why do you think the editors struck out against bloggers?
Moti: Oh, let me tell you…I'm kidding. I respect those women but there are such bigger problems in the world right now. I don't get why they're coming for bloggers. Bloggers have given jobs to so many people. They've been helping businesses grow; we have an agency that employs more than 24 people. That's 24 jobs just from blogging. The fact is, they're not only coming for bloggers but for brands, too. They're blaming bloggers for getting paid by all these brands, but the thing is, bloggers just don't have anything to hide behind. Vogue and other magazines have this huge, prestigious reputation, but they hide behind it.
Marcel: Obviously, it was during Milan Fashion Week and with women. I think women's [blogging] is a bit crazier. In terms of changing outfits, I don't get the point. If you're going to different places, photos are being taken, so it's like different pages in a magazine. We know better than most that bloggers don't have the best reputation because every time we say we're bloggers, we get a lot of looks. We have to justify who we are. I actually consider myself an entrepreneur—I'm building a business, and I do it with integrity and authenticity. I can't be bought. But that's the thing that some people don't necessarily assume of bloggers. I think we just have to start being a little more vocal about what our motivations are and why we are doing this, so people misunderstand less often.