This week, our blogger spotlight is on It girl Aimee Song, the adorable interior designer and fashion darling behind Song of Style.We caught up with the Cali girl on what she's been up to lately, from hitting up Art Basel to reaching 3 million Instagram followers (yep, you heard us!) to her avocado obsession and, of course, her most recent buzzworthy collab. Take it away, Aimee!
Congrats on reaching 3 million Instagram followers! Is it weird knowing that many people follow you?
Thank you! I think having a blog for almost eight years makes me a little bit used to people tuning in with my life. I think the only difference between me and myself back then is that I have a bigger audience now. I guess I'm just a little more mindful of what I put out there, and having that many followers makes me want to constantly improve and use my platform to spread good as well!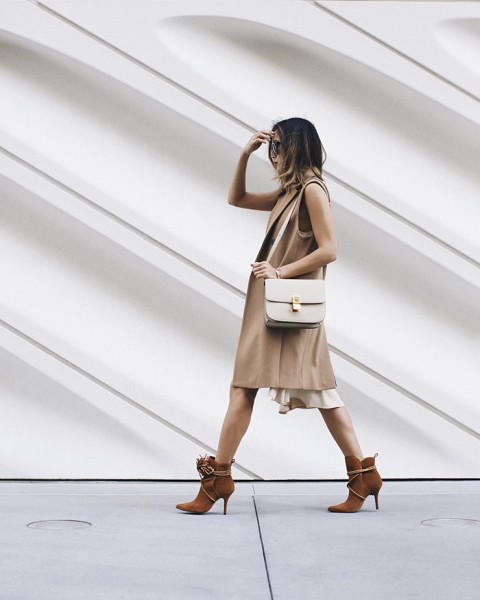 What made you think the world needed Song of Style?
It wasn't that the world needed Song of Style, it was that I did. It was a great creative outlet for myself, a place where I could share my ideas and inspiration. It started as an interior design blog and evolved into a fashion blog when I started posting photos of myself in outfits about seven years ago.
What's new with the blog?
I'm still making content, but with all these new social media outlets, I'm trying to create unique content for each one.
Are you still working as an interior designer?
Yes!
Who takes your blog pictures?
It depends…when I first started the blog, most of them were by my now ex-boyfriend. Now it's my assistant or my travel partner or my sister Dani if she's in a good mood. I don't have just one blog photographer and I guess that keeps the photography interesting!
How do you describe your style?
It's a mix and match of things. I travel a lot and I do a lot of different things so I think my style reflects that. I'm not just one thing—whether that's super girly or really minimal—it's rather a mixture of all that.
You're known to have a great closet. How do you keep it organized?
I always go through and get rid of things because I'm getting new pieces all the time. I sell a lot on eBay and Depop and donate all the proceeds to a different charity each time.
You and your sister seem to be super close! Are your styles similar?
Our styles are actually quite different. Hers is more street and urban whereas mine is a bit more polished in comparison, but there are certain pieces in each of our closets that we will borrow from each other and make it our own.
Your food on Instagram and Snapchat always looks great. What restaurants are you loving in L.A.?
Oh, I'm glad you follow my Snapchat! I love Mexican, sushi, and Korean food. And now that I have an Italian boyfriend I really like Italian food, too. I like Esquela Taqueria and Gracias Madre for Mexican. For Korean, I like this place that isn't super Korean, kind of Americanized, called Genwa. Locanda Portofino has great Italian, and I love this place called Bestia but it's so hard to get a reservation!
How many times a week do you eat avocado?
If I could, I would eat it every single day. When I travel it's hard, but when I'm in California I try to have it once a day.
How do you like to dress for the holidays?
If you were to ask the old me, I think I would have just worn something fancy and all sequins and sparkles. But now with my busier schedule I'm turning to more simple pieces like a nice structured blazer and accessorizing it.
Favorite brands of the moment, please!
I really love Self-Portrait, and how Han makes pieces that are so wearable and stunning but still pretty affordable. I like what Claire Waight Keller has been doing for Chloé, which is a brand I've always loved and looked up to. I love both brands because they're still quite versatile, from everyday wear to parties.
What's on your holiday wish list?
I would like some new bedding and new dining room chairs. I always wear the same rings, so maybe a new ring from Repossi or Jennifer Meyer!
What are you looking forward to this holiday season?
To be honest, I'm not the biggest fan of holidays because I don't have a big family. So sometimes I feel a little lonely. But a few years ago my sister and I starting going to DTLA to help the homeless people. I'm really looking forward to helping make those other people happy because I think they need it the most. I'm also super excited about going to Mexico to celebrate New Years with some friends.
What's a recent purchase that you're most happy about?
My little tri-color Chanel bag that I got in Paris during Fashion Feek. It's small and I haven't seen it anywhere else. I also love that it goes with every outfit.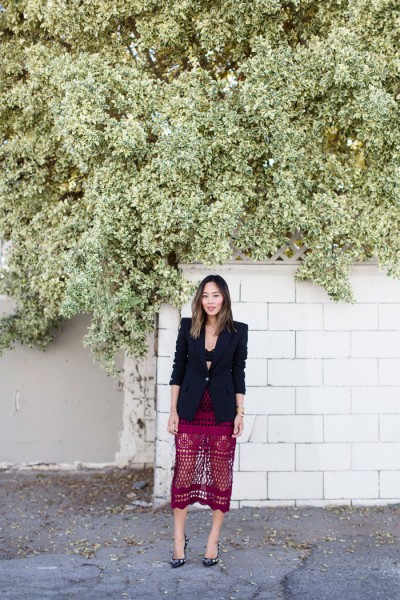 What's something you would never splurge on?
I think there's always an exception, but I probably wouldn't splurge on drinks because I don't drink alcohol and think it's a bit ridiculous when people drop thousands of dollars on drinks and clubs. I also wouldn't spend $200 on a hamburger–even though I would totally spend $300 on sushi by Jiro.
What brands are you working with right now?
I just designed a few nail polish colors with Formula X/Sephora that I'm really excited about. Nail polish is something that you can switch out all the time without spending a lot of money, and I designed three colors that I'm calling 'the new neutrals.' I took a little break from the brand I have with my sister, Two Songs, but I'm excited to start working on that again, too.
You just got back from Art Basel. How was it?
I went for the first time several years ago and it's a bit different now. Being an interior designer, I really like it for inspiration and learning what kind of art pairs with different styles of interiors. No matter how many parties they have, my favorite is the art and the tropical weather.
Career goal?
I really enjoy reaching and influencing a lot of people, but my dream within the next five years would be to design a storefront. I'm also an interior architect so that would be a great mix of interior design and fashion.
What's something we'd be surprised to learn about you?
How much I can eat! All the food you see on my Snapchat is real. And I think people are surprised to know that I still do interior design.
PLUS! Aimee's Five Tips for Aspring Bloggers
   1. Take good photos
   2. Have good content
   3. Have your own voice
   4. Be consistent
   5. Be versatile. For example, I know how to code a bit, edit photos, film and edit videos, etc. so that I don't have to rely on other people.