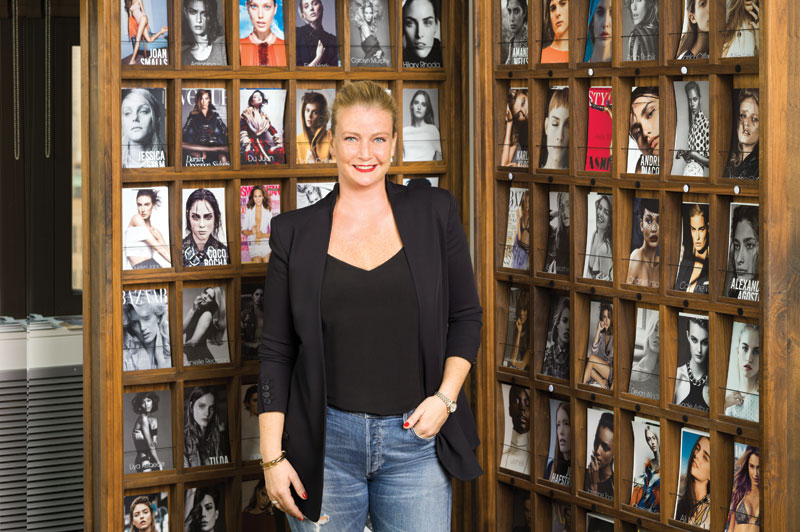 Looking to make a leap into the modeling world? IMG manager Lisa Benson is a lesson in the art of persistence. By shepherding several aspiring models into stardom, she's become a luminary in her own right.
What was your first job in the business?
I was a receptionist at IMG. I have a sports background—I played golf for Penn State. My dad was a big golfer, too. Arnold Palmer, who started IMG, was a family friend, and when he and my dad were playing golf one day, Arnold suggested that I get a job at IMG. I thought it was only a big sports company, but then I learned about the fashion division. I had an informational interview with [senior VP and managing director] Ivan Bart. There wasn't a position available at the time, but after I met Ivan, I knew I had to work for him.
What was the next step?
I ended up calling Ivan every day. I wanted to be…whatever, the janitor! I was persistent and would always call back. I finally got a job answering phones to get my foot in the door, and I learned so much. The switchboard was hard work. Always be nice to the receptionist! I remember I'd answer my own cell phone at night and say, "IMG! Oh, God! It's Lisa!" Everyone should work up from the bottom, especially in the fashion industry.
Did you get nervous when anybody called?
When Gisele or Heidi Klum would call, I thought, This is so cool! Then there was the embarrassing time when Gilles Bensimon called. I didn't know who he was, and I spelled his name as "Zeal." Ivan said, "That's Gilles!" And now I'm working with him!
You eventually moved up to become Ivan's assistant. What'd you learn from him?
Ivan has such a love for this industry. He's still pushing for that new face. I learned passion from him, as well as how to talk to clients. There are so many different personalities, and now that I have my own clients, I've learned how to adapt to each person. Ivan's a ball of energy and thinks outside the box.
Who are you working with now?
We work as a team, and on a day-to-day basis, I manage Chanel Iman, Nadine Leopold, Emily DiDonato, Kelly Rohrbach, Tori Praver, and Lily Aldridge. Lily was my first client; she came to us through Carolyn Murphy. When I became a junior agent, they thought Lily was a great girl for me. We grew up in the industry together. Elsa Hosk was another one of my first models.
You've also been instrumental in Chrissy Teigen's success.
I loved her from the moment she walked in. She was so witty. I didn't know what we were going to do with her, but we were going to figure it out. We struggled before all the success.
Which kind of girls excite you?
Girls with personality! If you love life and are passionate about what you do, you want to make the connections and take it to the next level. You need to be in it to win it. If you want to be a Miranda Kerr or a Lily Aldridge, you take the right meetings, take people to lunch…there's always a plan. The girls are really serious about it. They have goals and expectations, and they trust us. Act like a businesswoman—this is your job.
Is it safe to say that grooming celebrity models is where you thrive?
Yes. There's a lot of work, because you have to play as part of a team. I work with Chrissie's TV manager, and there are also publicists. You can't do it all yourself. I do love a celebrity model. I just signed this new girl Daniela Lopez from Colombia, who is going to be a superstar.
Are you on call all the time?
Yes, but everyone is very respectful. You have to understand talent and what they are going through. Once you get past, "It's 8 p.m., why are they calling me?" you think about being in their shoes. They're shooting tomorrow and might have just gotten off a flight from China, and they're jet-lagged. I also have an amazing assistant, Sean Lamm, who is very calm. You need an assistant you can trust to handle situations like missed flights and other issues.
You're a very nice person. How are you when you need to play hard in a deal?
There's a little fire in me! [Laughs] I'm very positive and optimistic, but my job is to protect my client. It's a hard balance, because you want to work with the customer, too. You want to make everyone happy, but you have to be tough sometimes. Business is business. I care about what I do, and I care about both sides of the deal.
What drives you?
I always like to choose the road less traveled. That's an exciting challenge. Who am I going to convince today to make a breakout star? The first years of my career, I didn't know, but then I started to see it and…wow! It's working and you want to keep doing that! I also love meeting new talent. One girl wants to do Sports Illustrated, another one wants to be in Givenchy, and another wants to be in an Ang Lee film.
What's the hardest part of your job?
Juggling. Everyone wants to feel they are the most important client—and everyone has the right to feel that way! There's a lot of multitasking, because you have to be on the ball all the time.
Have you ever had to drop a client?
I have. I have such close relationships with most of my clients, so it's never a fun meeting. I'm still friends with some of them, but I always say that you get this one chance, so I always try to groom them and tell them to stay focused. Be levelheaded, because you can be the next Lauren Hutton or Carolyn Murphy.
What would 10-year-old Lisa Benson think of this career?
I always loved fashion and the glamorous side of things. Who doesn't want to go to a fashion show or be inside Fashion Week? When I was growing up, models were the celebrities. Funny enough, when I started working here, the celebrities started getting the covers, but now, it's moving back to models. My dream was to live in New York City and work in fashion. That sounds so cheesy, but I'm doing what I wanted to do!