As design assistant to Karen Walker, Jade Leigh Kelly is one of New Zealand's brightest fashion stars. While she was in town for NYFW, she met us at the Ace Hotel to discuss her role at the house.
How's NYC treating you so far?
I've come down with a cold, so I'm on the hard drugs. Pseudoephedrine, which you can't get in New Zealand without an intense prescription. It's working. And I'm partially deaf now, so excuse me if I ask you twice.
When did you arrive?
I got here on Monday and had a free day, so I hit the shops. I love to find vintage stores. My favorite is Stella Dallas on Thompson Street. And I just wander around. I like Soho for the shops, but I also love to go uptown to see all of the refined ladies and their pooches.
Do you always stay at the Ace Hotel?
We do, and we get the same rooms every time, so mine feels like my apartment. I get to stay in my room all-nice for one night, and then come all the clothes and models for prep. I have to wait until everyone powers out before I get my bed. One season we did a hair test in my room, and there was hair all over the floor. I had to call housekeeping. I was like, I can't sleep like this! It was getting tangled in my toes. So now we make sure it's all cleaned before everyone leaves.
You're from England; how did you end up in New Zealand?
I'm from the north of England, and I studied fashion design at Manchester School of Arts. During my second to last year, I went to New Zealand for three months on scholarship to work with a designer. I fell in love with the country and the lifestyle; you're never more than five minutes from the beach. I loved all that. I decided that after I graduated I was going straight back to New Zealand, and I did.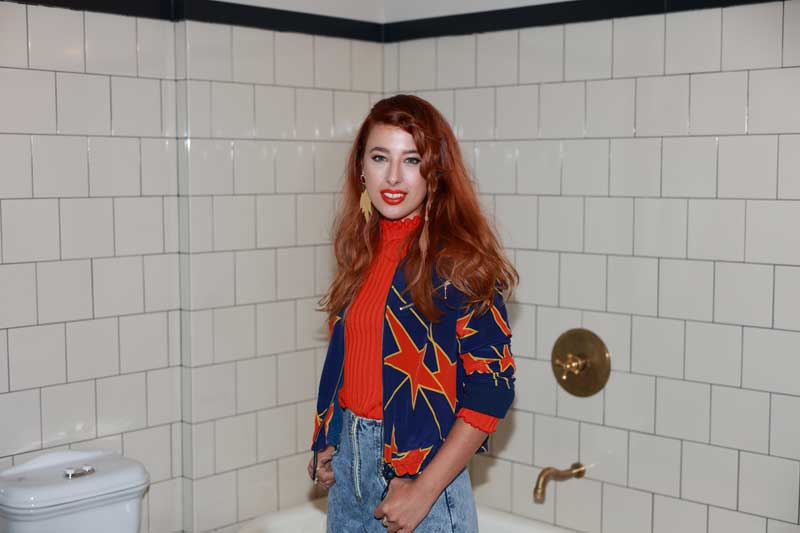 How did you get the job at Karen Walker?
After my trip, I wrote to Karen Walker and asked for an internship. A year later, I got an email from a girl there who had gone through the intern file, asking if I was available. I was like, This email is a whole year old, but yes. I told them I'd only come for a week because I planned on traveling the whole island before settling down. Three days in, I had a job there, covering a maternity leave for the cutter. Then another job came up in production, so I took that. While I was working on the production team, I told Karen I was super keen to design. So I'd get the briefs for each collection, and they told me to focus on knitwear and accessories, but I had to do it in my own time. I'd go home and bust my gut out to come up with ideas. My ideas were getting through. Then the design assistant decided to leave—they still did the interview process, but I got the job.
How was that interview different from the first?
In the beginning, I was never really interviewed because I was an intern. They just looked at my CV and portfolio. I had just done a runway show at the London Fashion Week for graduates, so they hired me as an intern on those grounds. Then they took me on purely on how I was working. The conversation for the design job was mostly about whether I really wanted to be in New Zealand. I sang New Zealand's praises, and Karen was like, OK!
What are your days like?
Each day and each week is completely different. I design all the fine jewelry, the costume jewelry, and the knitwear, and I also work on photo shoots. A section of my day is dedicated to emails, because I do lots of communication with suppliers, as I work quite independently.
What's your relationship with Karen like?
We work together super closely. I also work with Mikhail Gherman, our creative director and Karen's husband. For a collection, Mikhail and Karen set the concept, and the designs start to flow in the ready to wear, and I sit back and watch to see what's needed in my department, and put it forward to them. I call it a jammin' session. We sit down, discuss, pull things apart, and put them back together.
What were your friends dying to know about your job?
What's Karen like?
And?
Karen is awesome. She's an amazing businesswoman, and I've learned so much from her. Going from the design process right to the sales floor—she's so good at that. As a boss, she's super approachable, and if there's every any problems, be it personal or with work, she is so cool calm and collected. She puts you at ease instantly.
What's the team dynamic?
Like a family. We all get on really well, and there's a lot of comedy in the workroom. Though my job is independent from the rest of the team, it doesn't feel like that.
Who's the class clown?
Mikhail! [Laughs] Maybe followed by me. We love to have a good time.
Do you have a career highlight so far?
I really enjoyed going to Africa—I went to Kenya to style our eyewear campaign. We work with the Ethical Fashion Initiative. I'd been designing pouches for our eyewear, and Mikhail and Karen came up with the idea of shooting the eyewear on the people who made the cases. To meet the people who work on the initiative and visit the Maasai tribes—they do all of the beading—was amazing. And I worked with the photographer Derek Henderson. But I have lots of mini highlights. Everything moves so fast and you're always so far in the future, so I think it's important that when something goes well or there's a design that you love, you say, Yeah, that's cool. Appreciate it, rather than getting too wrapped up with just doing.
When did you know that you wanted to work in fashion?
Since a child. My grandma used to look after me, and she was an amazing sewer, so we'd make things together. She taught me how to do French seams and to cut a dress from a pattern or make a dress from curtains or something crazy. I think she did it to keep me busy. Back in the day, she used to teach the nuns how to sew. My mom is really good at sewing as well. They're all really creative, so I guess that's where I got that from.
Were you a super creative kid?
Well I was highly sensitive, and I was very self-expressive in my clothes. I would wear whatever I wanted, and I would get so carried away. I used to be called "freak" or "out of space girl"—I come from this really small English town, and people would be like, What has she got on?! At the time I was so self-conscious, but I had so much fun getting ready and becoming this person that it would override the negativity. I kind of still do that.
Are you in New Zealand permanently?
Yes, I have my residency and I absolutely love it. But travel is really important. The day-to-day living is amazing, but you have to get out of there sometimes.
What would you recommend New Yorkers do there?
One of my favorites is to hit the west coast of Auckland. It's all bushland, but it's got wild seas. Taylor Swift did her video there, at Bethells Beach, and the whole of New Zealand was obsessed!
What are people wearing there these days?
What I first noticed, especially coming from England, was that you can't see the season's trend on the street. People are into investment pieces. Overall, I wouldn't say New Zealand is too fashion- or trend-driven. It's quite a dark fashion sense, at the same time. Karen Walker definitely stands out a mile, because we're quite bright and print heavy.
What's your favorite part of NYFW?
It's one of the first times we see the collection come together, on models, and see it moving. To have an external stylist put it together helps you see things in ways you hadn't. I love that process. And being in New York has so many benefits for when I return to New Zealand. As much as I love New Zealand, it's a place you have to get out of. When I go back it's like one big download session, because I was so inspired and reenergized form New York. It's an amazing place.
What do you do leading up to a show?
The night before is always really quiet and chill. After the show we get together and have a few drinks at the Soho Grand. It's really small and intimate, but it's so nice to catch up. You don't get a chance when you're putting the show together. Karen and Mikhail have lots of friends in New York who have become my friends, too.
PLUS! Karen weighs in…
How did you find Jade?
She started as an intern a million years ago and she was just so good that we didn't let her go.
What qualities do you look for in your design assistants?
A dedicated and hard-working personality. That counts for so much. Talent, of course, and no spelling mistakes, which I just can't bear. Somebody applied for a job the other day and on their CV they listed under attributes, "Strong attention to detail." But they had spelled "attributes" wrong.
How would you describe Jade's personality?
Buoyant. She's that quite rare mix of being dedicated and hard working but also a lot of fun.
What's the team like?
In my immediate office there are up to six or seven people, depending on the time and the season. It's not a huge room so it's really important that everybody gets on well and there's nobody who rolls their eyes when they're asked to do something. We've had a really great dynamic in the room for as long as I can remember.
What's your favorite thing to do when you're here for NYFW?
Leading up to our presentation, not only do I not leave the hotel, I don't leave the corridor. As soon as the show's over, I go out on appointments and see people and do all my other work. But I always try to have a half day off where I do something else—museums, usually, and I'm getting to the theater this time.
What's the best thing on the menu at the Ace?
I'm vegetarian and the hotel has a very snout to tail kind of menu, so it's the same broccoli tart every night. [Laughs] It used to be a three-cheese tart. Last season, Jade arrived first, and said, You're not going to believe it; there's no three-cheese tart! They've gotten rid of it off the menu! Suddenly, after complaining about it for so long, we missed it.