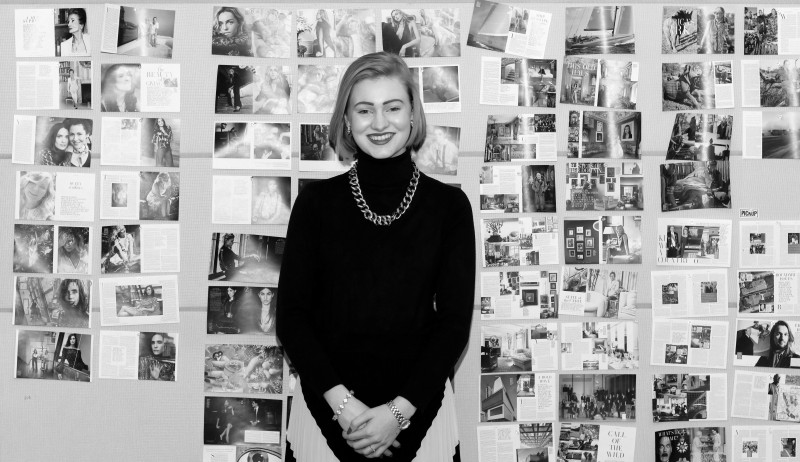 Jay Fielden, editor-in-chief of Town & Country, prefers paper over iPad, fancies a fedora, and won't be caught gnoshing on many carbs. How do we know? We had a tête-à-tête with someone who knows him best: his assistant, Adrienne Westenfeld. The Indiana native fills us in on a day in the life of her boss, plus what she's been up to since making the move to the Big Apple…
How did you land at T&C?
I was studying creative writing at DePauw University, about an hour and a half from Indianapolis, and I interned at T&C my junior year. I used to sit by the door, which meant I was letting people in all the time. [laughs] About two weeks before I graduated, I got an email from Hearst HR telling me that Jay needed a new assistant. The day I was supposed to present my thesis I came to New York to interview with Jay.
What was the interview like?
It was over two days. First I interviewed with Linda Nardi, the managing editor, and with Lena Kim, Jay's outgoing assistant. The next day I interviewed with Jay, and then got on a plane to Indiana to present my thesis. They got me a car to go to the airport, which was nice!
Classy! Did Lena give you any tips?
She said she would have been more aggressive guarding his office. It's something I try to remember, but I'm sure I fail sometimes. Sometimes I'll see someone inside his office, and I'm like, How did you get in there?!
So did you get to know Jay when you interned?
No, he was very mysterious! He would come in wearing his fedora, and hang a left at the door. But there was the time he told me he liked my story, which was big.
Tell us more!
We used to do this series called the T&C Family Album, where we would pull something from the archives—it could date all the way back to 1870—and spotlight it on the site. I found an issue where we had some pieces by [French writer] Antoine de Saint-Exupéry. The Morgan Museum was running an exhibit with his manuscripts at the time. I wrote about his life, and Jay came to my desk and told me he liked it. The editor I worked with was like, This is a big deal…
How much time do you spend together these days?
I'm in and out of his office all day, keep him on schedule, make sure things run smoothly, plan his appointments, pop in with things like, How should I approach this, or your wife called, etc.
What was your first day like?
It was very stressful! The Hearst tech department hadn't transferred his emails to my account yet, so there were a lot of things I wasn't able to do. I kept calling Lena to get on her computer. That was rough!
Does he genuinely shut off at the end of the day?
He has three kids that are fairly young, so when he goes home, he goes home. He does answer emails and he calls me once in a while, but only if there's a crisis.
How much do you manage his personal schedule?
Not much. I send his watches out with the interns if they need to be fixed, I'll plan his vacations that aren't work related, but I don't know what he does on the weekends or anything.
What do you rely on to manage his schedule?
He does his schedule differently from a lot of people. He and I use Word and a handwritten calendar. He hates the Outlook calendar, so people invite me to his meetings, and if I accept, that means Jay accepts.
So old school!
I know! I keep it in a handwritten planner and then type it all up in a Word doc every week so it's not in super tiny chicken scratch. And he likes things printed if he's reading it at length, so I'll print articles he wants to read on the train home.
So no iPad for him?
He had one for a while, but I had to return it to Hearst because he broke it. His daughter had put stickers all over it, so they were hesitant to take it back because they thought it was hers.
What's your typical day like?
I get here at 8:30, check my voicemail and emails, and prepare for the day. He rolls in around 9:15, then I go downstairs and get his breakfast, and we discuss plans. I make sure his day runs smoothly, and when I have downtime I work on stories for the Web.
What's one of the most challenging things you've had to do as his assistant?
Very early on in the job, Jay went to Ireland to play golf and his international cell service wasn't working. He could text but he couldn't make any calls, so he texted me and asked me to call AT&T…and asked if I'd pretend to be his wife, because they won't take the request from his assistant. I had already left for the day, and I was in Victoria's Secret in Herald Square—there's nowhere quiet in Herald Square. I ended up going to the bathroom in the basement and was on the phone with AT&T pretending to be his wife…
That is bizarre! Did you pull it off?
Yeah, but they still wouldn't do it! We also made a movie in the office, Breakfast at T&C. I had to play Jay's assistant, but also be Jay's assistant. It was balancing the responsibilities of my actual job while pretending to do my job on camera.
What advice would you give your replacement?
Be diligent, thorough, and keep emails and good notes of who calls. Jay wants to know not only who called last week, but also the last time they called. So it's looking at things in the broader sense versus what's happening that day. It's about relationships over time.
After seeing the life of an EIC up close, is that something you'd want?
I don't think so! He doesn't get to turn off a lot. And I don't have the business acumen. While he writes the editor's letter, he's not really reporting anymore. That's fine with him, but I think I would miss that. But I'm so grateful to have this position where I see so much, so when I do become an editor I have that as an advantage.
Do you ever go on meetings with him outside the office?
He doesn't like to take meetings outside the office, if we can avoid it.
And how often does he travel?
He'll take a summer and Christmas vacation, and there are some work trips in between. He hosts a speaker series at Stanford every year, and just interviewed Thom Browne. We host a Golden Globes party in LA, so he travels for that too.
We want to know: How does he take his coffee?
Whole milk.
Any food obsessions?
He's gluten-free.
Do his kids ever come to the office?
He brought his daughters in for a day–they're so cute! They hung out in the fashion closet and played with jewelry. He took them to the Ralph Lauren children's fashion show in Bryant Park, and they were decked out in Ralph Lauren. They wore the cutest leopard print high-tops!