Ashley Graham is a model, an activist, a designer, an entrepreneur, a TV host, a producer, and an all-around trailblazing badass. We caught up with the super-hyphenate on the set of Season 2 of Lifetime's hit reality competition show, American Beauty Star, to find out how she keeps it all together.
You've talked before about wanting to be the next Oprah Winfrey. Seems like you're on your way.
I'm not going to be the next Oprah because I'm going to be the next Ashley Graham. Oprah is just a great inspiration. I can see where she's gone, and know there's nothing I can't do. There are so many things people told Oprah she couldn't do, that she'd never do, and she beat the odds. She opened every door. That's what is inspiring to me.
You're so busy all the time. What do you do when you're not working? Are you ever not working?
[Laughs] Well, no, there's never a time when I'm not working, but I do think, you know, if Jesus has a day of Sabbath, I'm gonna have a day of Sabbath. [Laughs] I think it's important to take some me time. Me time is usually maintenance time, like nails, facials, and massages, and I try to work out a least four days a week. But I also love vacationing with my friends and my husband. This year alone, we've already gone to Greece, Italy, and Spain. We're headed to Italy again, and we're going to Ethiopia, Turkey, and Egypt. I love traveling.
We also hear that you love theater.
Yes!
Seen any good shows recently?
My mom came into town and wanted to see Kinky Boots, so we went and had the time of our lives. But I have to tell you, I bring the theater to wherever I am. It's like razzle-dazzle time because, I can't sing, but I do have a voice that belts pretty loudly, so I'm pretty much a Broadway musical all on my own.
Do you have any acting aspirations?
People ask me that all the time. I'm really weird and goofy. I sing a lot on set, and I do fun accents when I'm reading my lines. I'm good at being myself. But if somebody wrote the right role for me, maybe I'd do it. I just haven't seen the right script yet. If you see anything, just pass it along!
What can viewers expect from Season 2 of American Beauty Star?
We've got Yu Tsai, who shot my second year of Sports Illustrated; Leah Wyar Romito, who's the chief beauty director at Hearst Magazines; and Christie Brinkley. Sir John is still the mentor; he's so lovely and sweet. And the contestants this year have stepped it up even more than last season. The stakes are higher. The prizes are bigger. And I'm really excited because Revlon is a part of it this season. This truly is a hair and makeup show at its finest.
You're also an executive producer this season. That's new for you. How has that been?
You sit in a lot of meetings. [Laughs] It's exercising another part of my brain, and that is exciting. We've shot a whole episode each day for the past two and a half weeks.
Do you have a mentor to help navigate this new role?
I don't have a mentor, but I have to thank Tyra Banks. I watched her not only host America's Next Top Model but executive produce it as well. The last season that we did together, I took every mental note possible and then I would call her and ask her for business advice. I still do from time to time. Tyra has always been a champion for people being their own individual selves, and she has always told me how happy and excited she is about my career and where it's headed. So I've kind of put on my Tyra hat, but in the Ashley Graham way.
Earlier this year, you landed a major beauty contract with Revlon. How does that feel?
I have to say, to be the first curvy girl of my generation to have a makeup contract is an incredible honor, and it just goes to show that beauty comes in all shapes and sizes and lipstick doesn't have a size. That was the biggest thing I wanted Revlon to understand. You're not just giving a contract to a model; you're giving a voice to women who haven't felt beautiful and who haven't been praised in the media for being themselves. That's exactly what Revlon did when they signed me on to their roster.
How did that come about?
When Linda Wells got her role at Revlon, Ivan Bart from IMG took me over and we had what was supposed to be a quick coffee date, which turned into a three-hour dinner. We hit it off immediately.
You're such a vocal advocate and activist—especially on social media. Ever thought of getting into politics?
No, thank you! [Laughs] Imma stay in my lane. [Laughs] You get asked about body politics in every interview.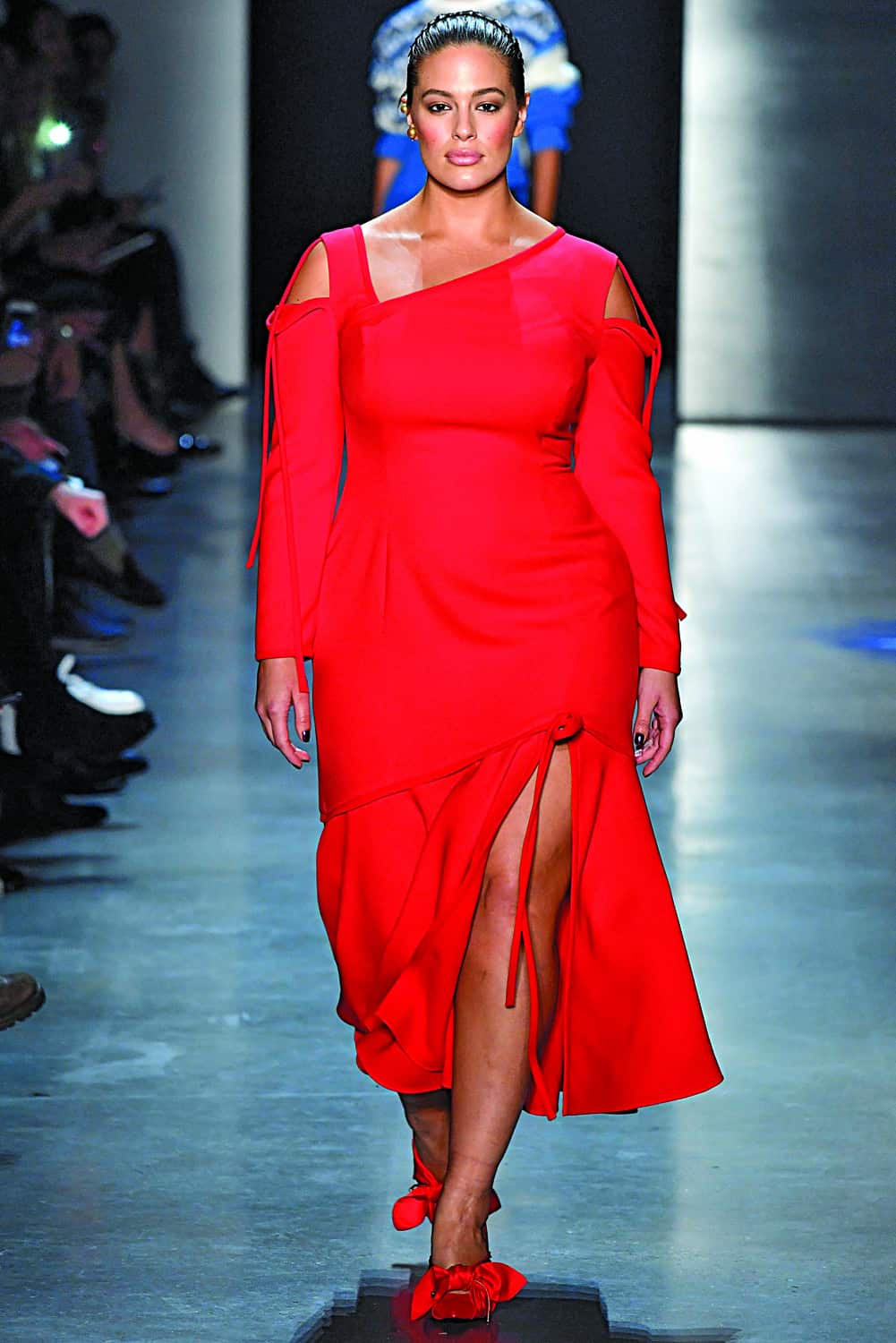 You're always so gracious and positive, but do you ever get sick of talking about this stuff ?
Oh, 100 percent. I'm so excited that we're finally getting a seat at the table, but it's exhausting to have to always talk about how "brave" you are for getting into a bikini because your cellulite is hanging out. The worst question I get asked all the time is, "How did you find the confidence to get into that bikini and get photographed and not get your cellulite retouched?" And it's like, well, honestly, I just got into the bikini, I went to the beach, and then I got over it. I mean, we all have our insecurities, but you learn to grow and love yourself, and I think about all the women whose lives are being changed by seeing that photo and by seeing me just being confident and posing. That's why I do this.
You've done so much in your fashion career already— multiple Vogue covers, major campaigns, walking the runway for everyone from Michael Kors to Dolce & Gabbana. What is left for you to still achieve?
There are many, many, many more covers I want to get. I've talked to Joan [Smalls], Karlie [Kloss], Amber [Valletta], and Gigi [Hadid] and they have had a multitude of covers that just come to them like it's a regular thing. I would love to have that happen. I also think there just needs to be more diversity. I mean no more tokens or checklists, like [brands] making sure that they have this girl, that girl, and the other girl, just to show that they are authentic and about diversity. It doesn't need to be a conversation. It just needs to be there. And I think that women like Halima [Aden] and Paloma [Elsesser]—just to name a couple—are helping change that perspective.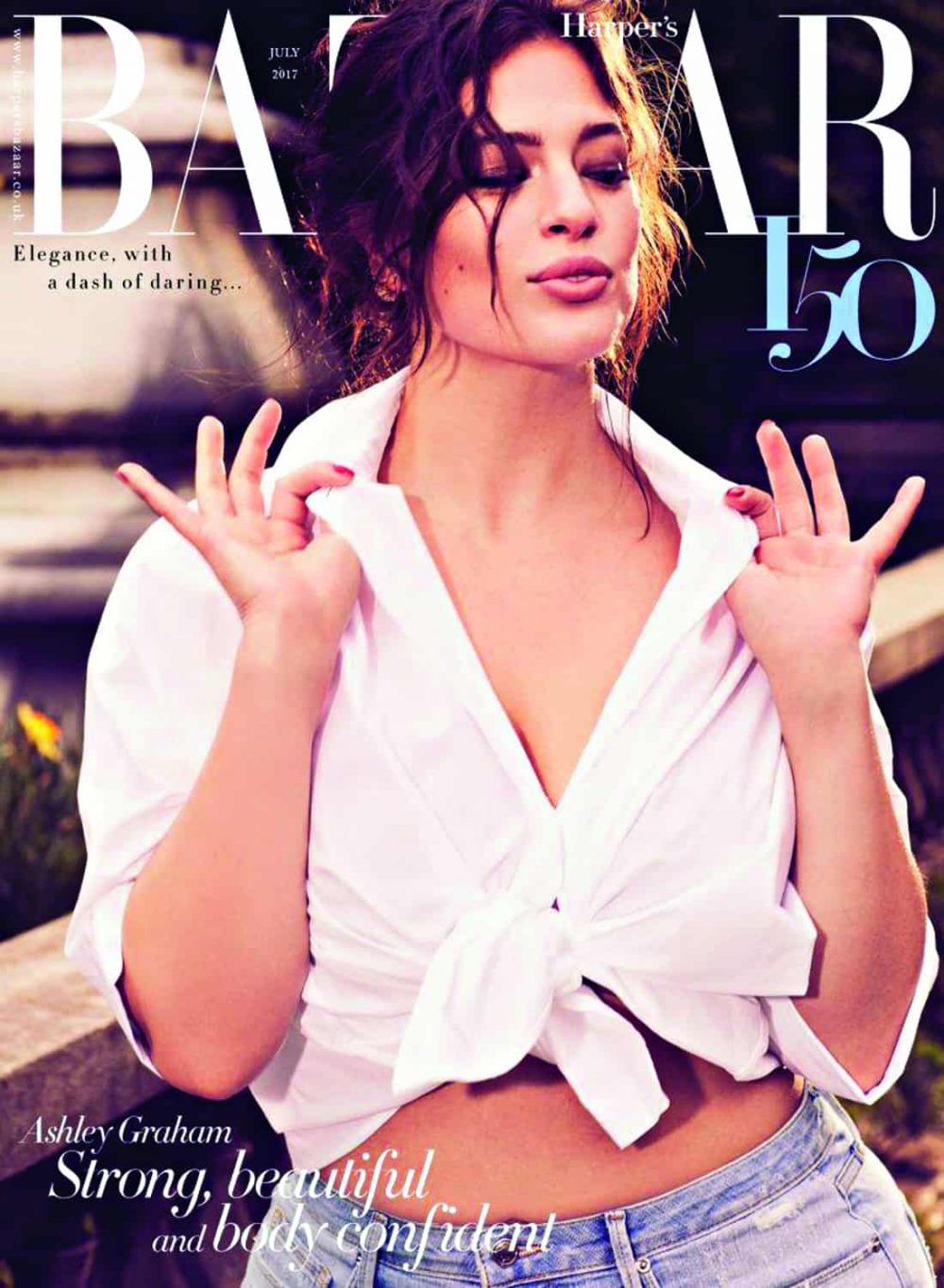 Your acceptance by the fashion world is still pretty new. Is it ever difficult for you to work with brands or people who spent so long rejecting you?
The way my mother raised me, you kill people with kindness and your glass is always half full. So, yes, there are people who have said no to me in the past and now they want me and I actually come in with the biggest smile on my face, grateful as ever, and show them what a great model I am and how much it's going to impact their company or magazine to have me involved. And then, to me, it's kind of like rubbing it in a little. Like, you should have hopped on [this bandwagon] a little sooner. But I do it with a smile on my face. I'm never going to be rude or say no to somebody just because they said no to me.
Subscribe to our newsletter and follow us on Facebook  and Instagram to stay up to date on all the latest fashion news and juicy industry gossip.