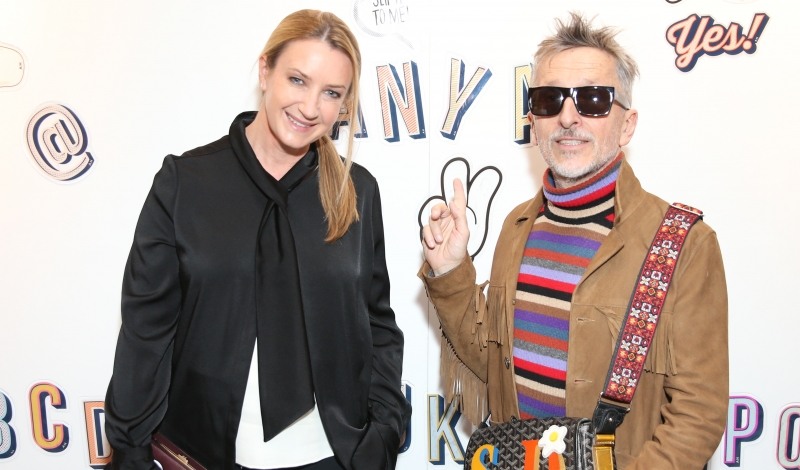 Billy Farrell Agency
Anya Hindmarch's Whimsical Sticker Shop Arrives At Barneys
|
In today's emoji-obsessed world, it's no surprise that Anya Hindmarch's collection of cheeky stickers, made from luxe leather, have become a staple for the fashion set. Since their launch, these sticky accoutrements have accessorized the accessories of nearly everyone, from Cara Delevingne's phone case to Chiara Ferragni's Hermès Kelly tote. So naturally, when Barneys New York organized a celebration in honor of the opening of The Sticker Shop last night, chicsters like Joanna Coles, Simon Doonan, Amirah Kassem, Kate Foley, Mamie Gummer, Vanessa Friedman, Sofia Sanchez de Betak, and Aurelie Bidermann showed up. Dying to know more about the stickers? We were, too, so we grilled Hindmarch on the story behind them, and whether the stickers were a one-off or if they're here to stay…
How did you come up with the idea to launch a sticker line?
I went to school in a really strict convent, but I found stickers to be kind of charming. They were almost the only thing I could do at school that was fashion-related. For our stickers, we found an amazing way to work with French goat leather and we've developed it so that we could create really beautiful and long-lasting pieces. I'm fond of the idea of really grown-up things, but ones that are kind of messed up and a bit destructive, so it makes anything you put them on a bit more fun. The nice thing is that you can play around with them and make it your own.
Were there any sticker concepts that didn't make it to production because they were a little too crazy?
A couple of them were slightly rude and they didn't make it into the line. I quite like rude, but I think about all my markets, and I have to cater to what they want.
Do your kids have a set of the stickers to play with?
Yes they do. They stick them on their foreheads!
Do you think you'll keep incorporating these stickers into your line?
It's been absolutely huge for us; we just launched in Tokyo last week and in Milan yesterday, so it's definitely a well-rounded success. It's definitely going to be a permanent thing for us.