You know the saying "Diamonds are a girl's ouest friend?" In the case of Sophie Kahn and Bouchra Ezzahraoui, the two collide—the powerhouse millennials are each other's lifelong pals and business partners for jewelry line AUrate. We chatted with the duo about starting the jewelry company and opening pop-up locations around NYC and the Hamptons.  
When did you realize the world needed AUrate?
As two young women with a decent salary we were dissatisfied with the options we had when trying to buy jewelry for ourselves. Either we could spend something reasonable and get fun and cool costume jewelry that would quickly fade, lose its color or turn our finger green, or we needed to spend large amounts on fine jewelry from big brand names. There was no middle segment—no contemporary market like the one that exists for apparel, like Acne, Phillip Lim, Alexander Wang, and Iro. We soon realized this was because of the wholesale mark-ups brands are forced to pay to get their product distributed. We wanted to solve the problem by selling direct to customers, avoiding the three to 10-time markups and giving our woman a smarter option.
You met in 2009 and launched AUrate in 2014. Why was that the right time?
We spent about two to three years transitioning from school to the working life. NYC is a special place that gives you a great opportunity to explore different things and learn more about yourself. We saw each other very regularly and shared many experiences as close friends. We realized down the line we had to start our own business, we both wanted to create something and had strong opinions to convey to the world. AUrate was born.
What were you both doing before you launched?
Bouchra: We both landed corporate jobs after grad school. I went into finance and Sophie into management consulting and then eventually fashion at Marc Jacobs. We learned a lot throughout our careers and met great mentors.
Did anyone else in your grad school class tap into fashion?
Not that we know of. We studied finance at Princeton and our program was very academic and math focused—fashion wasn't really a natural mix for the students there.
Why is jewelry of interest to you both?
First and foremost, we were interested in jewelry because of the problem it represented in the market: the lack of options for affordable fine jewelry and how we wanted to change this. Then, of course, next to the business angle, jewelry is such a precious and special accessory. You wear it straight on your skin, often never take it off, and it frequently coincides with life's most cherished moments and memories.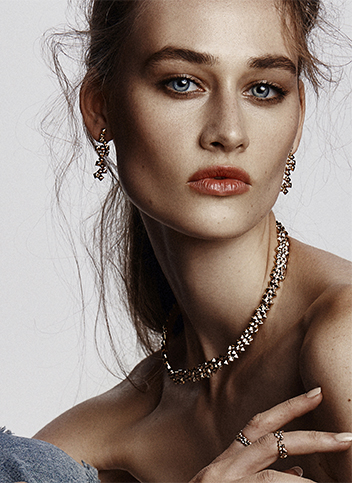 What are both of your roles in the company?
Sophie: I focus on the design, creative direction, and marketing of the brand.
Bouchra: I mostly handle the financial side and makes sure the pieces are sharply priced and offer the customer real value. We both focus on our strengths yet are very open to feedback on both ends—sometimes Sophie starts crunching the numbers and I'll come up with a new piece. It's more fun that way, and most importantly an extra set of eyes helps take something from good to great.
Tell us about the name AUrate.
The name is a combination of "orate" and "AU". Orate derives from orator, a storyteller. Since jewelry is a way to express oneself and tell a unique story, including somebody's choice of  accessories and commitment to giving back. AU represents the chemical symbol for gold, given that each piece is made from real gold.
We've seen you open up quite a few popup stores this year in NYC and the Hamptons. What was the thought behind this?
The idea is making our product more accessible to our customers and giving them the opportunity to not only see the pieces live but also meet the team. We always want to collect feedback and improve certain aspects that we don't necessarily grasp via the online traffic.
Do you guys ever work out of your pop-ups?
Yes, we sometimes work in the back of our stores! It's great to have face-to-face customer interaction, really speak to them and understand how they perceive and view the jewelry. Plus we like to stay involved with every aspect of the brand as much as possible, so it's also a way to keep an eye on the overall functioning of the store in general.
Why did you choose to open in Southampton?
We are a NY brand and the Hamptons are iconic for the New Yorker during summertime. Southampton is great for shopping so a pop-up there is the perfect fit for us. We have definitely summered at the Hamptons before, but now we are mostly working 24-7, so there's truthfully, and unfortunately, not much room to really "summer" anywhere.
Tell us about the jewelry you sell and the price point.
We introduce a new way to think about jewelry. It is defined by two key pillars: real gold (we offer fine jewelry for a fraction of the price of competition by selling directly to the customer, online. Same quality, smarter value) and real giving (we give back a schoolbook to a child in need for every piece sold. All our materials are ethically sourced and made in NYC. AU means gold (remember the periodic table?) and we are pronounced "OR-ate", like the verb to story-tell. Because all of us have something to express, through our choices, our accessories and our commitment to others.
Where do you look for inspiration?
Definitely New York City and the women who live here. Women in New York are incredibly confident and inspiring; they work hard, dress well, are intelligent and strong. Our three lines are made to cater to these superwomen. The statement line is for the NY'er that goes out at night, for instance to a gala at the Frick Museum. The core line is for the women who, for example, work at a law firm and like something that can be worn to the office during the day and out for a drink or two with her friends after work. And the understated line for the woman that grabs coffee with a friend on a Saturday morning and is keeping things casual.
What are the most popular pieces you sell?
We are currently selling a lot of earrings. Ear jackets, climbers, cuffs, you name it.
What do you see as being the next step for AUrate?
To increase our online presence via SEO—in other words, to find us when you are doing an online search for jewelry. This is the only way for somebody in the middle of the US, for instance, to find out about us.
What's the most special piece of jewelry you both own?
Bouchra: Earrings my great grandmother wore at her wedding. A beautiful pair of gold earrings with emeralds that we kept in the family for three generations already. I love wearing them at black tie events and all the Moroccan weddings. Gold is this family thing that we take very seriously.
Sophie: The earrings I wore when I went down the aisle in Marrakech. I designed them especially for the wedding and they now have a unique significance to me. We actually used these earrings as inspiration for our upcoming pearl collection. Stay tuned!
What's it like to be best friends who work together?
Amazing. We have become like sisters to be honest. You go through such up and downs together, it's more like family than friends. Or like husband-and-wife. We joke that we opened our first joint account together.
Does it ever get challenging?
Of course. That's part of the appeal. If it is was easy, everybody would be doing this.
Who usually has the final say?
The customer. Always. Customer is king, or more accurately, queen.
Any vacation plans this summer?
Sophie: Besides work work work, yes, a bit. I'm going to Greece for a couple of days (for a baptism.
Bouchra: I'm going to Morocco for my friend's wedding. Our trips are very often correlated with social events, but we definitely make the most of it!