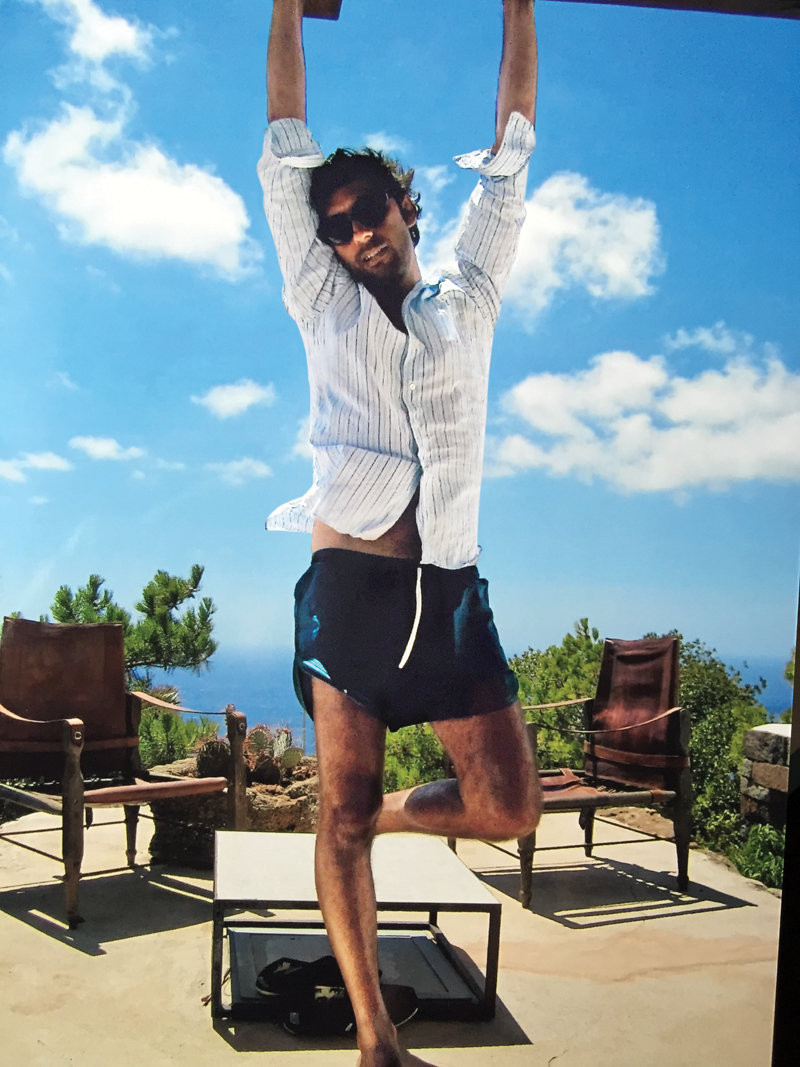 From Cape Town to Cap Ferrat, the fashion crowd's vacation spots are the stuff of dreams. For Philosophy designer Lorenzo Serafini, the mindset of summer inspires the work he does all year round.
How did you spend your summers as a child?
I grew by the Adriatic Sea in a seaside resort. It was like an endless summer all throughout my childhood until my late teen years. My father is a hotelkeeper, so we had friends coming and going for all the holiday seasons.
What are you most nostalgic for from those summers?
The freedom of those times, as everything was new. It was during the '80s in a popular Italian town. I just remember everything was so spontaneous, fun, and happy!
What was your first "big" vacation?
It was a long trip through California in the early '90s. It was a dream of mine since I was a child. I did it with my brother, my soulmate and friend Alessandra, and other friends. We traveled from Los Angeles up to San Francisco; making stops by the Grand Canyon and Las Vegas.
Who do you travel with?
I love traveling with my friends and in particular with my beloved soulmate, Ale. We've known each other forever!
What are your summer traditions?
I spent 10 years of the 2000s cruising through the Mediterranean Sea, Sardinia, Corsica, and the South of France, always on the same boat and with the same friends who are almost like family now. Now I prefer to discover new, faraway places…but always staying close to the sea.
What makes for a great summer dinner party?
I love having dinners with friends everywhere—at home, in a small restaurant, or on a boat. The most important thing to me is to be with the people I love. I have a very special memory of a dinner on a boat in Sardinia at sunset—everything was just perfect!
What has been your most luxurious or special vacation to date?
Cruising through the Maldives islands on a friend's boat. It was really special. Having the crew prepare lunch, afternoon tea, and dinner for you on a deserted island, while you're completed immersed in nature and in the middle of nowhere was an unusual, unique, and unforgettable experience.
What do you consider the ultimate unwinding experience?
Today, I like very simple things, such as staying with my friends in more remote and isolated places.
What sounds and smells do you love most about summer?
I am extremely selective in my shopping. When I am on holiday, I don't bother with it, but if I find something that I love, I can't resist.
Which purchases have influenced your designs?
An ancient Chinese blanket that I found at Fairfax market in Los Angeles. It has even been a great inspiration for my last Pre-Fall Philosophy collection.
Do you read travel blogs or travel magazines?
When I was a child, my father collected a travel magazine, Gente Viaggi. I used to dream in front of those pages. Since then, I have never bought any other magazine dedicated to travel or bother reading any blogs devoted to holiday. I'll admit that I'm a bit spoiled because my friends tend to organize everything for me.
What, to you, is the chicest way to travel?
Without tickets or luggage!
What's one of your more recent memorable discoveries?
Two summers ago in Baja California, Mexico, I had a fish-based lunch in a palpa, rather shabby from the outside but the food was amazing!
What is the most adventurous thing you've ever done on a vacation?
I love to scuba dive. Diving in a Mexican cenote in the middle of the Mexican forest has been an unforgettable experience.
Where in the world would you love to go that you haven't been yet?
The Philippines.
If you could go on a trip with one of your icons, who would it be, and where would you go?
I'd go through California with Joni Mitchell, the lady of the canyon.