Tony Melillo launched ATM in 2012 with a clear, effective vision: to create the perfect t-shirt for men and women. Since then, Melillo has capitalized on his concept by evolving his brand into a lifestyle collection, garnering a loyal cult following. Last summer, the the designer opened his first storefront in East Hampton, and now, he's adding a second space to his roster, opening at 405 Bleecker Street (the old Marc Jacobs space). Plus, the designer has his eyes on LA next. We caught up with the designer on his new digs, celebrating five years in the biz, and what to look for when checking out the shopping haven. 
Tony, why did you decide to open a storefront here in NYC?
I think we've always known that we were going do some retail expansion, but the timing felt right in the sense that the brand is established. We've been around for five years as of yesterday, and we have a loyal customer. After opening in East Hampton last summer, it really taught us a lot and it accelerated us to say, let's just do New York sooner than later, meaning now.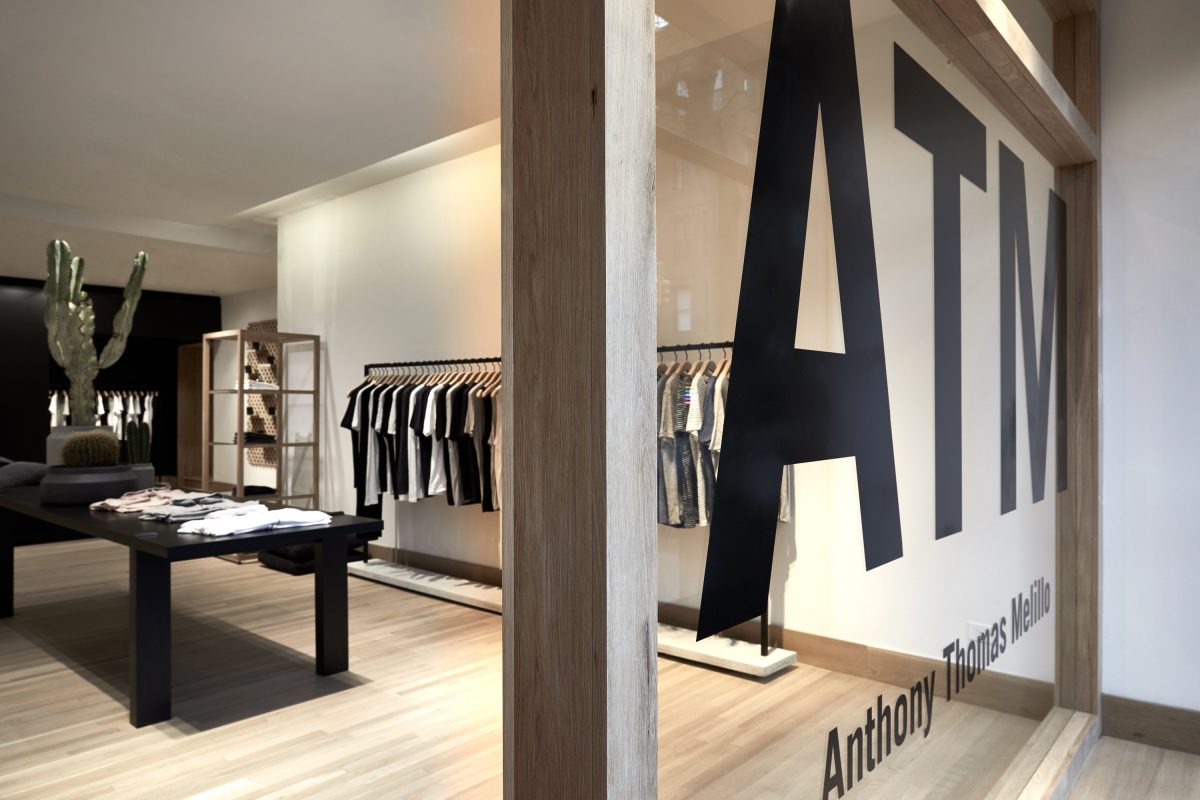 How did you choose the location?
Even though it's not the Hamptons, Bleecker Street has that vibe of being in a neighborhood. It's an area where we can tell our story—we've always known that it's important to be able to show what we do in terms of the brand identity.
Tell us about the aesthetic of the space.
Our brand identity is consistent in our showroom, our Hamptons store, and now here. In terms of the architecture, we use concrete, natural white oak, and a specific black color. When we opened in the Hamptons, we had to get everything done in two weeks, but I think when you go into the [Bleecker] store you'll find the same elements. Our sensibility is minimalist. We also built our own furniture for the store, which was really cool, like a recycled black denim sofa bed and a black walnut table, which both are available for sale custom order. We've really made it a space of our own. We also did the candles, some blankets out of Peru, and we designed special bathrobes. The design elements were equally important to me as the space. I feel like if you're going to venture to a store, it's important we have a point of view. Why should I buy a sofa if I buy I sofa? I should just make my own!
Did you enjoy tapping into the interior decorating space for the project?
I loved it. The "home stuff" is another passion of mine. It will expand itself slowly but surely, and it will definitely be present in any stores that we open for now like in the Hamptons.
You spent a lot of time at your East Hampton store last summer. Do you think you'll spend a lot of time on Bleecker Street?
I really enjoy it, so as much as I have to run the business, I surely hope I can pop in and out as much as possible, which means at least three to four times a week. It's a great thing to be able to understand what the customer is looking for and relates to. I think it's even more important in a neighborhood store because you can really be around those people—moms, dads. There's a great crowd in this neighborhood, so I hope I can become part of it, even though I live in West Chelsea [Laughs].
What should shoppers keep an eye out for at the store?
We're doing really well with pink right now. We have zip-up hoodies and bodysuits in this pale blush. It's a key color for the season. But you'll see a pretty nice flow of merchandise—we're also making exclusives for the store.
Will you be back in the same space next summer in East Hampton?
We took another space on Newton Lane. It's bigger. It's a five-year lease—we'll be there full-time starting the end of May.
What's it like to look back at five years of ATM?
It's felt like a very fast run. It seems like yesterday when we launched at Barneys with three t-shirts, three colors, and four fabrics. That's where we started, and as true as we stay to that, we've grown so much. It's been a bit of a whirlwind. It's great to see the brand go full-circle from t-shirts to actual storefronts. I will pat myself on the back and say, "You know what, good for you! You were really able to express yourself and get it across, and not in the best of climates." It's not exactly as if retail is soaring these days. You definitely hear the negatives, but we stay true to our brand and to our identity. I continue to get excited for the growth in the sense that we organically have been able to create such a following. It's a nice thing.