Tommy Hilfiger has a "go big or go home" attitude when it comes to putting on a fashion show. On Tuesday, he opened Fashion Month with a runway spectacular in Shanghai to kick off show season with Hailey Baldwin opening. The legendary designer tells us about his latest collaborators, and why he loves to bring the iconic American brand around the world.
Why did you choose Hailey Baldwin as a global brand ambassador?
Hailey is one of the top supermodels in the world today. She's passionate about her work, and has that inner drive that captivates her fans. As our new ambassador, she represents the next generation of the Tommy girl.
What qualities does she have that make her part of the Tommy family?
She is leading the way for the new generation, and she does it with confidence and optimism. These qualities and values make her the perfect fit for our brand.
You are kicking off Fashion Month in Shanghai. Why did you decide to show in China?
Our vision was to take TOMMYNOW to new cities and audiences around the world. After Los Angeles, London, and Milan, we wanted to bring this experience to China to have our consumers and fans be a part of it. Shanghai is on the rise to being the next fashion capital, and we're excited to launch our Fall 2018 collection there.
Tell us about the capsule collection you created with Lewis Hamilton.
Lewis is our new men's global brand ambassador; we collaborated on the TommyXLewis collection that launches this season. It's a fresh take on our menswear classics inspired by both of our signature styles.
Will the looks still be available immediately?
Following the show, all the looks will be immediately available online, in addition to being sold by wholesale partners and on shoppable social channels.
Do you think you'll return to New York in February, or will you stick with the far-flung locales?
We are always looking for new ways to reinvent our runway shows, and we only see them becoming more and more exciting. You will have to wait to see what we have in store for February.
Why are large-scale shows important for the brand?
Our show format reflects our commitment to democratize the runway and make it inclusive. With TOMMYNOW, we're fusing fashion with entertainment, and inviting our consumers globally to be a part of this unforgettable experience.
Winnie Harlow is another of your brand ambassadors, and we're honoring her at our Fashion Media Awards. Why did you choose her to be the face of Tommy in 2018?
As a top model and influencer, Winnie is breaking conventions and inspiring people around the world. Our brand ambassadors represent what it means to be the icons of tomorrow, and she truly reflects that spirit.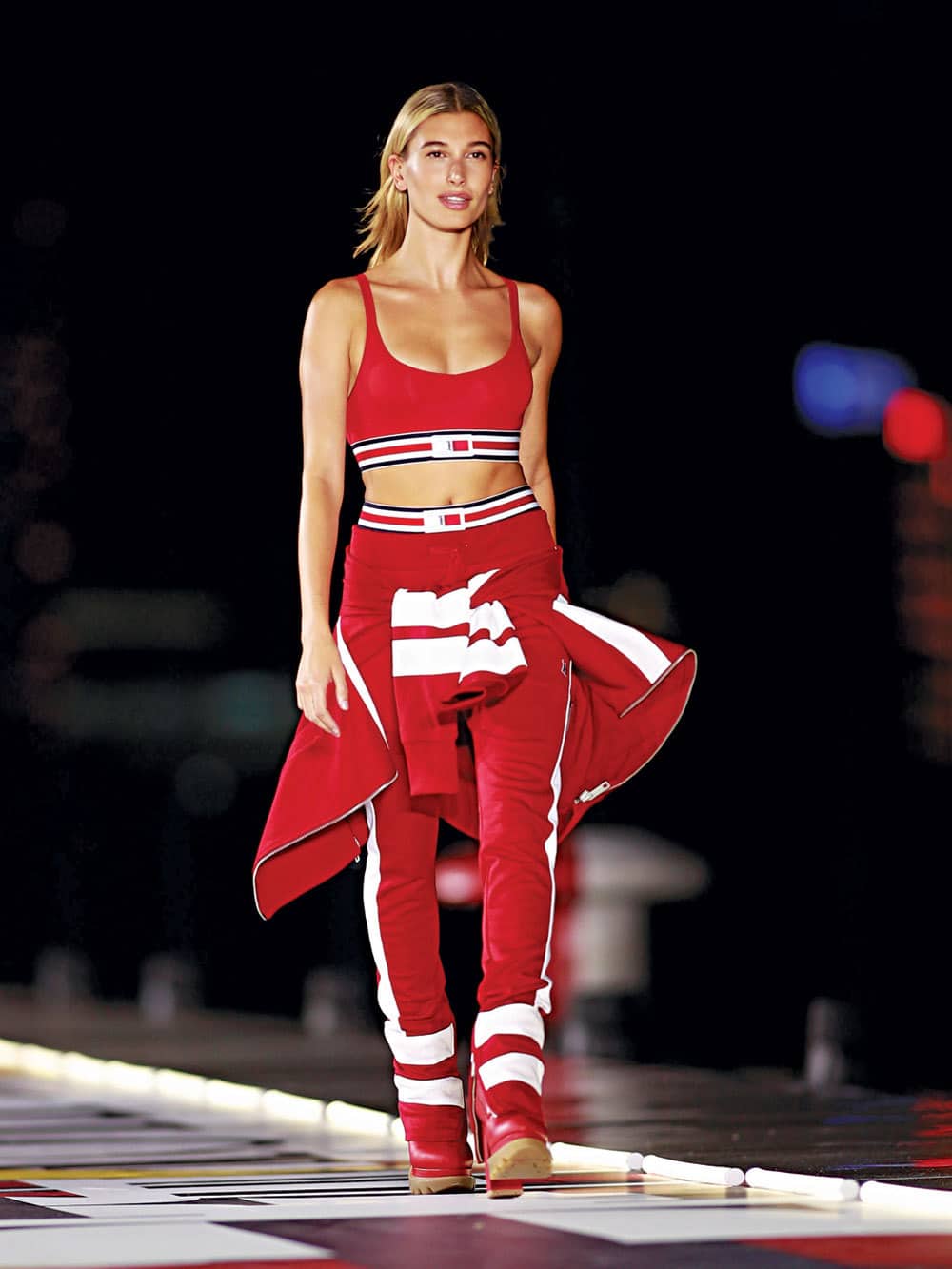 Your brand resonates with a new audience, and a younger generation. Why do you think that is?
We are always on the pulse of "What's next?" which is what the younger generation is looking for. We engage with them in new and innovative ways each season, making them an important part of our brand.
What did you do this summer for fun?
We usually go on my boat in the summer, and this year I was in Europe spending time with family and friends.
How often are you on Instagram, and what are your favorite accounts?
I like to keep up with Instagram when I can find the time. Some of my favorite accounts are @mrshilfiger, @ronniefieg, @mercedesamgf1, and, of course, our brand ambassadors @lewishamilton, @haileybaldwin, and @winnieharlow.
What excites you these days?
This is a great time for our brand as we continue to develop cool partnerships and work with social media and technology. I'm excited for the future and what's coming up.
A MOMENT WITH HAILEY BALDWIN

The Daily also caught up wth Hailey Baldwin, who showed that the love between she and Tommy is mutual.
How did you first start working with Tommy Hilfiger?
I walked in a show with him when I was 18. He's just really kind. He's supported me from day one. There's a loyalty there that I don't forget about. He said to me, "I see something in you. I think you can do really well! I want to get behind you and work with you." Ever since then, he's stuck to his word and we've done a lot together. Now doing this campaign and designing with them…it's been a fun journey.
What was your reaction when you were asked to be a global brand ambassador?
I was excited! I know Tommy and the team, and I know how great they are to work with. I love getting to work with good people who I know will be a fun time.
What are your responsibilities as a brand ambassador?
It's really to embody the brand's values—celebrating individuality, breaking conventions, and being relentlessly optimistic while giving my fans a closer look at the world of Tommy Hilfiger. It's a brand that's always doing something exciting and cool.
By the time people are reading this, you'll have walked the Tommy show in Shanghai, China. Have you ever been?
I haven't. I'll be there for three days. I'm really excited! Some of my friends are going to be in the show, too.
What have you learned from Tommy?
Loyalty. His loyalty and kindness are the reason he's had such longevity.
He's the man!
He is the man!
Subscribe to our newsletter and follow us on Facebook  and Instagram to stay up to date on all the latest fashion news and juicy industry gossip.