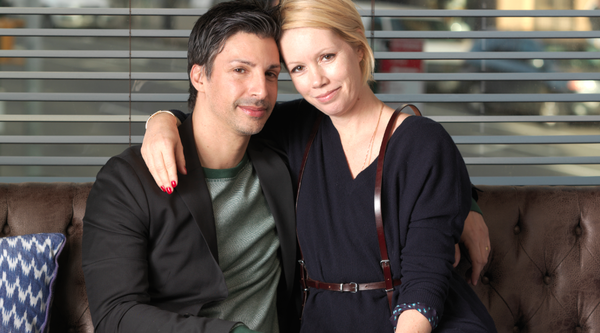 The Sweetest Thing: Meet Pour La Victoire's David Giordano and Asa Larsson
|
(NEW YORK) For Pour La Victoire co-founder and creative director David Giordano and his longtime love, Asa Larsson, it was just a matter of time before they'd take their relationship to the office. With Cameron Diaz on board as the brand's artistic director, it's a brand new day for PLV.
BY EDDIE ROCHE
How did you two meet?
Asa: We met 12 years ago on the Lower East Side through a mutual friend, Troy Pierce, who's this famous trance DJ from Berlin.
David: It was more Alphabet City—10th and B.
A: He asked me out while I was standing in the bathroom line. He had some tacky pick-up line, but I gave him my number any way.
D: I called the next day. I broke every rule!

What were your first impressions?
A: I thought he was super cute.
D: I had on these oversized Bvlgari glasses. I looked like Aristotle Onassis.
A: I thought he was wearing them as a joke!

Where did you go on your first date?
A: The old Canteen in Soho and then to Tao for a party.
D: I followed her to the bathroom and kissed her outside.
A: Our anniversary is our first date, actually. We never got hitched, but we act like a married couple.

What's the date?
A: January 22!
D: It's actually January 21.

Why haven't you made it to the altar?
A: We've been engaged since 2008. We were planning on doing it, but got busy with our careers and we wanted to have a baby. We're now going to wait until our son is old enough to be the ring bearer.

Where are you from originally, Asa?
A: I grew up on a ranch in Sweden in the middle of nowhere. It felt a little too small for me and I was watching way too much American TV.

Like what?
A: I loved the movie Fame. Seeing all these people trying to make it in New York was very inspirational to me. I was mesmerized by the U.S.

Who was your favorite character?
A: Coco! She was so far from anyone I knew in Sweden. Everyone I knew was blonde. She had such elegance and she could sing and dance. She was very New York to me.

How did you get into PR?
A: I lived in Miami for a while. It was back in the days when everybody was shooting in South Beach and everyone said I needed to come to New York. I knew a lot of people here when I finally moved so I became a party promoter with a friend. We did parties for INXS and modeling agencies. Madonna came to one. It was fabulous. I worked at KCD for a stint and then I knew a hairdresser who knew people who worked at Marc Jacobs and they said I'd be perfect there. Back then it was a family business. I used to come in at 8 a.m. because I was an eager beaver. Marc used to come in early, too, and we'd sit around and talk. That just doesn't happen anymore. He's just too busy. I got to know Marc and Robert [Duffy] well, and it felt like whatever you did was so appreciated and made such an impact. We were on the eighth floor and Marc's office was right next to the PR office and the seamstresses and the sales team. You know how it feels when the family meets for breakfast on Sunday mornings? That's how every day felt.

Did you know that he was going to be as big as he is today?
A: Oh, yeah! He lives for his work. What I admire about him is that he didn't care about what people thought. He didn't care about reviews. He sticks with what he believes.

What's your background, David?
D: I had my own line before this. I have a business background and was an entrepreneur and started working with young and up-and-coming designers in New York. We had a showroom that became a factory. There was so much creativity—it was like St. Elmo's Fire! I got a knock on my door one day and it was Sam and Libby Edelman. They noticed that I was building brands and Sam wanted me to re-launch his shoe business. They are dear friends today, and Sam takes credit for all of my success and for a portion of it, maybe he should. He taught me the business from the point of view of someone who was madly successful. I became his apprentice. After three years with him, I was ready to start my own company.

And you did! What does Pour La Victoire mean?
D: For the victory in French. My mother is French and she always had a big influence on me. She wanted a girl. The opportunity and the market at the time was that there was no middle-priced footwear. I hadn't come from the footwear business but saw a major opportunity. Sometimes you can't see when you're in it. The name means many things to me, such as living a life that's creative and having a say in how I run my business. It was always important for me to be creative.

How has the business grown since you created it?
D: Since 2007, the business has basically doubled almost every year. Handbags were introduced in 2010 and have done extremely well. The brand was purchased by a private equity firm in 2012, and we're poised to make a strong play on the global market in the next 24 months.

How did Cameron Diaz come on board as your artistic director?
D: She came up to see the product and we became friends. She wanted a creative outlet and we got along really well and had similar ideas. We started the conversation maybe 14 months ago as a sort of 'what if?'
A: 'What if' turned into her signing on this past summer. When I came on board, I didn't realize the extent of how involved she was. We live and breathe work at home, but we try to draw a line. I was so surprised by how involved she wanted to be and how she wanted her hands in everything. It was such a breath of fresh air. We knew she didn't want to just be the face.

What kind of input has she had?
D: In 2014, we both feel that brands need to be focused and have a DNA. That's the mission, so we tore the brand down. She equated it to building a character or reading a script that had depth. I felt fortunate that we got to make necessary changes and have her as a partner to facilitate it. With her, we got to press the reset button and build the brand of our dreams again.
A: Having Cameron as a co-worker is not a bad thing.
D: Her name recognition aside, we're lucky we have someone who is sophisticated with a point of view and an idea of luxury. I have an edgy sensibility, Asa has a practical sensibility, and Cameron has this feminine elegant sensibility. These are the pillars that we're building the brand on.

Asa, why did you decide to come on board?
A: I'd been at Marc Jacobs for 10 years and learned a lot, but I was ready for something new. I did the PR for PLV when it first started at night and on the weekends. I had other offers, but we want to put our eggs in one basket. With Cameron on board, I thought it was very exciting. I've started my own company ASA PR and David's my first client.
D: She was the missing piece of the puzzle. Everybody was waiting for it.

What's your vision for the company's future?
A: With David and Cameron's brains together, they can come up with really innovative ideas. We want to come up with something…
D: …disruptive. We want to build something that lasts longer than our lives. We want to build a strong DNA that can go across any product category. Like, a Pour La Victoire hotel!

What's the secret to your success as a couple?
A: We're so different, but we inspire each other. We have one common goal and that's to retire early.
D: That's not true! People that retire early, die early. There's a mutual respect for our individuality. It sounds cheesy, but it's true. I've never met anybody who is more charming or at ease than her.