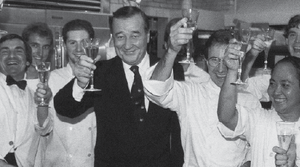 The (Sirio) Maccioni Machine
|
(NEW YORK) Sirio Maccioni is a fine-dining icon with proud Italian roots and a celebrated restaurant empire. At his crown jewel, Le Cirque, the crème de la crème of the chic set has piled in for years—and crème brûlée made its stateside debut. Last month, he won a James Beard Lifetime Achievement Award. Maccioni and his son, Mario Maccioni, sat down for lunch recently with The Daily at Sirio Ristorante, which opened its doors a year and a half ago at the Pierre. Some spirited reminiscing ensued.
BY ALEXANDRA ILYASHOV
What's it like working with your sons?
Sirio: Very difficult. We have a rule: Nobody can carry a gun. [Laughs]
How do you divvy up the slew of restos?
Mario: Sirio is my purview; I moved back from Las Vegas to run it this summer. My brother Marco is at Le Cirque with my father, and my youngest brother Mauro is at Circo.
What's your biggest food vice?
Sirio: As an Italian, I have all the vices. I like everything that is not good for you.
Mario: I can vouch for that.
Any chic regulars at your restaurants?
Mario: Dennis Basso is coming next week. Tory Burch, Stefano Ricci, Frederic Fekkai, and Michael Douglas all eat at our restaurants, too.
Sirio: Graydon Carter. When he was the editor of Spy, he put a journalist after me to find out my second life!
You were close to Bill Blass, right?
Sirio: We were very good friends. He'd say, 'Sirio, I don't like this,' and we'd take it off of the menu. He was intelligent and had good taste!
How about politicians?
Sirio: I was invited by Reagan to his presidential inauguration. I called the man who invited me and said, 'Why the hell did you send me this invitation? Why is an Italian going to the celebration of an American president?' Then I heard a voice on the phone say, 'Yes, my boy, I am the president, thank you for coming.' Every year I invite Nancy Reagan to the restaurant. If I really want somebody to come to my restaurant, I pick up the phone and they come.
Is power lunching what it used to be?
Sirio: At one time, lunch was a great thing. Beautiful women came in every day—it was like a fashion show. You know what they do today? They go to the gym and eat vegetable juice. It's so sad. They've lost touch with the elegance!
How did you pick Sirio's plum location at the Pierre?
Sirio: My first job when I came to this country was at a restaurant here.
Mario: It's quite a nice turn of events to now have his name on the front door! It's a spectacular location, obviously, across from The Plaza. We opened the original location in the Aria hotel in Las Vegas about four years ago.
Did you have any qualms about a Vegas project?
Sirio: I went to Las Vegas at first, and I didn't like the idea! I've known Steve Wynn for many years; he's a great, difficult man. It's better to be on his side than to be against him. His secretary calls me once a month to say, 'Mr. Steven wants you to know your room is always ready.'
Why open a Sirio outpost in New York?
Mario: My farther has had a relationship with the director of Taj Hotels for many years. Then the soul searching began: deciding if it would be French or Italian.
What's the scoop on that Holland America cruise ship gig?
Mario: He's going down to the Caribbean; it's a bit of both business and pleasure. The kitchens are fully equipped. In the ship's nicest room, they do Le Cirque night.
Do you ever get seasick?
Sirio: No. I worked on a ship when I was very young. There were five people in the same room. The people working in the kitchen smelled of anything but soap. It was difficult. But it's one of the reasons I'm here. I couldn't take it anymore. I couldn't sleep another night in those conditions, so I came to New York.
What were your early days in NYC like?
Sirio: I barely knew anybody. Somebody gave me a room on 32nd Street. I didn't even have money to take a taxi.
When you were growing up in Italy, did you always want to come to NYC?
Sirio: No. I'm only happy when I'm in Tuscany. In New York, I'm tired. When I arrive in Italy, I'm not tired anymore. What I hate more than anything is to get old! It's the most stupid thing. I want to be born old and die young.
You brought crème brûlée to New York, at Le Cirque. What's the story?
Sirio: In 1982, Italy was playing Spain in soccer. My sons convinced me to go to Spain for the game. I tried the crema catalana while I was there.
Mario: It was in a deep dish, and you had to break through a thick crust.
So you brought it stateside?
Sirio: My chef never wanted to make it, but the dishwasher was willing to do it. Our crème brûlée is still the best.
Aren't you also responsible for pasta primavera?
Sirio: I could've patented the recipe to make a lot of money! There was a line outside, and we never even put it on the menu.
Mario: The French chef didn't want spaghetti in the kitchen, so they made it in the dining room. It was a big hassle! But everybody loves food prepared tableside.
So, you're Italian…
Sirio: Really Italian! There are Italians, and the rest of the world that wants to be Italian. That's how it's divided.
Amazing chefs have started under you. What advice have you given them?
Sirio: Not to talk too much, and to work.
How do you spot great culinary talent?
Sirio: You look at a chef's face and say, 'Why do you want to come here?'
What's the best advice your father's given you, Mario?
Mario: It's a difficult but honest line of work. As long as we keep ourselves humble, we can make a decent living.
What was it like growing up in the biz?
Mario: It was fun! We'd go to all these restaurants.
Sirio: The first time I could afford to spend money, I took my kids to France, and we ate at two of the best restaurants there.
Who's the biggest eater in the family?
Sirio: My wife.
Mario: They make a pretty good duo.
Sirio: I don't eat much, but I eat everything you shouldn't eat.

Mario, ask your dad anything.
Mario: Okay, if you had to pick a city to open a restaurant, where would it be?
Sirio: I feel most comfortable in Florence. But opening a restaurant there is completely crazy.
Mario: And when are you going on a diet?
Sirio: I'm already on a diet! [Laughs]