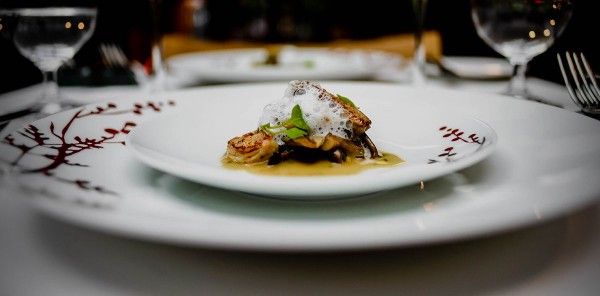 I love good food (um, who doesn't?) and have become more and more of a foodie. My latest restaurant obsession is Almanac, the French-inspired restaurant in the west village. The talented head chef and co-owner is Galen Zamarra, who has won a James Beard Award and became chef de cuisine at Bouley Bakery when he was just 24.
On a recent visit with two fashion world beauties, Eugenia Gonzalez and model Julie Henderson, we all opted for different choices from the extensive tasting menu (which enables you to mix 'n' match dishes). We dug into each other's plates and barely spoke between bites and groans from gourmet goodness. "I don't have just one favorite dish, I have two: The pork and the frozen nougat," Julie raved. "The pork is perfectly tender and delicious and the frozen nougat reminds me of a chic version of a Klondike bar with a twist. The restaurant is low key but very intimate. Perfect place for a date night." Eugenia told the waitress that she would soon bring her dad here. "The food is spectacular! It's highly recommended if you're a foodie like me," Eugenia gushed. "The space feels like a cozy, chic cabin somewhere between Aspen and Switzerland. The mushroom truffle soup was my absolute favorite, but everything in our five course menu was perfection. I can't wait to go back."
To get the scoop on what makes Almanac so yummy, I spoke with Almanac's Eric Blinderman, who opened the restaurant with Angelo Bianchi, a NYC nightlife impressario who had a hand in creating iconic spots like The Beatrice Inn.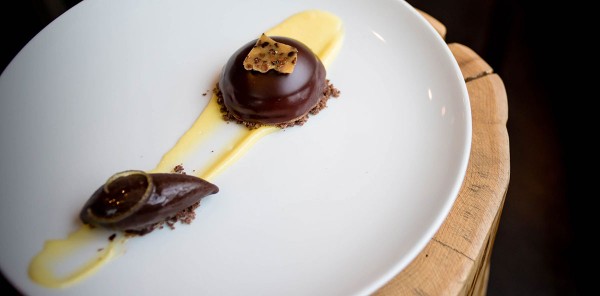 Where did the name Almanac come from?
Almanac is inspired by a culinary journal that executive chef Galen Zamarra began keeping early in his career—and continues to write in to this day — jotting down foods as they come into or our of each micro-season (i.e. early fall, mid-fall, late fall…), along with ideas to guide his experimentation in the kitchen. This culinary journal has become a personal journal that has grown over the years and allows chef Zamarra to record his ideas for dishes and to catalogue the variety of ways that he might use a specific ingredient in a manner that accentuates the nuances of each growing cycle. For example, chef Zamarra juices his squash at the beginning of its cycle and roasts it at the end, because of the way the squash's moisture changes during the season. Long influenced by nose-to-tail methods which he applies to his meat preparation, chef Zamarra uses the same approach with vegetables and all of the ingredients he sources from his local community of farmers, growers, foragers, and fisherman. Accordingly, the name of our restaurant is Almanac.
The tasting menus are so diverse. How did you guys come up with all these different plates?
Each dish is reflective of the different ideas Chef Zamarra has collected in his nearly 20 year career and focuses on a single ingredient. For example, in the winter and fall we might focus on hickory, pine, cranberry and oak, and use different components of a single ingredient to weave into a single dish. Because each dish is dependent on whatever ingredients we might get for delivery each day, the menu is constantly changing, prepared during the course of each day, and finalized immediately before service when it is printed up and hand-bound for service. The constant evolution of the menu is both a challenge and inspiration, keeping the menu interesting for everyone at the restaurant and our guests who can expect to see new items on each visit."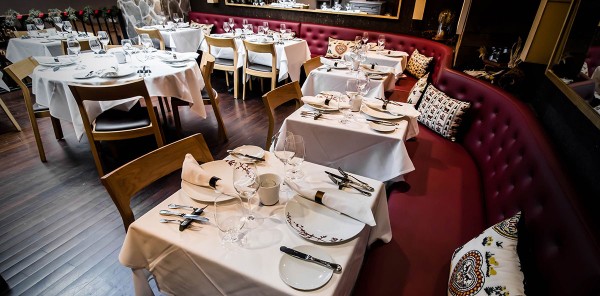 Who designed the space? What was the inspiration?
The space was designed collaboratively by all members of the Almanac team who worked with noted interior designers, Isabella Patrick and Ben Albury. Isabella Patrick has worked with David Netto, Thom Filicia and Country Living, while Ben Albury of Amalgam Studio, an architect, illustrator, printmaker and photographer, has worked with Kohn, Pederson Fox, ODA, and also with Thom Filicia. Reclaimed and weathered pine from Massachusetts, gold-flecked cork, antique mirrors, and a skylight accented with cerused oak are supposed to inspire a connection with farm, hearth, and nature. Deep purples and reds in the tufted banquettes with Belgian linen pillows throughout the restaurant along with a poured concrete bar, custom lighting crafted by noted designer John Wigmore, and rotating art from artists such as Lee Krasner, Ernesto Caviano, Sarah Reynolds, and Sam Moyer are a nod towards the present day and supposed to invoke a hint of luxury.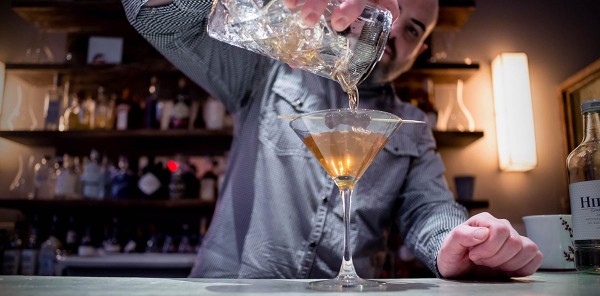 Chef Zamarra is a rock star in the kitchen.
He's worked at Michelin three-star restaurants in France, including Michel Bras, Georges Blanc, and L'Arpege. Chef Zamarra opened his first restaurant Mas (farmhouse) in 2004 to critical praise and it continues to be a beloved NYC classic today. Almanac's daily changing, French-inspired tasting menu highlights the finest locally grown and sustainably raised foods. New York hailed Chef Zamarra as "the next Jean-Georges," calling Mas one of the "100 best reasons to love New York City." Chef Zamarra sources from local farmers and food producers for his restaurants and is a supporter of organizations like Slow Food, Chefs Collaborative and New York City's Greenmarket.