She is the world's highest-paid TV actress of 2017, but that isn't stopping Sofia Vergara from looking at what's next. The Modern Family Star is introducing her first direct-to-consumer, subscription-based intimates brand called EBY, launching today, to help women out of poverty and develop their small businesses. Sofia takes us underneath it all! 
Sofia, why did you decide to launch your own line of lingerie?
It found me! I've endorsed a lot of different products and businesses, and every time I have a project like that, I have to live it. I get offered a million things to endorse or be a part of every week, so I always say before I take a meeting, 'Send me the product first and I'll see if I'm interested.' When Renata Black reached out and sent me the underwear, I put them on and realized I couldn't live without them. They were perfection. They don't move, they don't bunch, they don't roll. They don't give you that muffin top. I think it's a product we can really sell. Our sizes are for every woman, and that's where the name EBY came from—it means "empowered by you." You can subscribe online and get a new pair of underwear every month or every two or three months in whatever color or size you want.
Tell us about the charitable element to this project.
Renata has a foundation called the Seven Bar Foundation, which empowers women by giving them micro-financing so that they can open their own businesses in different countries around the world. It's the perfect business model for me because the more we sell, the more we can give to women. We're going to give 10 percent of the net sales to empower women all around the world. We started with Colombia since that's where Renata and I are from. The first pair have a Colombian orchid on them. Next, we will donate to women of the United States. We are very excited about that because it's been a hard month will all the hurricanes. We're empowering women to take control of their lives, make their own money, and help themselves and their kids.
The initiative helps women start their own businesses—what was your first job?
My first job was getting a TV commercial in Colombia. From then on I wanted to be independent, have my own money, and help my son. No matter what the job was, I was going to take it because I wanted to have that security and safety net in my life. Working has been a very important part of my life since I was very young. I got divorced young and was a single mother, which is what drove me to always find jobs and move countries. I moved to the Untied States to look for better things. My focus has been helping my family in Colombia.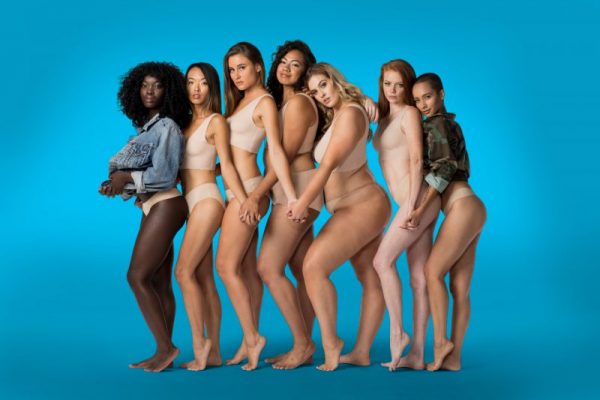 How do you define sexy these days?
To this day, I think sexy is being comfortable with yourself. You can't be sexy if you don't feel sexy. No matter what size you are or color or how you look, you have to feel it.
How do you describe your sense of style?
I always look for comfort and cuteness. I think it's easier to find that now. Underwear didn't used to be cute, you know!
Where will we never find you in your underwear?
My house! There are always people there.
What else are you working on now?
The new season of Modern Family starts today. We filmed the first episode in Tahoe, which was fantastic. The whole family was there. It was a lot of fun and I think a lot of people are going to really love the show. I also filmed a movie in Italy over the summer, which is coming out next year. And I just filmed another movie in NYC. So I'm doing movies here and there but most of the year has been spent focusing on EBY.