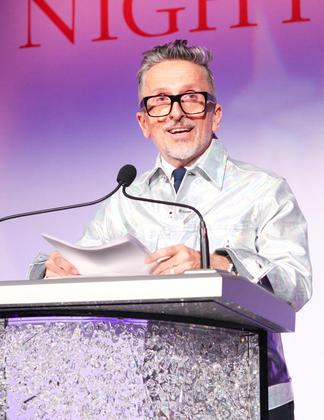 Simon Doonan's Epic Roast Of FGI Night Of Stars Nominees
|
Last night the Fashion Group International hosted their 30th anniversary of their annual Night of Stars awards ceremony that honors creativity and vision in the fashion community. Host Simon Doonan kept the crowd in stitches as he introduced each nominee with a story of how he envisioned them 30 years ago. In Doonan's dreams, these fashion luminaries held less illustrious pasts serving time in juvenile detention, working on oilrigs, and heading down to Walgreen's for a makeup fix. Find out who got called out below:
Simon Doonan: Thirty years ago on this very evening the first Night of Stars was born. As I gaze out at tonight's nominees, which basically includes every single person in this room, I cannot believe how far you've all come in the last 30 years.
Deborah Needleman…where is she? There you are. J'accuse! Tonight you receive the Oracle award. Deborah, could you ever have imagined back in 1983 that you sat whiling away those endless days in Juvey that one day Deborah, you would actually be living independently, dressing yourself, feeding yourself, and not robbing houses and shoplifting your nylons at CVS? Could you ever have imagined becoming an award-winning oracle?
Jamie Drake, back in 1983 you were working on an oilrig drilling in Alaska. You were just a typical rugged outdoorsy dude dreaming of tassels and swatches in a mysterious far away place called the D&D building.
Lew Frankfort, look how far you've come! Today you are a dynamic, virile businessman, but back in 1983 you were trapped in a sinister hippie cult in Washington State and making rough hewn, hand tooled cross body man bags, which you sold occasionally at a dismal roadside stand. Now look at you! Those man bags are still looking pretty good.
Leslie Blodgett, in 1983 you were the world's tiniest Avon lady. You were so small you crept into people's houses through their cat doors, which gave you an unfair advantage over the other Avon ladies. Your sales outstripped those of your colleagues and you started receiving death threats from the other Avon ladies. But biology intervened and you suddenly grew to normal size and you were forced to enter people's houses in a conventional manner.
Franca Sozzani, where are you? Is she here Franca? Oh well, let's pretend she's here. In 1983, Franca you were living in Sweden where, of course, you were born. Thirty years ago you and Carla [Sozzani] perpetrated your massive fraud and said, "Let's move to Italy and pretend to be Italian. We'll be the only blondes and everyone will love us because of our hair!" Look it worked! No one suspects that you're really a Scandinavian from Stockholm.
Evie Evangelou, in 1983 you ran away from home and entered the transvestite communes out in San Francisco. Didn't you? You became the mascot and you would cook spaghetti for the girls and run errands to buy more maquillage from the local Walgreen's. You were four, right?
Alexander Wang, tonight we see before us a happy fresh-faced young man. Thirty years ago though, you were an extremely wrinkled old woman. You were watching the Lawrence Welk Show and living in LeFrak city. You had Benjamin Buttons disease and thanks to gender reassignment surgery you are now a youthful man and you get younger every year.
Marc Jacobs and Robert Duffy, you were touring the Borscht Belt and toiling the fields. You were doing a much talked about Mork and Mindy routine and you were an unexpected hit. Broadway beckoned or so you thought, but it turned out to be an old pompous lunatic pretending to be Broadway…that's really weird. It's not very funny.
Gilles Andrier, ça va? Back in 1983, you were back home in Montreal making crêpes suzette with maman. Yes, Montreal. Listen there's nothing wrong with being French Canadian. You really need to stop insisting you're from Paris.
Angela Missoni, in 1983 you'd just taken a vow of poverty and silence and renounced all of your worldly goods, which consisted mostly of multi-colored sweaters. You entered an austere convent on the American party. Then there was the curse you put on the Mother Superior. You were expelled and voilà! You became fashion royalty so all is well that ends well.
Carine Roitfeld, thirty years ago you were standing in the gutters of Montparnasse shrieking at passers by. Sometimes you sang, but mostly you hurled unsolicited fashion critiques. They called you the "Gerbil of Pigalle" so as not to confuse you with whatshername, the other one.
Christopher Kane, in 1983 you had a starring role on EastEnders. Since you were a baby they gave you the role of a little cushion on Dot Cotton's couch. Only you and I would think this is funny.
Nadja Swarovski, what were you doing on the very first night of the Night of Stars three decades ago? I'm happy to report that Nadja, you were smothered in rhinestones and winning every child pageant contest in Austria. They called you the Shirley Temple of Tirol….Toddlers Und Tiaras. In honor of the 30th anniversary of this event, Nadja has agreed to don her flippers one more time. Now does anyone know what flippers are? Miley [Cyrus]? Can you please tell them what flippers are? [Ed. Note: Flippers are false pageant teeth] After the show Nadja will do clogging and baton twirling so all the more reason for presenters to keep their speeches short, unlike me.