Dubbed the original hip-hop yoga studio, Y7 Studio has become a go-to for yoga-fanatics. The 60 minute workout combines heat, strength training, deep-breathing, and zen. Sarah Levey, Y7's founder, dishes on why she ditched her career in fashion to pursue her company full-time, and how it's quickly become an empire sought after by models, athletes, yogis, and more.  
Why did you launch Y7 Studio?
It's everything I felt was missing from yoga. I was someone who really wanted to try yoga, but I never knew what kind of class I should take or what level I should put myself at. I had a job—I was working a 9 to 6 p.m. like everybody else in New York, or probably even longer, so if I missed the one class I wanted to go to, that was it for the week. I wanted to create something that is fun and not too serious, but has a level of consistency for people who lead busier lives.
Where were you working before launching Y7 in 2013?
I was an account executive in fashion at L'Atelier Group and worked at a brand called Addison for four years. When they left the showroom, I continued to work with them for a year and a half.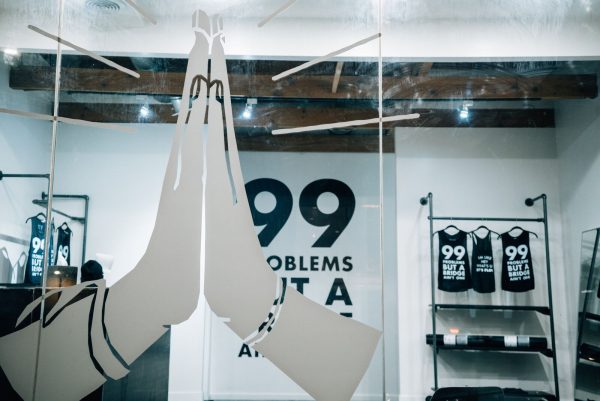 What does Y7 stand for?
The Y is for yoga, and the 7 is for the seven chakras.
Where did you open your first location?
From July 2013 to September 2013 we were just a weekend pop-up at a space in Williamsburg. Since then, we outgrew that space and moved to our current location in Williamsburg. In January 2015 we opened Soho, Flatiron in April 2015, West Hollywood in January 2016, and Union Square this past April.
Your classes combine yoga with hip-hop and rap. How did you come up with this?
For me, yoga is mental and I think it's like that for a lot of people. You're using your body for everything—you're not being propelled by speed on a treadmill or resistance on a bike. I had a really hard time motiving myself through these classes when there was wasn't music or there was just nature sounds or chanting. When you're asked to hold plank for a minute, it's a little bit easier to get through it when you're listening to Big Sean. Also, it's really fun, and there's no reason yoga can't be.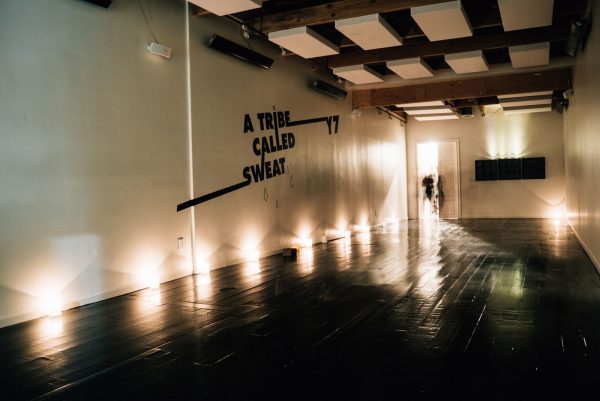 What other music is on your playlist during class?
Drake, obviously. We've been doing a lot of Future and Kendrick Lamar, but it's really up to the teachers. Our last hip-hop Wednesday was Bieber vs. Drake. Sometimes we'll do that with boy bands or one hit wonders. It's a mix of everything!
Do you teach?
Not currently, but I'm certified. I have my $200 per hour private sessions, but right now I'm just really focusing on the business and growing that. In New York we have about 25 instructors and around seven in LA.
What's your favorite yoga pose?
Half-moon. It focuses on balancing and hip opening at the same time.
How often do you do yoga?
I try to get it in two or three times a week.
Do you do other workouts as well?
I do SoulCycle, ModelFit, and New York Pilates. We're in such a great area of New York where it's super local and accessible.
I heard Zosia Mamet comes to your studio.
Yeah, she's been a client for almost two and a half years now. She's awesome.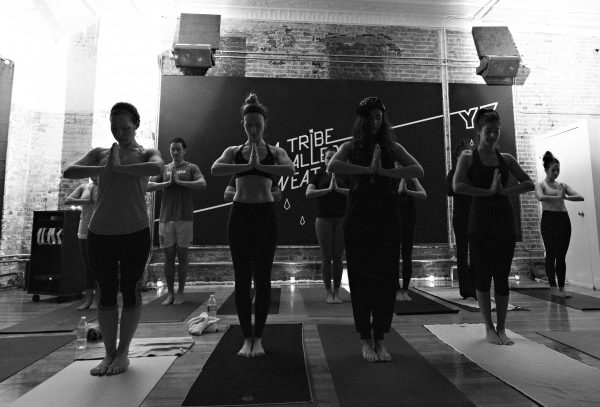 Have other celebrities caught on with the movement?
Yes, a lot of the Victoria's Secret girls and Sports Illustrated models come. We get some athletes, especially in LA, who do some private lessons.
What's your favorite athletic-wear brand?
I've recently been wearing a lot of Outdoor Voices. It's really good for sweaty workouts.
Do you see yourself expanding to the Hamptons?
Yeah, I'd love to. It's such an interesting market. Right now we're out there a couple of weekends in the summer on a pop-up basis. We're still trying to figure out what would make sense for us, but hopefully one day!
What else is brewing at Y7 Studio?
We'll be opening on the Upper East Side on 83rd and 3rd in September, and we're looking to expand pretty heavily in other areas like Tribeca, the Nomad/Chelsea area, and different parts of Brooklyn. We're also looking into more spaces in LA.