In a crowded space of fashion bloggers and digital influencers, Samantha Angelo stands apart. Not only do her sartorial ways and übercool locks make her pure eye candy (just look at her Instagram), but her background as a clarinet player for the Marine Corps (true story!) makes her one of the most fascinating new residents of Sag Harbor, where she built her dream abode. Here's how she went from esteemed bandmate to the ultimate fashion darling!
You spent almost a decade of your life as a clarinetist in the Marine Corps. Explain yourself!
When I was in middle school, I started playing the clarinet, and right away my father, who's an amateur trumpet player, told me about the Marine Band. He said it's a great group, and an amazing way to make a living. I didn't think about it for many years, but then an audition popped up my last semester of my senior year at Eastman [School of Music]. I decided to go, but I wasn't expecting anything. I wound up being the last person standing out of 80 people.
That's impressive!
Thanks, but I almost walked out after the first round because I wasn't happy with how I played. I started packing up my clarinet and this guy, who later became a friend, told me I couldn't leave and had to wait until the next round. So I did, and then I moved on, and it just worked out.
How long were you in the band?
I won the audition when I was 21 and got out when I was 30. I was there for the tail end of the [George W.] Bush [administration], and then for [Barack] Obama.
What were some of your most memorable experiences from life in the band?
Performing in two inaugurations, playing several solos with the band on the National Mall, escorting Nancy Pelosi's husband to the First Ladies' Luncheon, and meeting Michelle and Barack Obama during a White House holiday reception. One of my musical highlights was meeting and performing under legendary composer/conductor John Williams at the Kennedy Center. I also had the pleasure of playing with the Washington National Opera on a regular basis.
How frequently did you tour?
Every year, we would go on a seven-week national tour for the entire month of October and into November. Every day, we would go someplace new. I was on a bus traveling for four to five hours every day, and then we'd check into the hotel, play a concert, go to sleep, wake up, and do it again.
Wow. After seeing the majority of the country, are the Hamptons your favorite spot?
That experience gives me such an appreciation for this place because I've seen so much. To me, Sag Harbor is the quintessentially perfect American town.
How are your clarinet skills today?
I actually practiced this morning for the first time in about a year. I just got my clarinets back from a repair shop and brought them out here a couple of days ago. I've been wanting to practice, and decided this was going to be the day. It's like riding a bike. It all just kind of came back to me really quickly.
Are you into politics, since you were so close to that scene?
Not really—I distanced myself from it because I was so close to it. I think a lot of other people have their opinions, but I felt like I didn't want to be too opinionated about it, just to be fair.
Why did you decide to leave the Marines?
Once I met my husband, Peter, we decided we wanted to leave D.C. and do something else.
You guys met in a very 21st-century kind of way.
Yes, we met on an app! I heard about OkCupid when I was watching an episode of Nightline, and I was like, "Yes, I want to join that." He was the first person to message me. We didn't meet until after about a month of talking, but when we met in person, it was like, "Yes, of course—you're my person and we need to be together!"
So Cupid was in your favor!
Exactly. We dated for two years and then got married in July 2011. We moved to New York in March 2012 because Peter's job allowed him to move to the New York office. At that time, I realized I wanted to go for fashion since I always loved it and wanted to live in New York. I was ready to try this.
How did you go about it?
I officially launched my website, The Eye Travels, in 2012. I wanted to wait until I was discharged from the military because you're not really allowed to have a personal blog where you're giving your opinions and sharing your feelings.
You have a distinct sense of style, and part of that is your amazing gray hair.
Hair was [actually] a major problem in the Marine Corps. When I was there I buzzed my hair really, really short—like a boy cut with a fauxhawk. It was burgundy red. Everyone was like, "What is this?" So I went dirty blonde. You can't stick out, and that's what I did for years. The gray started eight or nine months ago. It took some exploring to figure out what was right, and now I just feel like this is me, in hair form.
When did you and Peter decide to buy a place in the Hamptons?
Immediately after we moved to New York, Peter said, "We have to rent a place for the summer." At that point, we had never seen the Hamptons. I'll never forget the first time we went out there. I was like, "What's the deal? What is this?" The curiosity was there. You can't really see everything that's here; everything is behind hedges. And then we rented the place, and that's when we fell in love.
Now you have a beautiful home in Sag Harbor.
We bought the house last August. The first place that we rented, we fell in love with. We wanted to rent again there, but the pipes burst, the place was ruined, and we had to find another place to rent. We found this place on the water, and that's how we found the house that we purchased. By pure chance, two doors down went up for sale. We had to be sure that this was the exact spot that we wanted to be living in, and it is. We fell in love with this place in a particular cove, and that was it.
Do you ever just throw on T-shirt and jeans when you're out here?
I do…when I go paddleboarding. That's my paddleboarding outfit.
What else do you like doing on the East End?
I just started looking into a surfboard that has a motor. We also love playing beach paddleball—we'll get dinner from Bostwick's Chowder House, drive out on the beach, eat, and then play.
Do you ever get the impression that people wonder who you are when you're out and about in town?
Yes. I was shooting in Sag Harbor the other day and three different groups of people came over to me on a quiet Tuesday and were trying to take photos of me. I feel like things are happening and people are noticing me and are trying to strike up a conversation and know more. There was a man who I met while I was shooting who worked in fashion for more than 20 years. He was like, "You're wearing Gucci head to toe," and I was like, "Yes! I love that you know that!"
Will you travel at all this summer?
We're going to stay in the Hamptons because we've obsessed over this house for so long. We feel like we need to spend some time in it. But I'm going to go to Italy in August because my father's never been and his family is from there. My parents might renew their vows when they're there, too.
Do you still keep in touch with your bandmates?
Yes, with people who I was close to.
What do they think of what you're doing now?
Oh, gosh, [Laughs] I don't really know!
PLUS! Samantha's Summer Fridays, Then and Now! 
Sam, the Marine: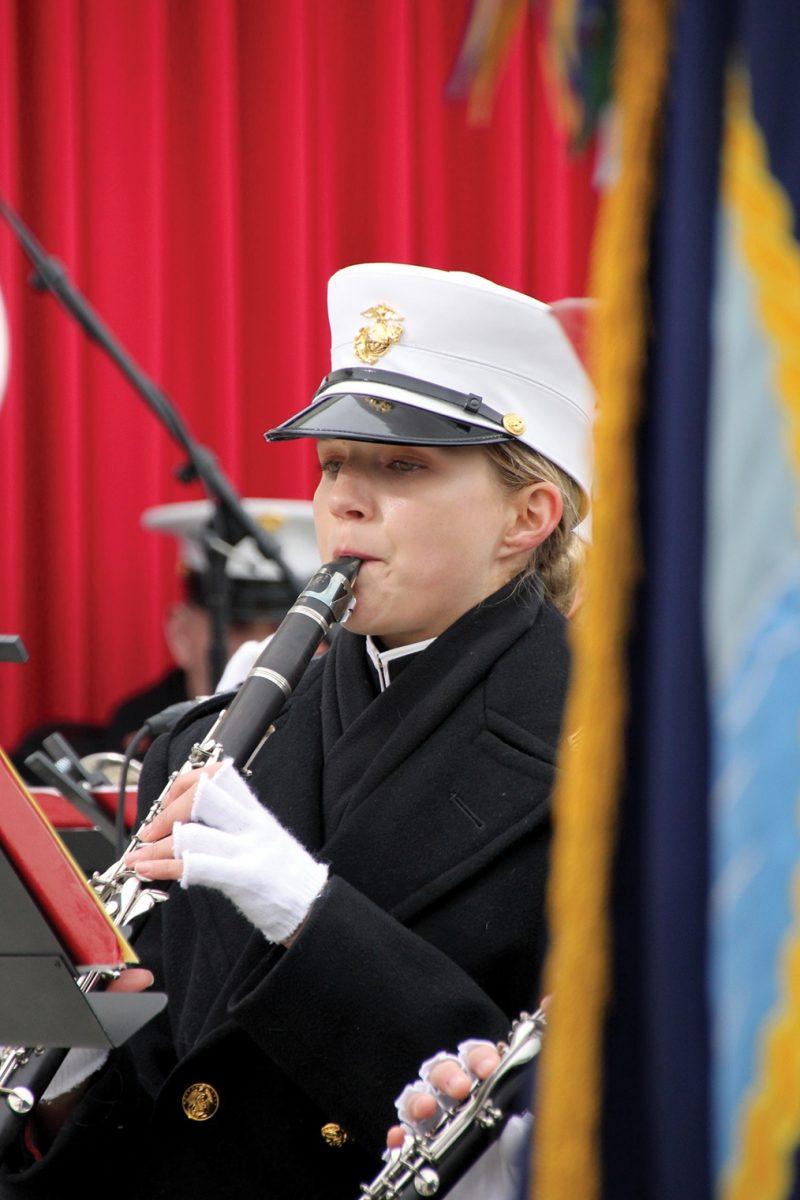 "I would wake up, get ready, put on my uniform, practice for two hours, and go to work. That includes playing music and marching.
Then, I'd head to muster. That's the spot where everyone in the organization met to go through the schedule for the week.
After that, I'd go home and rest. There was a lot of physical work involved in the job—and I'd be wearing wool in 105-degree weather.
At 6 p.m., I'd go back to work until 11:30 p.m.—this is how long the parade would be, and people from all over the country would come. We'd do the Silent Drill Platoon, the Commandant Song, etc. It was like a full-on show. Sometimes, the president or a military officer would come!"
Sam, the Hamptonite:

"I wake up in my bed and look at the water and take that in for a moment. Then I go downstairs, make coffee, and get to work on my computer.
Then, I'll do a photo shoot around the Hamptons, and I'll hit up farm stands and buy a ton of food.
Next, I'll go home relatively early to have dinner and watch the sunset. I might entertain friends, and then we'll go in the Jacuzzi as the sun is setting. I finish the night by passing out on the couch!"