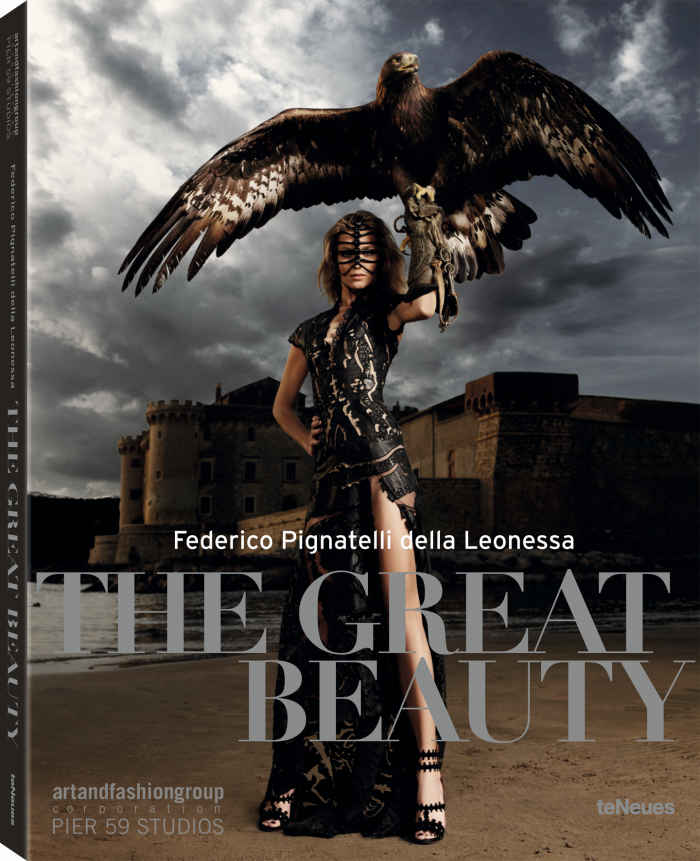 Here's a new book to spice up your coffee table game: Prince Federico Pignatelli della Leonessa's The Great Beauty, which was made in celebration of NYC's Pier59 Studio's 20th anniversary. Della Leonessa, CEO of Pier59 Studios and Art and Fashion Group, breaks down all you need to know about the photographic tome and accompanying video, which he shot in his hometown, Rome.
The book is beautiful!
It's the first book that's been published, that I know of, that's composed of pictures taken with a photo camera and pictures extracted from a video camera. I shot and directed the video, and several frames in the book are from that. Until recently, if you extracted a frame from a video, the resolution would be poor. When I shot in November 2014, I used the 6K RED DRAGON camera with a 6K resolution. Now, a year and a half later, there's a camera with 8K resolution. Eventually there will be a camera with 10K resolution. It's a technological revolution. Soon the resolution is going to be so fantastic that you can shoot video and select frames from that.
Why do you find videos, as a medium, interesting?
We're in the midst of this huge revolution in advertising—in my case, fashion advertising—because of the Internet. You're able to see movement and motion through videos, and I think advertising is going to shift toward movement instead of still pictures. It'll give more depth as to how the clothes flow when the model moves. If you want to show how a garment is wearable, a video is more reflective of reality; photography is two-dimensional. I wanted to shake things up by making the first book that combines the two types of imagery.
The video and the book were shot in your native Rome.
We shot in a beautiful villa that belonged to the richest man in the world, Paul Getty. It's from the 16th century, located next to a 1,000-year-old castle, which is in many pictures in the book. The villa is incredibly beautiful and the architecture is splendid, so I shot there. I wanted to glorify beauty in all of its aspects, from architecture, furniture, spaces, and nature to the models and clothes, showing the beauty of a lifestyle we've lost—the lifestyle I lived in the '60s in Rome. I wanted to relive and modernize it. The models are a mix of women from all over the world, and there's a whole list of designers at the end of the book. It's a fantastic and realistic representation of reality that borders dreams.
How long did it take to shoot?
The book was done in four-and-a-half days, without a script. I improvised the different scenes and connected them.
What do you want readers and viewers to take away?
That there's a lot of beauty around us to be appreciated and noticed. We are in a very difficult part of humanity's history, where we're surrounded by horror and suffering. I want people to see that there's not only aesthetic beauty, but beauty that comes from the energy of people, surroundings, and nature, which I try to portray with pictures. Also, I want people to notice that in my images, you don't see a man, but a man's shadow. I concentrate on the beauty, elegance, and power of women, but you can sense that there is a man there, even though I don't actually show it.
Who do you think are the greatest beauties of our time?
I love them all, but I'd prefer to talk about one's from the past. I'm happy to see how elegance and femininity is coming back in a big way. I love Christy Turlington and Cindy Crawford. They were two of my favorites. In fact, I have pictures of them in my office and my home.
Do you see yourself doing more projects like this?
Yes, I love photography, but I would never want to be a photographer who gets paid to do something. I will only do what I like to do for myself on a creative basis.