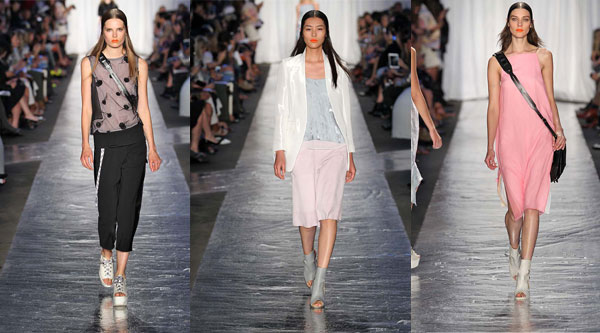 NYFW Spring 2014: Rag & Bone, Billy Reid, Sally LaPointe, Houghton
|
(NEW YORK) Rag & Bone
The Spring '14 collection was a "bit of a risk" for Brit ex-pat design duo Marcus Wainwright and David Neville. When the models took to the runway in their slicked-down coifs, bright coral lips said to be inspired by the 2014 Brazil World Cup, boxy jackets, and low-slung midi-skirts, we felt a throwback moment coming on. When the hip hop, basketball-themed soundtrack played for the collection's close, the dress code for urban nineties chic officially came to life. A stark palette smattered with cotton candy pastels of peach, aqua, orchid, and carnation offered a baseline for the nostalgic moment. Laced-up chunky heels and wedge-flatforms, croc embossed saddle bags, and round-framed sunnies served as accessories for the rearview looking moment. We saw our universal BFF's of Clueless getting totally modern Tai makeover: Dionne in the effortlessly cool croc-strapped coveralls and leather crop top; Cher in the sweetly sophisticated frocks. Seriously cool jackets framed looks throughout the collection, boxy in silhouette and androgynous in aesthetic. Otherwise, the collection boasted a few pieces for the prepster: a polo tee, ribbed v-neck sweater, and pleated knee-length skirts. Low-slung, fold-over waist trousers were offered up as a carefree, weekend-chic alternative. Fabrics took on a liquid-like sheen and croc-embossed details upped the luxe factor to offset the collection's overlying minimalism. A slam-dunk finish!
Billy Reid
Last night Billy Reid debuted his Spring 2014 menswear collection to a much smaller crowd than his coed showing in February in Chelsea. This time around he stuck to the same 'hood, but the show was held at summer's hautest spot: the rooftop of The McKittrick Hotel, Gallow Green. The Alabama-based designer cited his influences as his home state of Louisiana (where he grew up) mixed with the years he spent in California in the Eighties enjoying the surf culture. Does it get any more laid back than Cali surfer mixed with Southern gent? We don't think so! Think camo ponchos, untucked half placket gingham shirts, fisherman hats, and linen pants. Of course, Reid knows his tailoring, so just because it was extra laid back doesn't mean he left out the suits. A salmon colored double-breasted linen suit and an all white suit worn with slip-on sandals and paired with a matching polo were standouts. We have to say we always love to see the manly bearded and long haired models in Reid's shows. Can you blame us? The encore was a Louisiana jazz quartet that marched down the runway with trombones and harmonicas led by Lousiana-based musician Jon Batiste. "We struggled with what kind of music to use, because [Gallow Green] is such an organic space we didn't think recorded music would come off that well," said Reid. "Jon and I grew up about an hour apart in Louisiana." It was the perfect segue to the Southern-inspired cocktails that were served rooftop post-show to a crowd that was probably more than ready for one by 10 p.m. Another successful shindig chez Billy Reid.
Sally LaPointe
It doesn't take much to inspire Sally LaPointe to create striking work for her eponymous line—her design talent courses through the veins. Showing her seventh season in NYC, the Massachusetts native was motivated by deli flowers for Spring 2014. "I find when I walk by them I have an emotional draw to them. I think everyone has some type of memory or emotion looking at the flowers and kind of the traditional way they are all set up," LaPointe explained backstage. The square runway at the Highline Stages venue allowed for four times the "best seats in the house" for celebrity front-row show goers like Selita Ebanks, Alex Merrell, Becca Diamond, Joanne Lee Paul, and Shaun Ross. Lambskin, the perfect buttery-soft skin for the spring season, and pearlized patent leather came in the form of longer, hip-length pleated vests and jackets. Plush (aka blush), black, eggshell, and optic white dominated the first half of the show, when suddenly we were shocked by the debut of a striking canary yellow organza dress—as if the flower buds had just burst into full bloom. Following was a literal flower print in cellophane organza crop top, pleated or tiered dress, wrapped gown, and bustier iterations. LaPointe also created a tile print, or more properly, "check print, or window pane because it's supposed to be like the plastic that comes down on the deli flowers at night," she revealed. But we have to say, the show's soundtrack elevated the modern goth collection to a incredibly powerful celebration of life before an untimely decay. Lapointe agreed: "Javier Peral does my music. I told him I wanted something really emotional and tender but a positive beautiful sadness. He presented me with that song and it was perfect."
Houghton
Bienvenito a Miami! Katharine Polk caught inspiration for her spring line on a trip to Miami this past March, while clocking in a little R&R at The Standard after her Fall show in February."I was just taking a break and sitting by the pool and I was on a woven chaise lounge and was looking up at the palm trees," said Polk. "The palm trees inspired the pleats and the lounge chair inspired the basket weave fabric I made by hand from couture fabric." The result? A strong collection of pieces that felt refreshingly original. The basket weave came in woven pale pink and ivory on a fringed top, a matching floor length skirt version, and also in floral and ivory worn with pants. Meanwhile, Pleats were worked into pieces like a low waisted dress that was part white button down with an exaggerated color attached to a low slung pleated skirt and paired with custom black and white Birkenstocks (can we get our hands on these, please? Or our feet in them, rather?) that Polk created with the earthy brand. Birks are seeing a resurgence everywhere and they can thank Celine for that. Were the models happy to not see sky high heels? "They were so excited, they couldn't believe it. We had to make sure they didn't run away with them after the show!" said Polk. It's been a good year for the designer, who said her Pre-Spring collection sold really well. "It's all really coming together now. People are really becoming familiar with the brand. I feel like it's a good moment for me." We couldn't agree more!