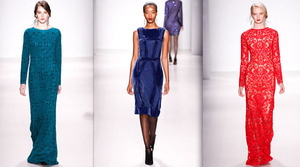 NYFW Fall 2014: Tadashi Shoji, Houghton, Whit, Tome
|
(NEW YORK) Tadashi Shoji
Always one to celebrate the beauty of the feminine figure, Fall 2014 was no exception for red carpet favorite Tadashi Shoji, whose front row included Alyssa Milano and Katrina Bowden. This collection was a literal world apart from Shoji's recent showings. Previous seasons saw heavy Asian influences, while this season he mused on a slightly more western locale. Specifically, Moorish architecture as seen in Marrakesh's Mamounia Hotel or the Islamic influence found in Granada's Alhambra Castle. From the fortress of Spain to the runway of New York, a design from the castle's windows was rendered in an intricate laser-cut technique, gracing a number of gowns. Elaborate saffron-hued chorded embroidery on a sheer full-length gown was one of Shoji's finest looks. "This is like a Moorish carpet," Shoji explained backstage. "Hand stitched on very, very soft tulle." One highlight was a striking black velvet cape with crimson embroidery draped over all-white chorded embroidery. Its regality was fit for Far East royalty. In terms of silhouettes, Shoji covered all bases, from slinky columns to billowing ball gowns; sleek sheaths to voluminous capes. Closing the collection were sheer, netted numbers speckled with hand-embellished diamante for subtle sparkle, plus paneled velvet gowns with mesh inserts.
Houghton
Sticking to her DNA (and her label's namesake) Katharine Polk offered up a Houghton collection inspired by Katharine Hepburn. This time around, masculine pants and jackets were in the spotlight. Those toppers were particularly well executed. In jacquard, boucle, and even fuzzy wools, these oversized trench coats were softened around the edges and swept dramatically with each step. Seventies glam was on the docket as well, like the sheer Swiss dot dress with a full skirt and a touch of gold. Also on the fuller side of things? The pants, which featured major pleats, and the sleeves, which blossomed from the shoulder and ended somewhere below the elbow. While her front row may have seated AnnaSophia Robb and Kelly Rowland, Polk's bulldog was the most fawned-over attendee.
Whit
With a friendly play on pattern, Whitney Pozgay's latest felt more appropriate for a Spring fling rather than a crisp fall day. But regardless, Scandinavia was the destination du jour, a sentiment reflected in the silhouettes, as well as the playful milkmaid braids. The crowd pleaser was the abstract cow print, a splatter of black on a white background that adorned a shift dress and a full ankle-length skirt. For keeping warm in the Scandinavian chill, there was a black coat portioned off with a bit of fur and an elongated grey blazer that might fight away a breeze or two. As for leather, that came in two options: a black jumper or a pair of tan shorts. We'll opt for the latter pair, especially when it's finished off with a cream-colored T-shirt and a silk button down. The shoe situation is one that needs to be discussed as well: The Whit for Jacques Levine styles offered a variety of bootie shapes, some heeled, others flat, but all qualifying as a pitch-perfect staple.
Tome
If you're not familiar with Tome, it's about time you add it to both your vocabulary and your closet. Their dressed-up minimalistic runway was like one red carpet possibility after another. The bubble-gum pink silk dress would look killer with Cate Blanchett's complexion, while the grey tweed dress with two Swarovski panels would be swooped up by Jennifer Lawrence. And the must-have accessory? A pair of silk gloves that extend far past the elbow. Designers Ryan Lobo and Ramon Martin's play with fabric is also brilliant, like the final look, which combined a long fur skirt peeking out from under a long peplum top. And then there was the navy brocade skirt, rounded, voluminous, and trimmed with uneven black lace. As for the jackets, consider a camel coat in a relaxed shape, or a grey felt coat with floppy lapels. All in all, the strong collection left one wishing for more looks to pour down the catwalk.